MLB.com Columnist
Roger Schlueter
MLB Notebook: Slugging V-Mart tough to K
Tigers switch-hitter has gone deep nearly as often as he's fanned in 2014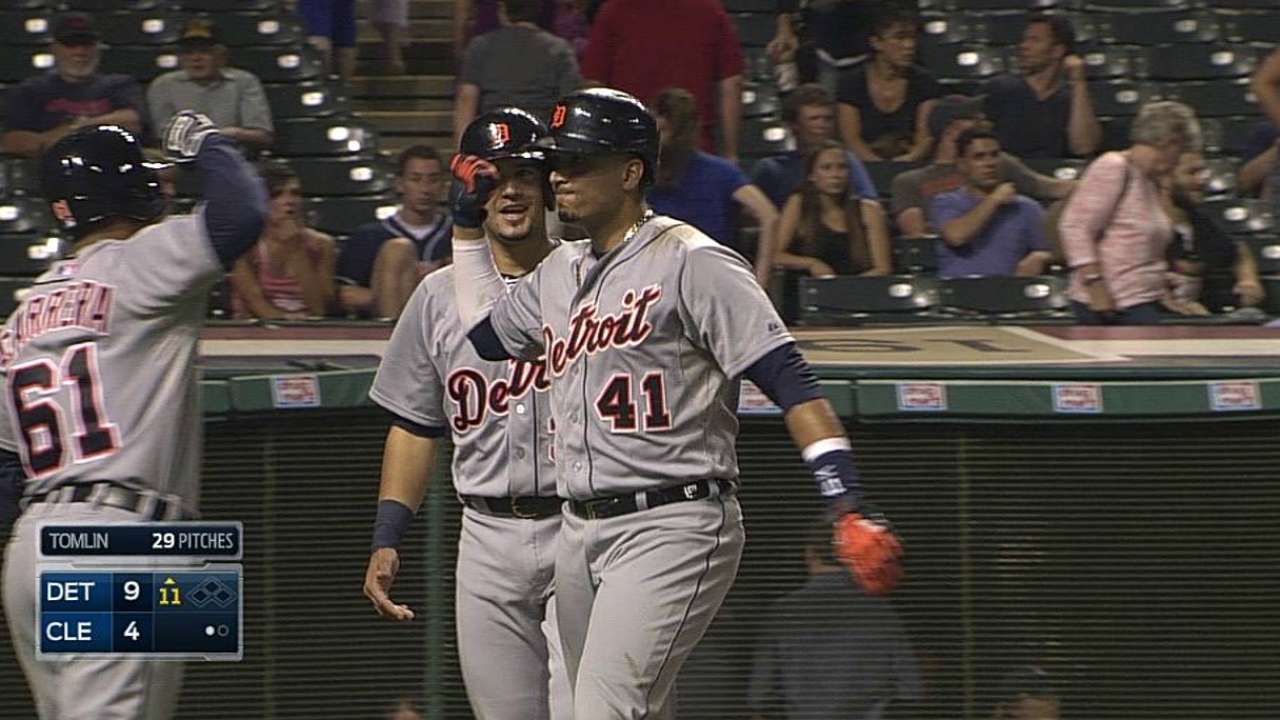 In the live-ball era, there have been more than 450 qualifying players to finish a year with an OPS+ of at least 160. If one were to organize this collection of player seasons from the vista of strikeout rates, the three highest strikeout percentages would fall into the respective laps of Chris Davis in 2013 (29.57 with a 168 OPS+), Jim Thome in '01 (28.73 with a 170) and Dick Allen in 1969 (28.46 with a 165). In contrast, Tommy Holmes in '45 (1.26 with a 175), Lou Boudreau in '48 (1.33 with a 165) and Tris Speaker in 1920 (1.93 with a 172) show up (and show off) with the three lowest percentages.
To expand the perspective a bit, there have been 114 of these more than 450 to finish the year with a strikeout rate below eight percent. And again, the old-timers have a pretty strong hold on these claims, with 97 of the 114 performances coming between 1920-60. Over the past 53 completed seasons, there have only been 17 representatives to make the dual cuts, with Hank Aaron in '69 being the first and Albert Pujols in 2006 being the most recent. Joe Morgan, George Brett, Rod Carew, Frank Thomas, Barry Bonds, Tony Gwynn, Wade Boggs -- these are some of the other names to whiff rarely and carry a big stick in recent times.
There's not a switch-hitter among them -- a fact that could change in 2014.
Martinez a can't-miss power hitter
In an 11-4 Tigers victory over the Indians in 11 innings on Thursday, Victor Martinez went 1-for-3 with his 29th home run and also drew three walks. Martinez has a slash line of .332/.404/.569/.973 (166 OPS+) and has 61 walks against 39 strikeouts in 554 plate appearances.
• There have been 27 switch-hitters since 1893 who've finished with an OPS+ of at least 160 in a season. Among these 27, only one -- Augie Galan in 1944 -- posted a lower strikeout percentage than Martinez's current mark of 7.04. In '44, Galan owned a 161 OPS+ and fanned 23 times in 655 plate appearances for a K percentage of 3.51.
• Over the past 50 seasons, there have been nine qualifying players to finish a season with a 160 or better OPS+ and a strikeout percentage lower than 7.10. Bonds was the most recent, posting a 263 OPS+ and a 6.65 K percentage in 2004.
• In Tigers history, there have been 21 qualifying players to finish a season with a 160 or better OPS+ and a strikeout percentage lower than 7.10. Ty Cobb is responsible for 14 of the 21 seasons, with Hall of Fame teammates Sam Crawford (two) and Harry Heilmann (five) carrying the other seven. So, no Tigers player has done this since Heilmann in 1927.
• Martinez is averaging .74 home runs hit for every strikeout. There has been one switch-hitter in history to have a season with at least 20 homers and a ratio that balanced. In 1979, Ted Simmons collected 26 home runs and fanned 34 times.
Yanks set off ninth-inning fireworks
With the Yankees down, 4-3, to the Red Sox in the bottom of the ninth, Mark Teixeira hit a game-tying home run. And after one out was made, Chase Headley delivered a game-ending roundtripper.
Over the past 50 seasons, this game stands as the fourth in which the Yankees produced a game-tying and game-ending home run in the ninth inning. The previous three:
• May 8, 1987: Down, 7-5, Rickey Henderson hit a two-run home run and Mike Pagliarulo followed with a game-ending grand slam to give the Yankees an 11-7 win over the Twins. Both home runs come against Jeff Reardon.
• Aug. 8, 2000: Down, 3-2, in the bottom of the ninth, Bernie Williams and David Justice went back-to-back against the Athletics' Jason Isringhausen for the win.
• May 17, 2010: Down, 9-7, to the Red Sox, Alex Rodriguez hit a game-tying two-run home run and Marcus Thames followed with his own two-run homer for the game-winner. Both home runs come against Jonathan Papelbon.
Koji Uehara has allowed nine ninth-inning home runs this season (in 54 innings), with this contest marking the second time he'd allowed two in the same game (the other occurrence took place on June 22 against the Athletics, when the second of the two tied the game). In 2013, Uehara allowed one ninth-inning home run in 37 1/3 innings.
Papi doubles his pleasure
In Boston's loss, David Ortiz homered twice and drove in three runs.
• The multihomer game represented the 46th of Ortiz's career and tied him with Mickey Mantle and Harmon Killebrew for the 18th most in history.
• Ortiz has four multihomer games against the Yankees, tying him with 14 other players for the ninth most since 1914. Jimmie Foxx leads with nine.
• Ortiz has hit 26 homers against the Yankees as a visiting player -- tied with Boog Powell for the sixth most since 1914. The top five: Goose Goslin (32), Mickey Vernon (31), Ted Williams (30), Manny Ramirez (29) and Al Simmons (27).
• Ortiz has hit 44 homers against the Yankees -- tied with Rocky Colavito for the 10th most. Foxx leads with 70.
• Ortiz has driven in 98 runs this season -- tied with Cy Williams (1927) and Edgar Martinez (2003) for the 19th most since 1893 for any player in his age-38 season or older.
Colby the big cheese for Blue Jays
In St. Petersburg, Colby Rasmus hit a pinch-hit home run in the 10th inning to give the Blue Jays a 1-0 win over the Rays.
Rasmus was the fourth Blue Jays player to hit a go-ahead pinch-hit home run in extra innings, and the first to do it since Cecil Fielder on Sept. 4, 1987 (exactly 27 years earlier). Fielder's shot came in a 5-5 game, and the two others also came with runs already on the scoreboard.
Rasmus was the sixth Blue Jays player (and first since Brett Lawrie on Sept. 5, 2011) to deliver an extra-inning home run to break a 0-0 tie. The others: Barry Bonnell (Aug. 25, 1983), Buck Martinez (June 6, 1985), Jesse Barfield (Sept. 26, 1986) and Pat Borders (Sept. 24, 1991).
The Blue Jays' 1-0 win gave the 2014 season 52 games ending in a 1-0 score. That leaves this season 10 behind the '10 campaign for the most in any year since expansion to 30 teams in 1998. The Blue Jays' 1-0 win also gave the 2014 campaign 294 shutouts in all. That leaves this year 37 shutouts behind the tally from last season for the most in any year since 1998.
Roger Schlueter is senior researcher for MLB Productions. This story was not subject to the approval of Major League Baseball or its clubs.