Avila cleared to play, but not in starting lineup
Tigers catcher left Tuesday's game after taking foul ball off mask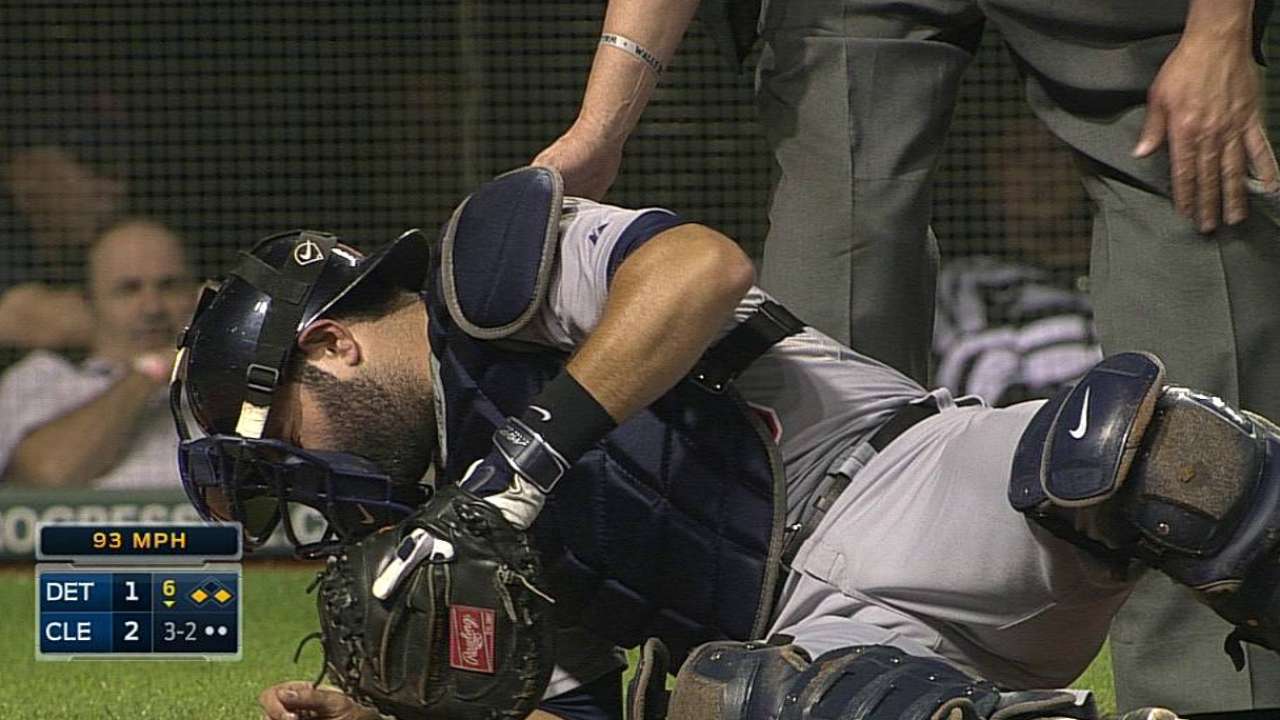 CLEVELAND -- Tigers catcher Alex Avila was not in the starting lineup Wednesday night against the Indians, but he has been medically cleared to play.
Avila was struck squarely on the mask by a foul ball during Detroit's 4-2 win over Cleveland on Tuesday night, forcing him to leave the game in the sixth inning. He subsequently passed a series of tests that ruled out a concussion.
"I do feel much better now, but I actually felt all right [Tuesday] after spending some time in the training room," said Avila, who is hitting .223 with 10 homers and 43 RBIs in 110 games. "I'll be available for whatever the team needs tonight."
Bryan Holaday, who replaced Avila behind the plate after he was hurt, started the third game of the four-game series against the Indians.
Tigers manager Brad Ausmus didn't rule out using Avila as a pinch-hitter, but said it was "smarter not to have him back there catching, where he could possibly take another shot less than 24 hours after the last one."
Avila was injured when a pitch from reliever Al Alburquerque deflected off the bat of Cleveland rookie Tyler Holt, causing him to immediately fall backward. The former American League All-Star was examined by Detroit trainer Kevin Rand before walking off the field.
Rookie James McCann served as Holaday's backup, while first baseman Victor Martinez is the Tigers' emergency third-string catcher. McCann made his Major League debut as a defensive replacement Monday, just hours after he was recalled from Triple-A Toledo.
"Having three catchers is a nice insurance policy, especially here at Progressive Field," Ausmus quipped. "But seriously, I don't think putting McCann into a one-run game in the middle of a pennant race would be fair to him or the pitchers. That's why we went with Bryan [Tuesday] night and will have him out there again."
Brian Dulik is a contributor to MLB.com. This story was not subject to the approval of Major League Baseball or its clubs.