Tigers give prospect Moya warm welcome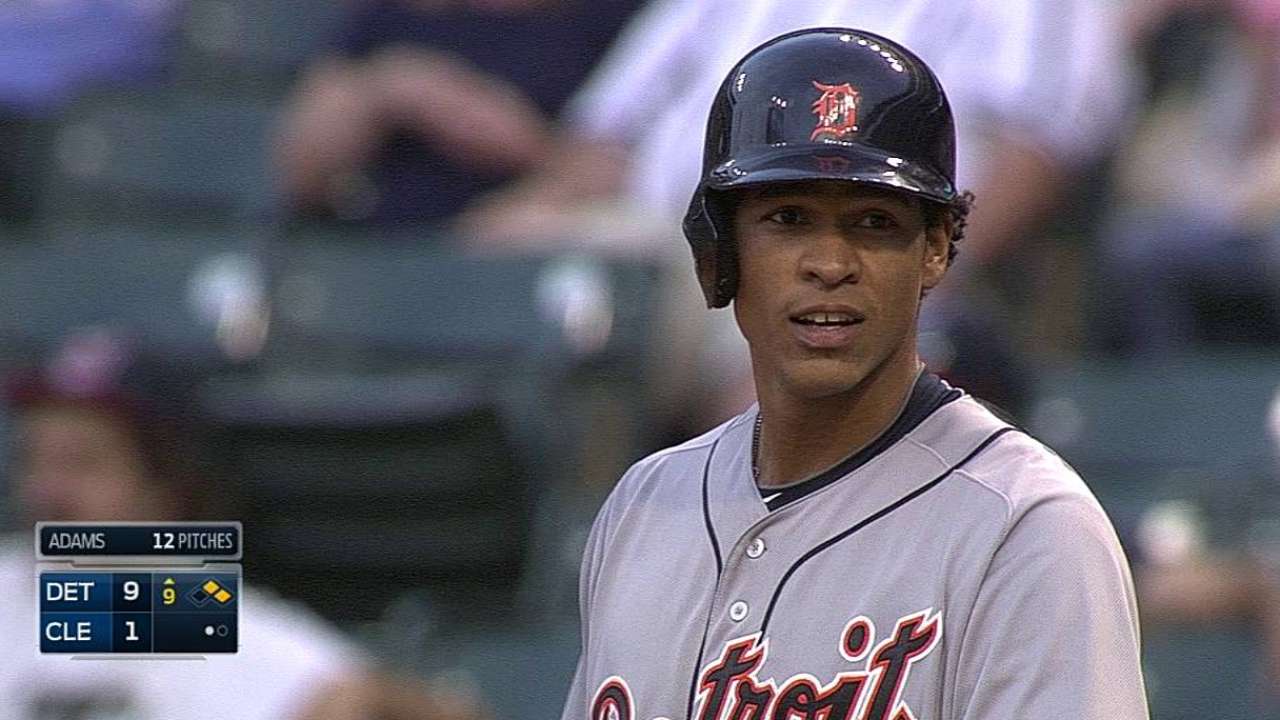 CLEVELAND -- Steven Moya's first day in the big leagues got off to a great start when he arrived in the Tigers' clubhouse on Monday.
Victor Martinez gave the Eastern League MVP a warm hug, while Justin Verlander extended his congratulations and welcomed him to the team. Moya then picked up his first career hit with a single in the ninth inning of Detroit's 12-1 win.
"This is unbelievable, I will never forget it," said a wide-eyed Moya, who is the seventh-ranked Detroit prospect by MLB.com. "I know a lot of people were expecting me to be called up, but I didn't know anything until yesterday after our game. I'm thankful to God for the way everything happened."
Moya was one of four Minor Leaguers promoted to the Tigers as part of the September roster expansion to 40 players.
Shortstop Hernan Perez and outfielder Tyler Collins were recalled from Triple-A Toledo, while catcher James McCann had his contract purchased from the Mud Hens. The marquee attraction, though, was 23-year-old slugger Moya, who was recalled from Double-A Erie.
The 6-foot-6, 230-pound right fielder belted 35 home runs and 105 RBIs in 133 games for the SeaWolves and started in the All-Star Futures Game at Target Field.
"Steven is a classic, left-handed hitter," Detroit manager Brad Ausmus said. "I realize he's still a young guy, but it's tough to teach power like he has."
Ausmus added that it is possible to teach discipline at the plate, which is why Moya's 161 strikeouts and 23 walks this season aren't a major concern to him. Ausmus also said he wouldn't hesitate to use him as a pinch-hitter during the Tigers' playoff push.
"I know I can hit for power, but I want to be a complete hitter," Moya said. "Now that I've gotten here, I know I have to produce."
Brian Dulik is a contributor to MLB.com. This story was not subject to the approval of Major League Baseball or its clubs.