Miggy returns to lineup, drives in three runs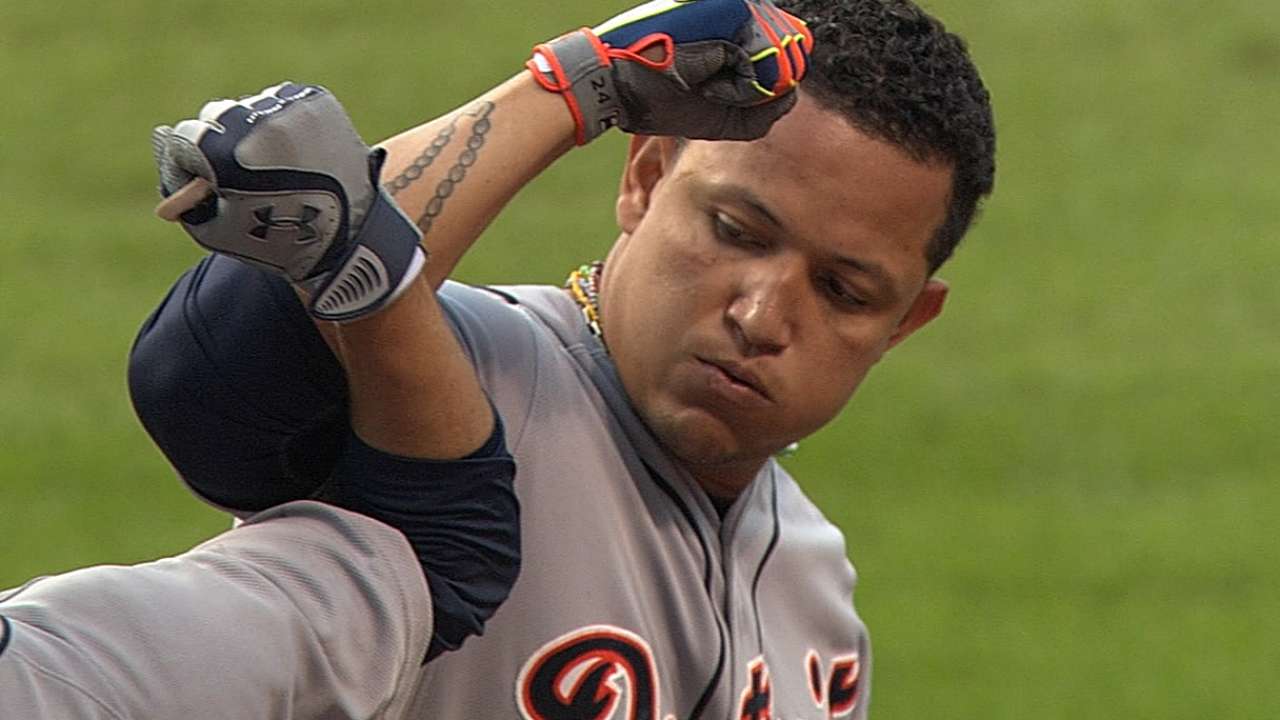 CLEVELAND -- Miguel Cabrera returned to the Tigers' lineup on Monday afternoon, serving as their designated hitter against the Cleveland Indians. He hit a two-run homer in the first inning of Detroit's 12-1 win, and added a solo shot in the eighth.
The two-time reigning American League MVP continues to battle a sore right ankle, but he told manager Brad Ausmus that he "felt OK to play" upon arriving at Progressive Field.
"We're still very day to day on this, so the key is how we're going to try and manage Miggy the rest of the season," Ausmus said. "He said he could have played first base, but I didn't want him standing out there for nine innings. That's why I elected to go with Option B and have him DH."
Cabrera exited Detroit's game Saturday night against the White Sox when his ankle flared up, then sat out the series finale Sunday in Chicago. It marked just the third game he has missed this season.
Cabrera is hitting .304 with 19 home runs and a team-high 94 RBIs. He was in the third spot in the batting order against the Indians, while cleanup hitter Victor Martinez played first base.
With the Tigers in the thick of the AL playoff race, Ausmus understands how important it is to keep Cabrera as healthy as possible.
"Running is the biggest issue with his ankle, but the speed game is not exactly Miggy's forte," the skipper deadpanned. "I think standing bugs him more than anything else, so we're going to limit the amount of time that he has to do that."
Brian Dulik is a contributor to MLB.com. This story was not subject to the approval of Major League Baseball or its clubs.