Kinsler's defense winning fans in Tigers' dugout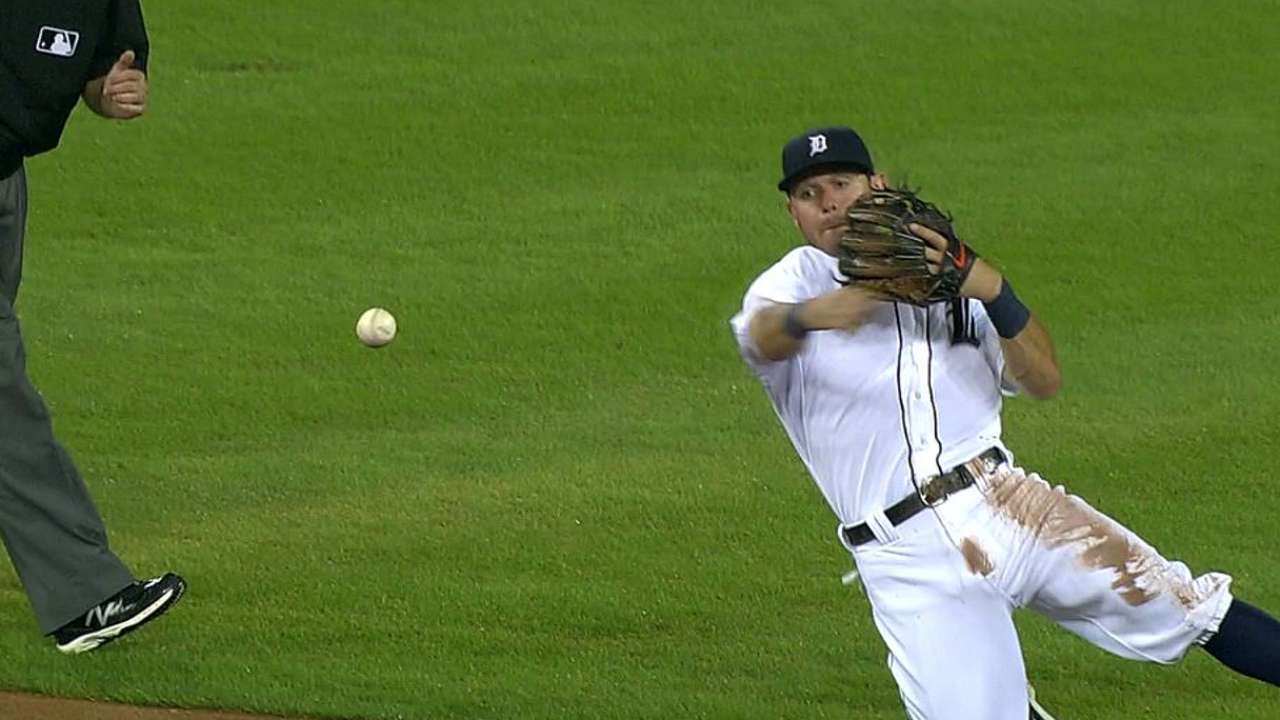 DETROIT -- The Tigers' 5-2 series-opening win over the Yankees on Tuesday night was notable as much for its completeness as it was for its obvious playoff implications.
As manager Brad Ausmus pointed out not too long ago, when Detroit is hitting, it seems as if the pitching is struggling. When the club is getting quality starts, the offense falls into a slumber.
And the defense, particularly the outfield defense, has left much to be desired this season. That was not the case Tuesday night as the Tigers put together a win that was sharp in all facets of the game, not least important of which was the defense.
In the seventh inning, second baseman Ian Kinsler made perhaps the most impressive play of the night. Ichiro Suzuki had what looked to be a sure base hit, but Kinsler took it away from him after a diving stop and a throw from his knees.
"Kinsler's play was outstanding," Ausmus said. "Ichiro can run. I know he's getting older, but when he wants to get down the line, he still can."
Ausmus said he's been pleasantly surprised by the defense he's received from his veteran second baseman. He even went as far as to call him "a horse."
The manager cited Kinsler's concentration on every play, as well as his appetite for grounders before games, as reasons for his success in the field this season.
"He takes a lot of pride in his defense," Ausmus said.
The extra effort doesn't go unnoticed by the pitching staff.
"I was very excited he made that play [in the seventh]," Tuesday starter Rick Porcello said. "It was a well-hit ball up the middle. I would have had [Jacoby] Ellsbury coming up with a runner on base. It was clutch."
Porcello might be surprised to see what he thought was a sure base hit turn into an out after being swallowed up by Kinsler. But he's not at all shocked by Miguel Cabrera's defense.
Porcello referred to Cabrera as one of the best fielding first basemen in baseball. Cabrera turned a spectacular 3-6-3 double play in Tuesday night's game.
"You can tell the way he's moving that the ankle bothers him," Ausmus said. "But it certainly didn't stop him on defense. He had a couple nice picks as well as the double play. He's kind of a warrior.
"You saw last year in September, when he was hurt and wanted to play. He likes being part of a team. That's part of his makeup. He's not a prima donna."
Jason Beck is a reporter for MLB.com. Matt Slovin is an associate reporter for MLB.com. This story was not subject to the approval of Major League Baseball or its clubs.