MLB.com Columnist
Mike Bauman
Sans Yadi, NL Central still loaded behind the plate
Lucroy, Mesoraco, Martin all pushing toward Molina's elite status at catcher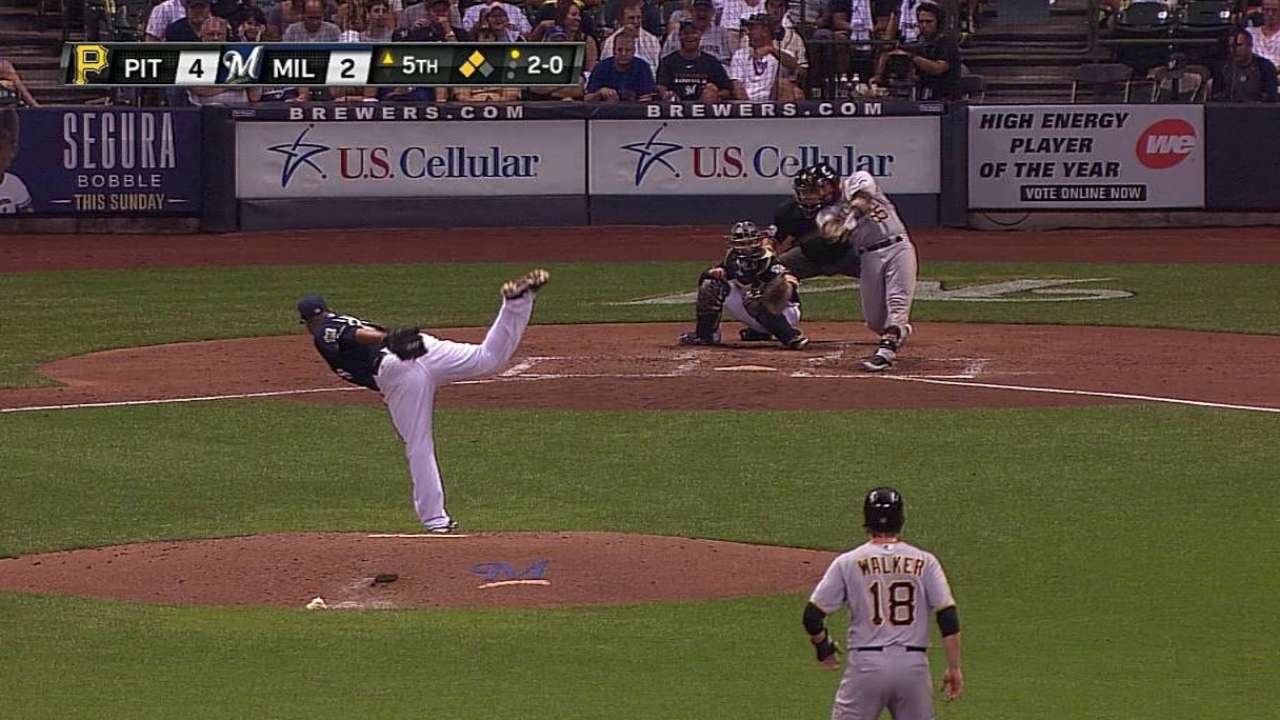 It is the year of the catcher in the National League Central.
"This division -- I haven't been asked many questions about it, but we were talking about this the last time we played [Milwaukee]," Pirates manager Clint Hurdle said. "You've got [Jonathan] Lucroy [of the Brewers], you've got Molina when he's healthy, you've got the young kid, [Devin] Mesoraco [of the Reds]. It's a fantastic division for receivers. And we feel that we've got one as good as anybody."
That would be Russell Martin. He has been a superior defensive catcher for years, and his work behind the plate was one of the reasons the Bucs were good enough to reach the postseason in 2013. This year, Martin is reasserting his offensive game, putting up the kind of numbers he did earlier in his career with the Dodgers.
But it is Martin's defense that has Hurdle speaking in glowing terms.
"He's fantastic," Hurdle said. "Ball after ball in the dirt, nobody moves up, he keeps everybody in check. He's just fun to watch."
Martin shocked some people by leaving the Yankees for the Pirates in free agency and a two-year, $17 million contract. But he knew exactly what he was doing. Martin's play the past two seasons -- and his help in lifting the Bucs back into the postseason last year -- will make him an extremely attractive free agent after this season. But as he said about being with Pittsburgh: "I do absolutely love it here. I couldn't have made a better decision."
The Brewers have been in first place in the NL Central every day since April 5. This is particularly impressive given they were a popular pick for fourth place in preseason prognostications. Solid performances from the starting rotation have been key to Milwaukee's success, but if you had to name one person who has been most responsible for this club's success, that person would be Lucroy.
Lucroy is having a big offensive season, clearly indicated by his leading both leagues in doubles with 43. He could become the first catcher to lead a league in doubles. These aren't leg doubles. Lucroy is consistently driving the ball, using all fields.
With Molina injured, Lucroy started the All-Star Game for the NL and, of course, doubled twice. His defense has been stellar. Lucroy's handling of the Brewers' pitching staff has been superb. Combine that with his offense (.304/.370/.488, entering Wednesday), and he is drawing regular mention as a legit NL Most Valuable Player Award candidate. That doesn't do much for Lucroy.
"It doesn't matter right now," Lucroy said. "None of that stuff is going to come if we don't win. That's cool, great and dandy, whatever. That's great for an individual.
"Honestly, I want that ring, man. That's what I want. Period."
In a Reds season that has been derailed by injuries, the continued emergence of Mesoraco has been a bright spot. His offensive contributions have been substantial, even taking into consideration a recent slump: Mesoraco was hitting .273 with 20 home runs and 63 RBIs in 90 games entering Monday.
Mesoraco has been so good at the dish, Cincinnati manager Bryan Price said he may play another position at times next year to keep his bat in the lineup while giving him a day off behind the plate.
Mesoraco also was a NL All-Star this year, picked as a managerial selection by NL manager Mike Matheny of the Cardinals. This was especially telling because Matheny was a Gold Glove catcher himself. Mesoraco carries the reputation of a catcher who is deeply invested in the performance of his pitching staff.
Molina remains at the peak for this position. It is no coincidence that the Cards, the best team in the league last year, do not have that status now, being without Molina since early July after he suffered a torn ligament in his right thumb.
Molina may be the most indispensable player in the game, given his all-around ability and his track record at handling a pitching staff. Milwaukee manager Ron Roenicke said last season that Molina was the real MVP of the NL and that the only reason he wouldn't win the award was that the NL MVP Award voters -- baseball writers -- traditionally undervalued defense in selecting the winner.
Whatever happens the rest of the way with a division title and a Wild Card spot or two up for grabs, the catchers in the division will be a major part of how the story ends.
Mike Bauman is a national columnist for MLB.com. This story was not subject to the approval of Major League Baseball or its clubs.