Anibal could return for Saturday doubleheader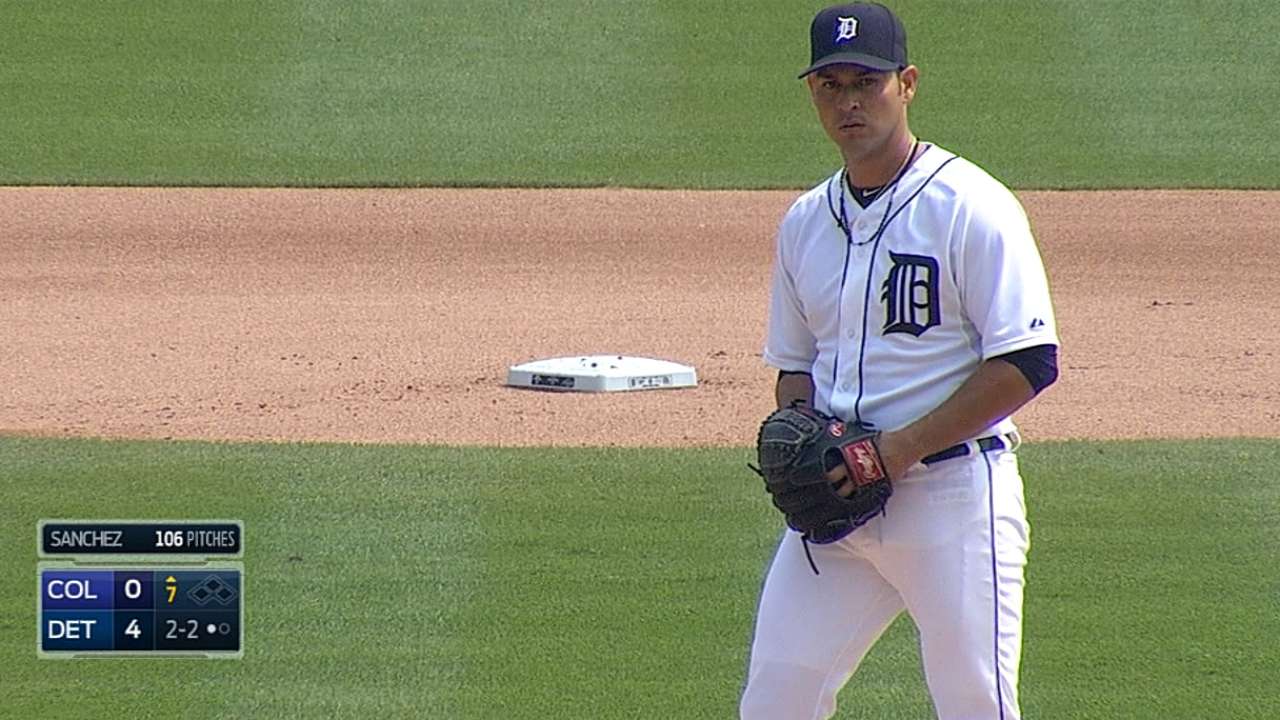 MINNEAPOLIS -- The Tigers have a much-needed off-day on Monday in between weeklong stretches with doubleheaders, but Anibal Sanchez will spend the day at the office, throwing off flat ground at Comerica Park. How he feels in that session could determine whether he can rejoin the Tigers for their next day-night doubleheader Saturday against the White Sox in Chicago.
It's a strong enough possibility that manager Brad Ausmus isn't ruling it out.
Sanchez has been out two weeks with a right pectoral muscle strain. The initial hope from team president/general manager Dave Dombrowski was that Sanchez would miss three or four weeks. Next Saturday would fall on the low end.
So far, Sanchez has felt surprisingly good, even letting loose some higher-intensity throws near the end of his sessions. If Sanchez feels fine throwing Monday, he'll throw off a mound on Wednesday.
If Sanchez starts Saturday, it would be without the benefit of a rehab outing to stretch out his arm. However, his return would allow the Tigers to use the 26th man roster spot for the doubleheader to call up an extra reliever. Just four or five innings from Sanchez, then, would have them sufficiently covered. The Tigers' current plan has Max Scherzer starting the other doubleheader game.
If Sanchez can't go Saturday, the Tigers have a decision to make among some options they'd probably rather not use. Both Robbie Ray and Buck Farmer were hit hard this weekend by Twins batters and optioned to Triple-A Toledo afterward, but one would most likely have to return to fill Sanchez's spot. Kyle Lobstein, who delivered 5 2/3 solid innings of relief Saturday, would be an option, but he appears likely to start Thursday against the Yankees at Comerica Park.
Jason Beck is a reporter for MLB.com. Read Beck's Blog and follow him on Twitter @beckjason. This story was not subject to the approval of Major League Baseball or its clubs.