Cabrera rests sore ankle heading into off-day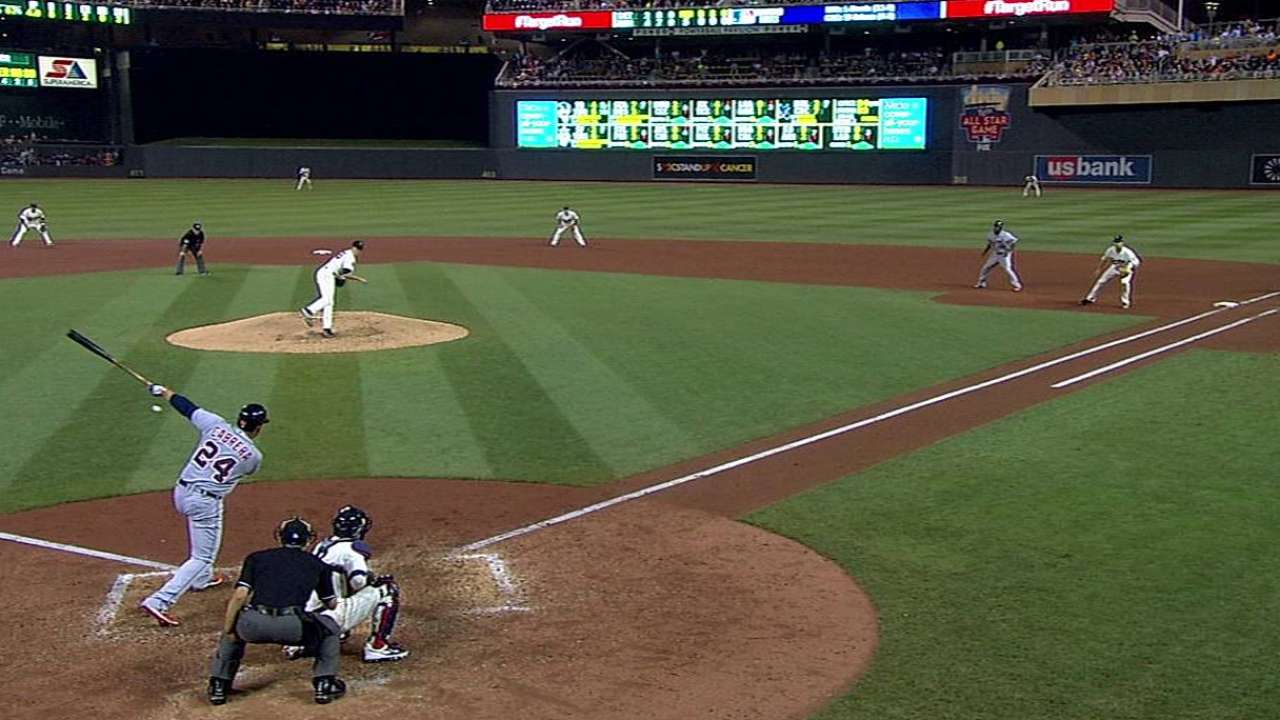 MINNEAPOLIS -- As a summer of mystery about Miguel Cabrera's recovery from core muscle surgery winds down, the Tigers slugger has a more immediate injury concern. His right ankle, which has seemingly hobbled him for a while, is bothersome enough that it kept him out of the lineup for Sunday's series finale against the Twins.
Cabrera has played through the ankle issue like he has played through every other injury concern. However, manager Brad Ausmus said, Cabrera aggravated it when he hit the first-base bag hard trying to beat out a double-play throw in the fifth inning Saturday night. He hit another double-play grounder in the seventh inning but barely got halfway down the line, clearly limited in his mobility.
"I think when he hit that base and reaggravated it, I think it made it flare up," Ausmus said. "When he does certain things and makes it flare up, I think it makes it more unbearable, but at other times it's bearable."
Cabrera left for a pinch-runner after hitting an eighth-inning single. Afterwards, Ausmus openly pondered the value of a day off, giving Cabrera two days to recuperate before Detroit's next game against the Yankees on Tuesday night at Comerica Park.
"I could tell when I was talking with him that he kind of wanted to play," Ausmus said. "I just thought it was best that we try and give him these back-to-back days and bring some of the inflammation down, and hopefully he's better on Tuesday."
Cabrera has made a point not to talk about injuries after he was quoted in a USA Today article last month saying he was dealing with lingering core muscle tightness from last winter's surgery.
"You guys know me for seven years. I don't like to talk about my injuries or whatever I've got in my body right now," he said a week ago. "The only thing I can say is I'm going to be out there every day and try to play hard. It doesn't matter what I have. I try to play my best. Hopefully I can do my job and hopefully I can help my team to win more games and hopefully we can win the division."
Asked if Cabrera's ankle could be hampering his power, Ausmus said, "Can't answer that. I guess it's possible. To what extent it bothers him, it could be if he can't keep his weight back."
The Tigers scored 13 runs without him on Sunday.
Jason Beck is a reporter for MLB.com. Read Beck's Blog and follow him on Twitter @beckjason. This story was not subject to the approval of Major League Baseball or its clubs.