Romine gets back to work after relief outing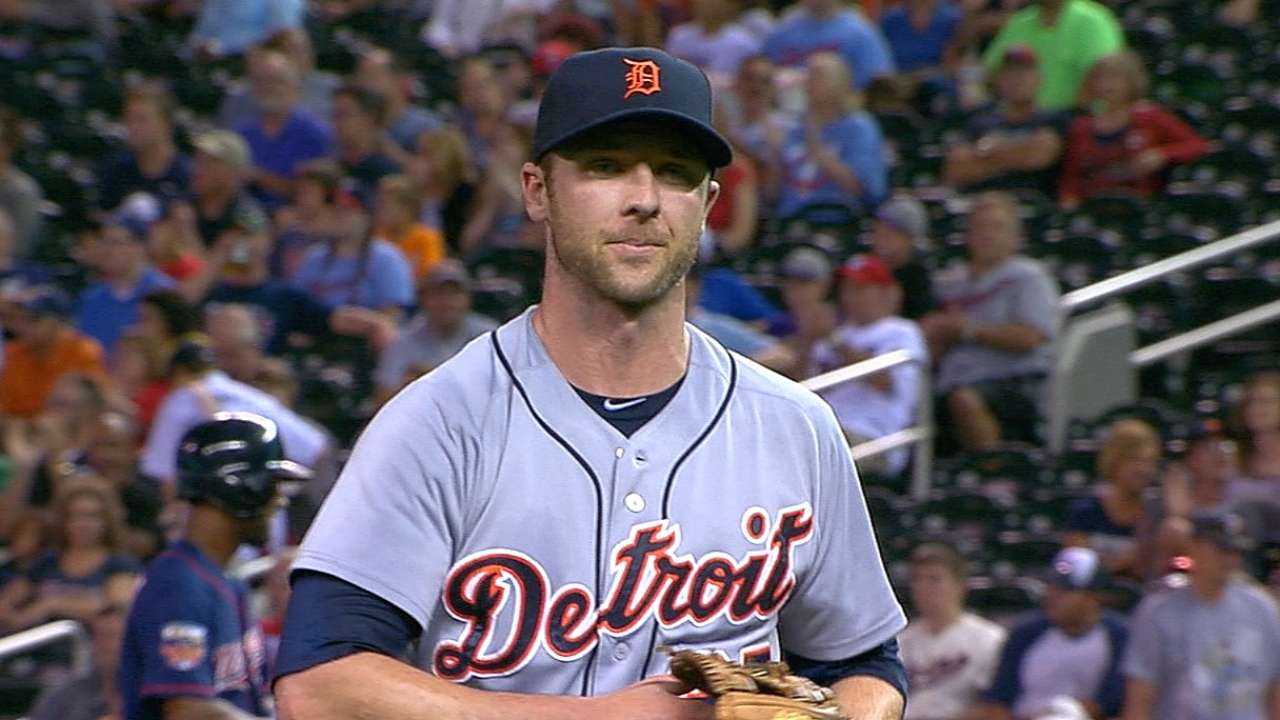 MINNEAPOLIS -- The first question Andrew Romine received on his way through the Tigers clubhouse on Saturday morning was about whether he needed ice for his shoulder. He chuckled.
"Oh, you know," he said when asked how his arm was feeling after his relief work during Friday's 20-6 loss to the Twins.
Romine was in the starting lineup for the first game of Saturday's doubleheader with the Twins at shortstop. He threw 27 pitches just over 13 hours earlier, enough that manager Brad Ausmus said he was basically on his last hitter when he induced a hard lineout from Danny Santana for the last out of the eighth.
"He was probably a hitter away from going back to second [base] and [Bryan] Holaday pitching," Ausmus said on Saturday morning.
It wasn't a matter of Romine being on a pitch count. It was Ausmus worrying about an arm injury if he had a position player -- someone not accustomed to pitching -- throw more than 30 pitches.
"You're asking a guy to pick up the team, which he did," Ausmus said. "But if something happens to him there, you feel awful about it. ... I can't keep Romine out there for 30-something pitches."
As odd as that sounds, the other options bordered on the bizarre.
Holaday caught all 214 pitches the Tigers threw Friday night, but was an option to pitch the eighth. He also nearly moved to second base once Romine entered to pitch, but Ausmus chose to put Alex Avila at first base and move Don Kelly to second instead.
"Holaday, Kelly and Romine were all in the discussion [to pitch]," Ausmus said. "In my mind, [Holaday] had thrown a bunch, just being a catcher and throwing it back [to the pitcher]."
Holaday caught 187 pitches over the first seven innings. Considering the Twins had 16 of their 20 hits for the game by then, he did not throw quite that many balls back.
As for Kelly, who pitched in a game for the Tigers in 2011, Ausmus said he has been getting his shoulder treated ever since colliding with the right-field wall at San Diego's Petco Park in early April.
"It doesn't affect his play," Ausmus said, "But that shoulder, he gets it treated. So I don't want to ask him to pitch."
Jason Beck is a reporter for MLB.com. Read Beck's Blog and follow him on Twitter @beckjason. This story was not subject to the approval of Major League Baseball or its clubs.