Davis steals three bases before early exit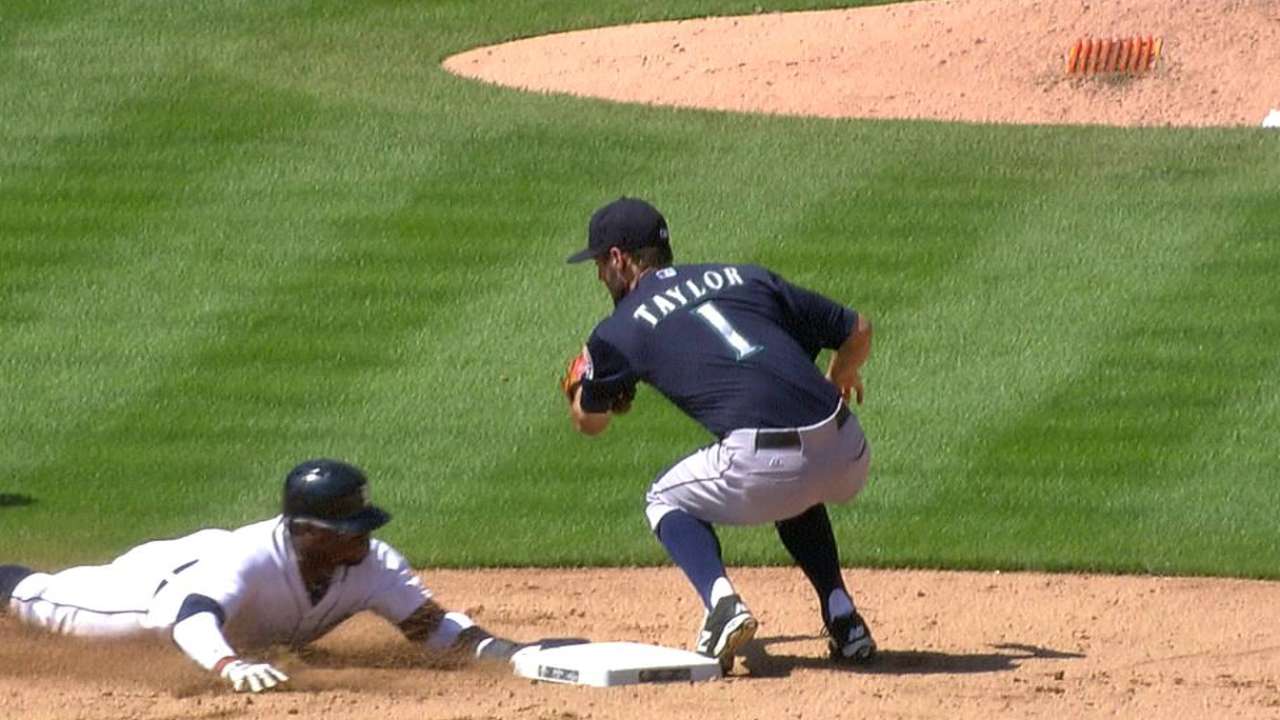 DETROIT -- Rajai Davis tried to create a spark for the struggling Tigers' offense Sunday, and he injured himself as a result. He created a couple pieces of statistical history, but no offense.
Davis left Sunday's 8-1 loss to the Mariners after six innings with a bruised left thumb suffered on his third stolen base of the game and his 30th of the year. He became the first Tiger to steal 30 bases in a season since Alex Sanchez stole 44 in 2003, and the first Tiger to steal three bases in a game since Curtis Granderson did it against the White Sox on the final day of the 2007 season.
"I was just trying to get closer to home plate and score runs," Davis said. "That's what we need. I figure if I get closer, it'll be easier to score."
In theory, it should have worked. Yet Davis was stranded in scoring position both times, including on third base after he swiped second and third with one out in the third inning.
In doing so, Davis became just the ninth Tiger since 1914 to steal three bases in a game and not score a run. Brian Hunter was the last, swiping three bases in a 2-1 loss to the Orioles on April 4, 1998. He did the same thing in a 2-0 loss to the O's on May 21, 1997.
Gary Pettis did it twice in the 1988 season, including a four-steal game. Ron LeFlore did it on May 6, 1978. Perhaps the most surprising name on the list, however, is Hall of Famer Al Kaline.
Kaline stole just 137 bases over his 22-year career, never hitting the 20-steal mark in a season. He swiped 11 bases in 1957, but had three of them in a Sept. 23 game at Cleveland. All three times, he was stranded, and the Tigers took a 5-4 loss to the Indians.
Davis might have had a chance at a fourth steal had he stayed in the game. With a 7-0 deficit, however, he was taken out after six innings for treatment on his thumb, which he bruised sliding into second base an inning earlier.
"I just kind of went in hard at second base and hit the bag hard with the thumb," he said. "My thumb is always out."
Davis wears a protective glove on his right hand to prevent such injuries. His left hand, usually his secondary hand on slides, is left unprotected.
Jason Beck is a reporter for MLB.com. Read Beck's Blog and follow him on Twitter @beckjason. This story was not subject to the approval of Major League Baseball or its clubs.