Nathan moves past controversy with 25th save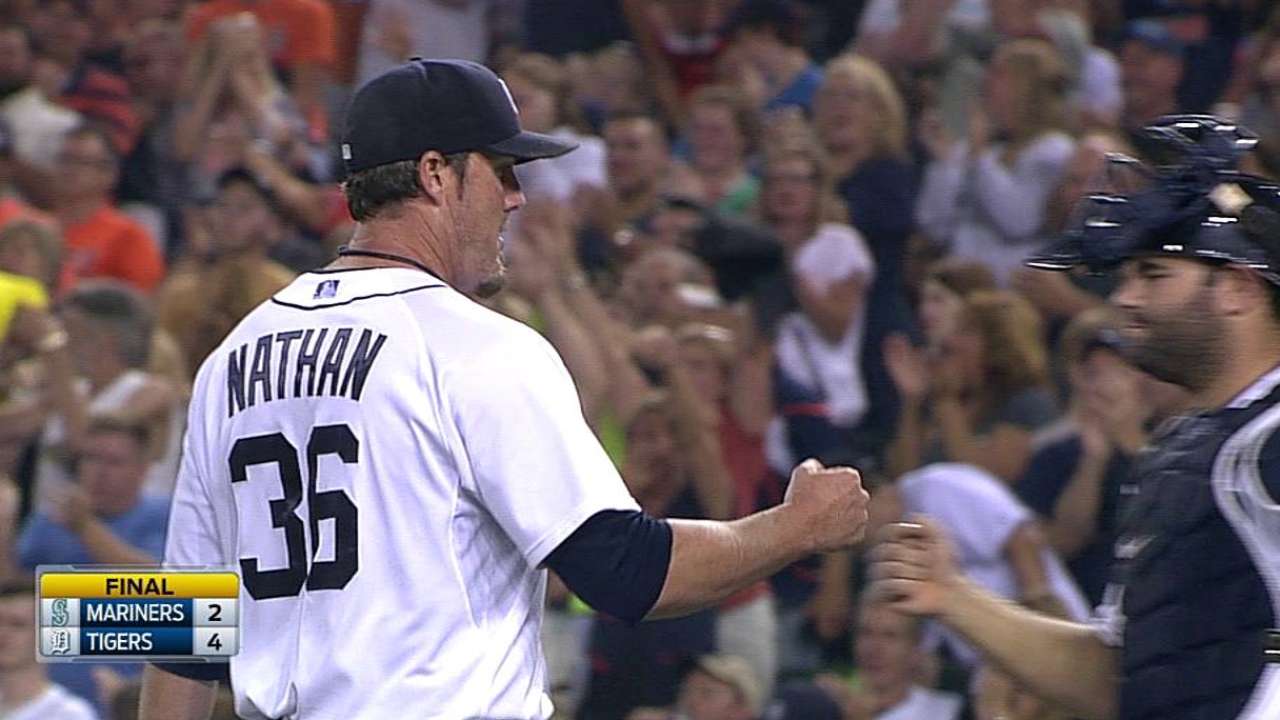 DETROIT -- Joe Nathan was going to have to get back on the mound and face the boos at Comerica Park eventually. David Price's home debut as a Tiger Saturday night, with a three-run lead, seemed like as good a time as any.
"At some point, he's going to have to pitch again in this ballpark," manager Brad Ausmus said. "In my mind, really, it's better to do it sooner than later."
Said Nathan: "I knew my nerves would be a little extra. When I was apologizing, I've never been a part of any type of controversy, and I will not be a part of it again."
The boos began, albeit just a few, before Nathan had made it from the bullpen to the mound. They multiplied before he began warming, then really picked up upon introduction. A leadoff single amplified them. Each time, the boos would start and eventually stop for the next at-bat, though they would resume at some point.
The runner eventually scored, but Nathan held it there, getting a game-ending double play to finish off a 4-2 win. And as the boos turned to cheers for a big win finished, Nathan kept his celebration to a point at his catcher, Alex Avila, and congratulations from his teammates. There was no chin-flick, no look into the stands.
"I held it in," Nathan said. "I definitely didn't want to have any reaction tonight, kind of just get back to trying to finish games, try to keep my emotions in check. But I knew it was important, my first time back on the mound since the incident. Just wanted to give the fans something to cheer about before they try to battle traffic with One Direction going on [next door at Ford Field]."
Jason Beck is a reporter for MLB.com. Read Beck's Blog and follow him on Twitter @beckjason. This story was not subject to the approval of Major League Baseball or its clubs.