Johnson ready for fresh start in Detroit 'pen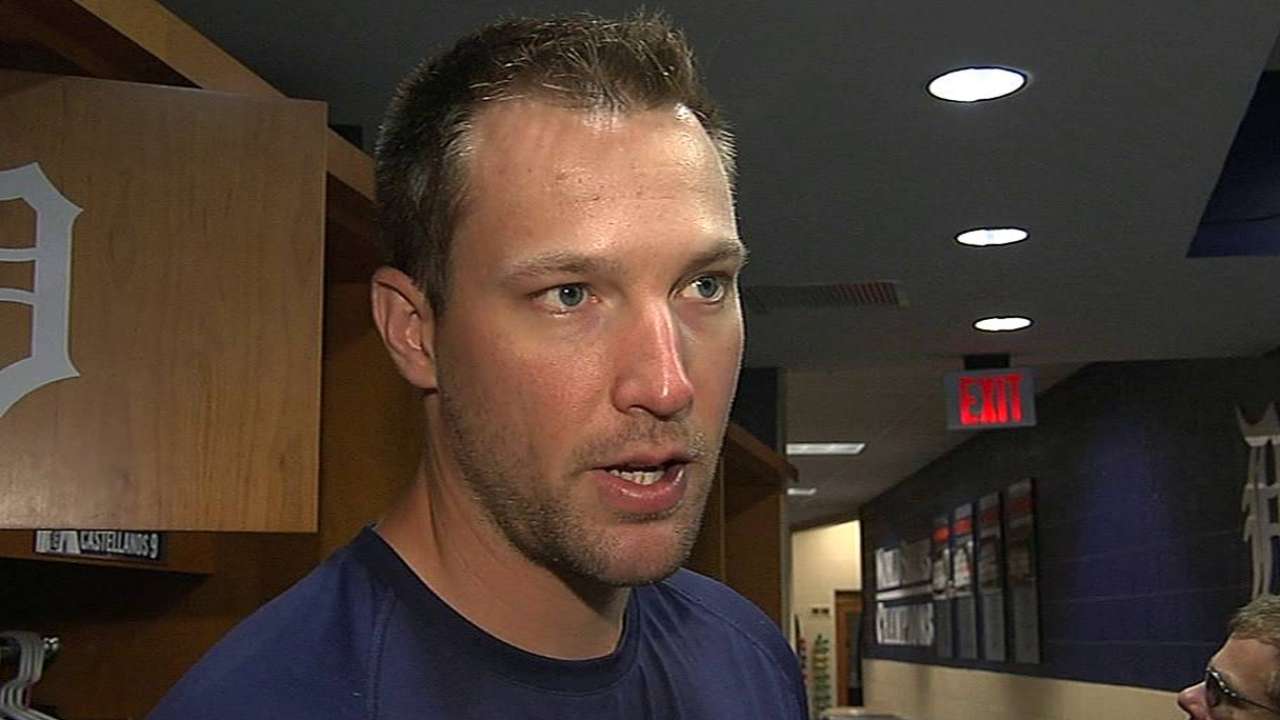 DETROIT -- Jim Johnson said he isn't sure why things went awry during his four months in Oakland, but he's clearly ready for a fresh start. He's hoping the work he put in at Triple-A Toledo gives him a good shot at it in Detroit.
"We'll find out," said Johnson, who officially joined the Tigers' bullpen Sunday morning after the Tigers announced they were purchasing his contract Saturday night. "Obviously I feel comfortable where I'm at right now. I'm here to help. That's what I want to do."
His fresh start will at least begin in middle relief. Where it goes from there might depend as much on the Tigers' bullpen as a whole as it does on his own performance.
Johnson made his debut in Sunday's 8-1 loss to the Mariners, allowing three runs (one earned) on two hits with a walk and a strikeout in two-thirds of an inning.
"There's nothing etched in stone," manager Brad Ausmus said Sunday morning. "To start, I'd say he'd be somewhere in the sixth or seventh inning, and we'll see how it goes."
It's a somewhat similar role to the one Joakim Soria was filling before he suffered a left oblique strain last weekend. It's also a similar role that Joel Hanrahan might well have filled before his recovery from Tommy John surgery suffered setbacks.
Considering where Johnson stood in Oakland's bullpen by the end, it's a fairly decent rebound for him, and a return to a playoff race. Some of that goes to his previous experience, notably back-to-back 50-save seasons in Baltimore in 2012 and '13. Some, too, goes to his work in Toledo, where he showed that velocity wasn't a problem and that his command was progressing.
"It's almost like a mini-Spring Training," Johnson said. "It was good for me. I got what I needed out of it.
"Each time out, everything got better and better. Pitches got sharper. Location got better, command of pitches, both sides of plate. All that plays into it. Those are all things that I'm looking for."
While Hanrahan is expected to miss the rest of the year, Soria is reporting progress. If and when he returns, the Tigers could have a bullpen that features three relievers with extensive closing experience and another with setup work.
"He's obviously pitched in high-pressure situations," Ausmus said. "I think that experience helps, but at the same time, you have to make your pitches."
Jason Beck is a reporter for MLB.com. Read Beck's Blog and follow him on Twitter @beckjason. This story was not subject to the approval of Major League Baseball or its clubs.