V-Mart asks for fan support during rough stretch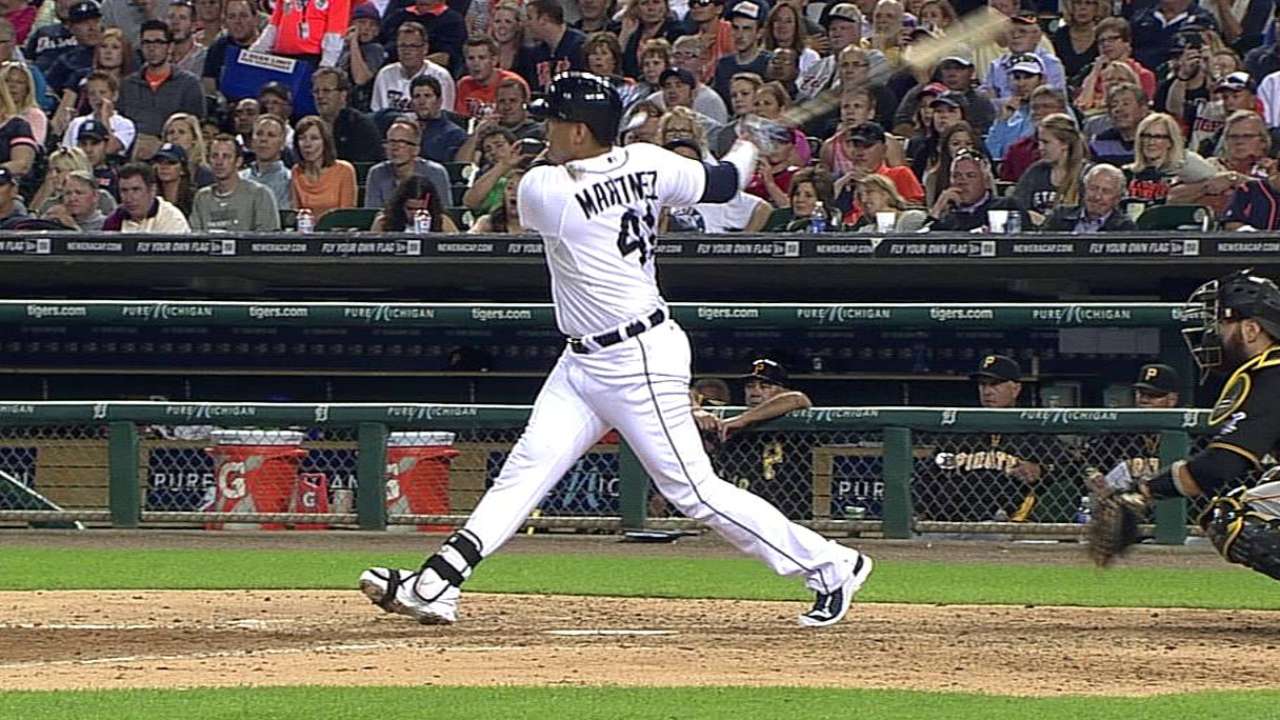 DETROIT -- Two veteran Tigers spent Wednesday taking note of fan reaction. It was fitting that they came from opposite ends of the clubhouse.
Victor Martinez seemingly wasn't aware of Joe Nathan's gesture to fans at the end of Wednesday's 8-4 win, but he was certainly aware of the boos Nathan and other teammates were receiving. And as the Tigers celebrated the end of their four-game losing streak, Martinez was making a reasoned plea to reporters for fan support.
"We're trying," Martinez said. "It's too long of a season. At some point, you're going to struggle. Every team struggles. As a fan, if you're just going to be with us when we're doing good, we really need the fans when we struggle, too.
"It bothers me. It bothers me, because people think that we're playing Little League teams out there. You have to give credit to who deserves credit sometimes. This is the game of baseball. One thing for sure is every day we show up, we're ready to beat the other team. A lot of times it ends up on the good side, a lot of times in the wrong side."
The Tigers entered Thursday a half-game behind the Royals in the American League Central, after leading the division for much of the season. Even before the recent skid, however, Martinez noted he was hearing criticism.
"We [were winning] the division by three-to-four games and I hear people complaining," Martinez said. "I heard some negative comments.
"We're the ones here. If somebody has to be panicked, it's us here. We're the ones playing. We're fine. We believe in what we got. We're not going to keep playing like this for too long. We've got too good of a team. Like I say, every team struggles at some point. Look at it during the season, every team struggles. We wish that we could go 162-0."
Martinez received a level of criticism last season, when he got off to a slow start in his return from knee surgery. His second-half surge turned sentiment around, and his All-Star season this year has made him one of the most popular players on the team.
Even so, the team's fall from the division lead has left everyone noticing the reception upon the return from a 2-7 road trip. That includes Martinez, who is usually among the quieter players on the team.
In this case, however, he felt like he wanted to speak up and make a case for support.
"Personally, I don't think that I have ever paid attention to that like this time," Martinez said. "It just bothered me a little bit, because I really think the people just think that we have to win the division by 10 games, 20 games. We were winning the division by three, four, five games and I was hearing some complaints and stuff. As a player, it bothers you. It bothers you because again, this game is not as easy as it seems when you're sitting in the stands.
"Again, they have all the right to be mad, because they're paying money to come here and see a good show, but I want them to understand on the other hand that we're really trying. We don't want to give it up, we don't want to lose. It's just the way it is. We're in a really tough stretch, and this is when we need the fans the most. Because as soon as I go out, as soon as the team goes outside and sees the atmosphere outside, the fans in the game, we feed off that. We feed off that, and that's what we want to see. We want the fans to keep backing us up."
Jason Beck is a reporter for MLB.com. Read Beck's Blog and follow him on Twitter @beckjason. This story was not subject to the approval of Major League Baseball or its clubs.