Farmer realizes dream in big league debut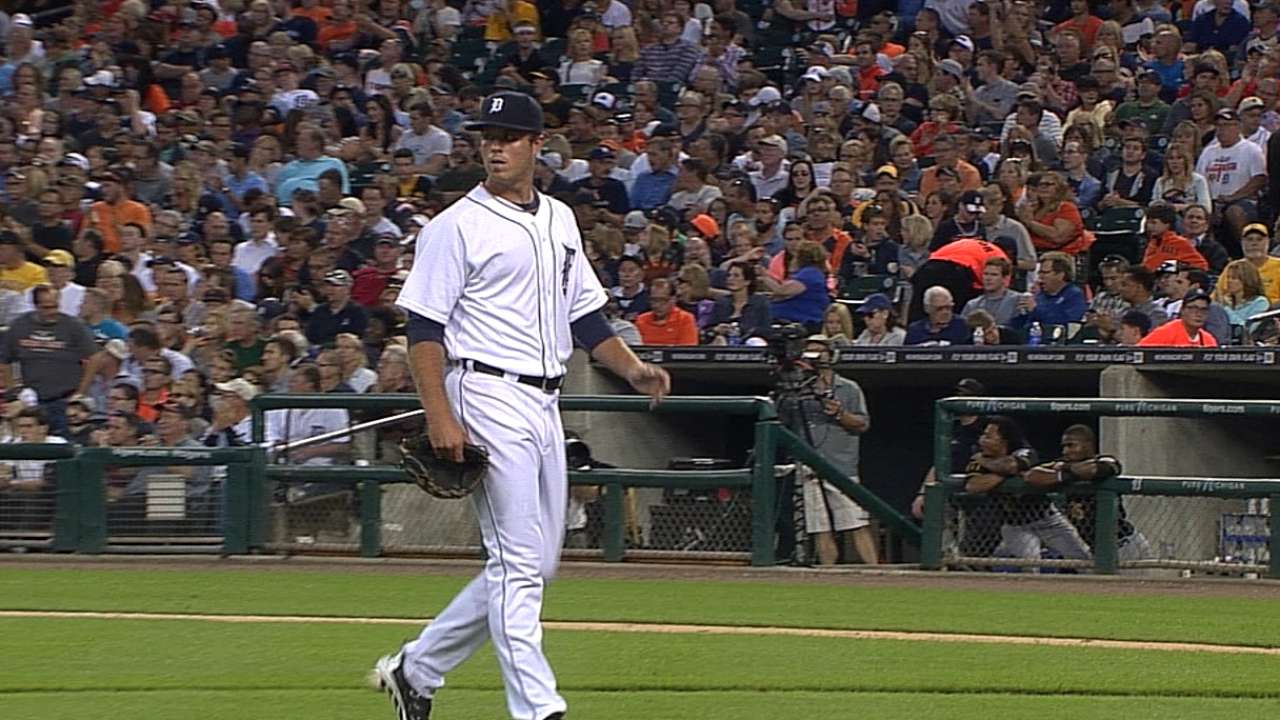 DETROIT -- Buck Farmer stepped onto a Major League mound for the first time Wednesday night and thought how far he had come. It wasn't just about being in low Class A ball a few weeks ago, but where he had been long before that.
"My childhood dream became real tonight," he said.
He had been dreaming about this ever since he was a kid in Conyers, Ga. Even with a sellout crowd of 41,043 all around him, however, the noise he heard was the same voice he heard when he pitched as a kid.
"I can always hear my dad when I start," he said of his father, Warren. "That's really the only person I can hear. … I've kind of been fine-tuned to it for all these years I've been playing baseball. His voice sticks out."
Warren Farmer was telling his son, among other things, to keep the ball down. The way the Pirates were swinging, Warren Farmer had a pretty good idea.
"I thought he did a good job," Pirates manager Clint Hurdle said. "He mixed his breaking stuff and his changeup more than we anticipated."
Said Tigers manager Brad Ausmus: "I think the big thing for him was he was able to throw strikes with his offspeed pitches, especially his slider. In fact, he might have thrown more strikes with his slider than he did with his fastball."
Farmer held the Pirates hitless his first time through the lineup, then gave up five hits and four runs the next time through. Just as it looked like he was headed for a quick demise, he recovered to retire five of the final six batters he faced to finish five innings.
If the Tigers hadn't rallied in the fifth inning, Farmer said, he supposedly had the sixth. Once Detroit scored three to tie it, they turned to Blaine Hardy.
Farmer left with a no-decision, having allowed four runs on six hits with a walk and four strikeouts. But he left having made a major impression on a group that hadn't seen him at all until Wednesday.
The Tigers optioned him to Triple-A Toledo after the game, his fourth level of baseball in his first full professional season.
"Whether it had been a spot start or I was here the rest of the season, I just wanted to take it all in," Farmer said. "But who's to say? I'm hoping I get back here, but it was one of those things I just took it all in. It's a great feeling to know that if I did do well that if they need another arm to come up, that maybe I'll be the first call."
Jason Beck is a reporter for MLB.com. Read Beck's Blog and follow him on Twitter @beckjason. This story was not subject to the approval of Major League Baseball or its clubs.