Verlander eager to return to Tigers' rotation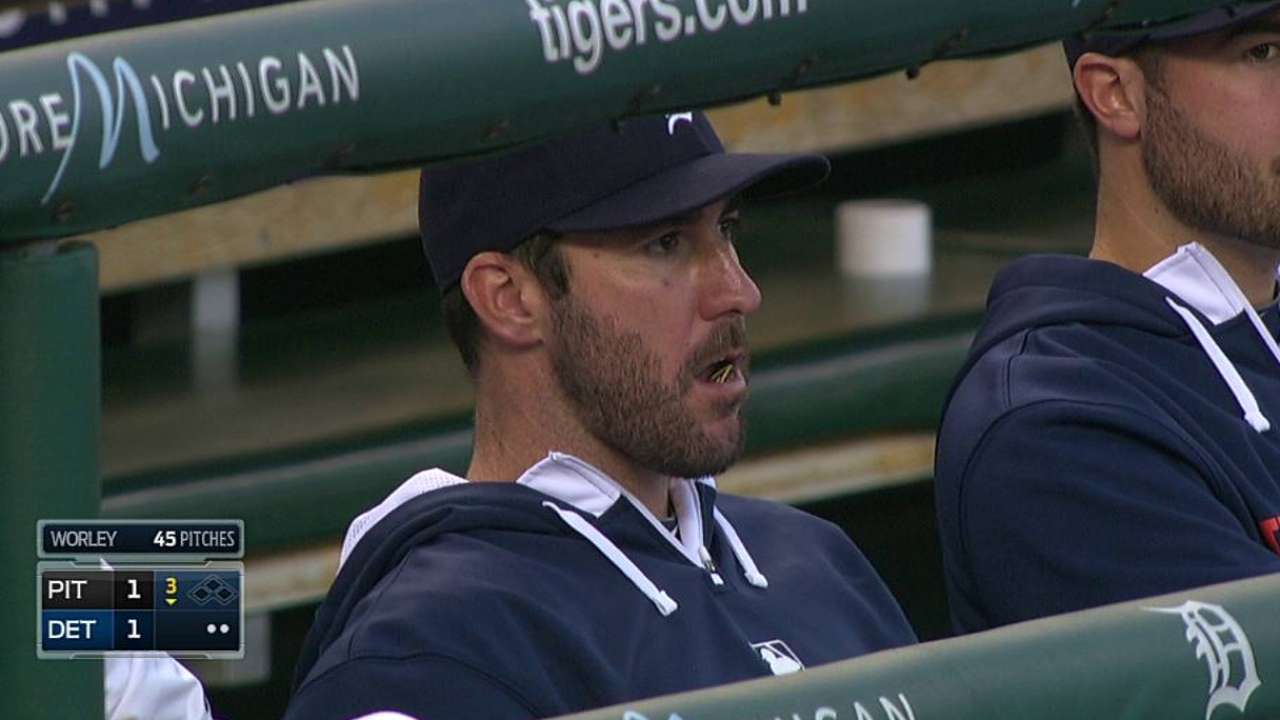 DETROIT -- Justin Verlander made it clear he takes a lot of pride in having never spent a day in the Major Leagues on the disabled list. He has no plans on breaking that streak now.
"It means a lot to me," he said Wednesday in his first comments since being diagnosed with inflammation in his right shoulder. "I'm very prideful of that. I've put a lot of work into that. I've never actually missed a start before, so this is going to be a little tough."
Manager Brad Ausmus confirmed that left-hander Robbie Ray, who took the loss Tuesday in Pittsburgh, will start Sunday against the Mariners at Comerica Park. Ausmus had left open a slight possibility that Verlander might be ready, but eliminated that Wednesday.
Essentially, the Tigers will skip Verlander's spot. Thanks to next Monday's off-day, they don't need his spot until next Saturday's day-night doubleheader at Minnesota.
Verlander was set to meet Wednesday with team doctor Stephen Lemos to formulate a rehab plan that would give him his best chance at keeping that streak going. At the same time, additional doctors from outside the organization were being consulted to review his test results and the diagnosis.
At this point, Verlander has no plans to see a specialist for a second opinion, but he's keeping his options open.
"I'm going to get other opinions. Whether I need to go visit them or not, I don't know," he said. "The more minds you put together to look at something, the better. Hopefully, they all come back and say, 'Hey, that's what we see, too.' If they say, 'Hey, maybe you want to come in and get evaluated,' OK, I might be willing to [make a visit]."
Verlander said again that he had been dealing with soreness in his shoulder since before his one-inning start Monday in Pittsburgh, but declined to say how long. He also said that while his exams showed no major structural damage, that doesn't mean there was no abnormal wear and tear.
"Structurally, my shoulder looks about as good as you can expect for someone that's been in the league for 10 years," he said.
As for whether he believes he can get back to full strength with the time off, Verlander said, "We'll see. I'm excited to get back out there. Whether it's 100 percent [strength] or not, I'll be ready to pitch."
Jason Beck is a reporter for MLB.com. Read Beck's Blog and follow him on Twitter @beckjason. This story was not subject to the approval of Major League Baseball or its clubs.