MLB.com Columnist
Phil Rogers
Despite injuries, Tigers have talent for postseason run
Verlander latest to go down, but there should still be hope left in Detroit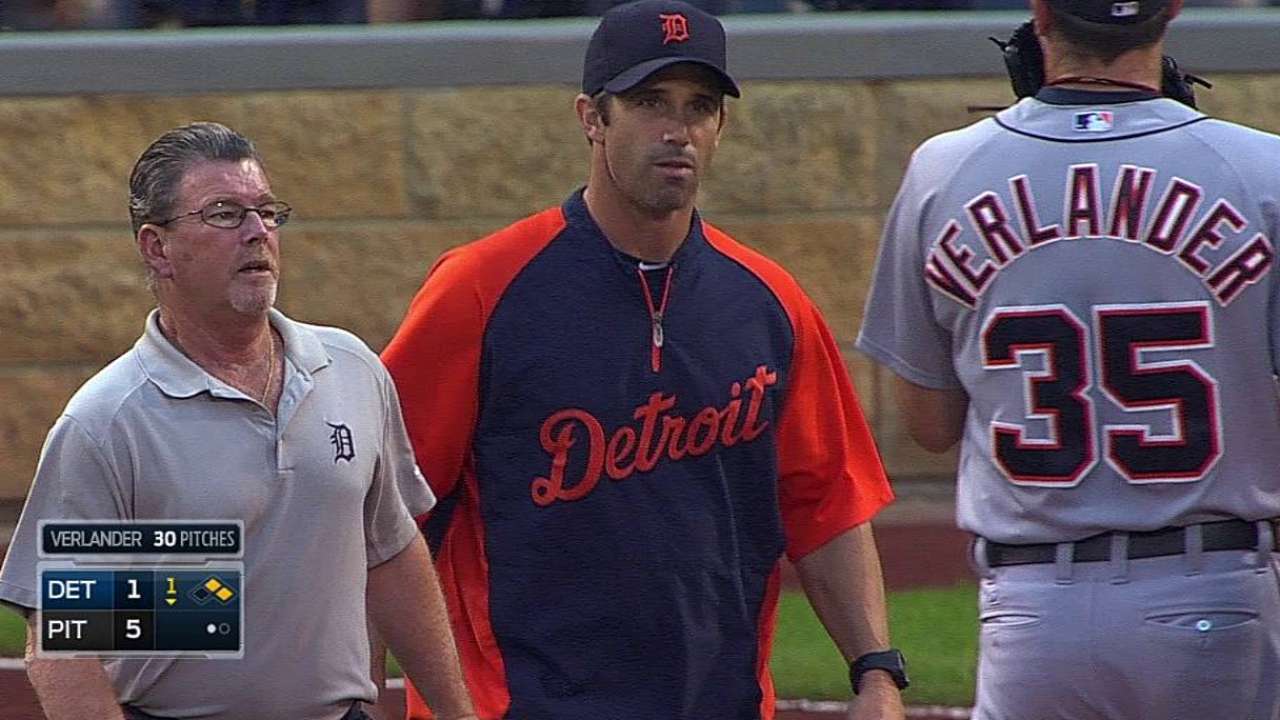 Frank Thomas played 1,959 games for the White Sox, but not the ones he most wanted to play. He was on the sidelines recovering from surgery on his left foot when his teammates rolled through the playoffs in 2005, including a sweep of the Astros in the World Series.
His rings fits just the same, thank you.
Thomas considers that '05 season one of the highlights of his Hall of Fame career, when at one point it was surely one of his lowest of lows. You never really know, do you?
That's worth remembering, especially for Mike Ilitch, Dave Dombrowski and the incredibly loyal fans of the behemoth they created. The Tigers have had better nights than Monday, when Justin Verlander walked off the field with the first major injury scare of his career.
Something is wrong with his shoulder, and when it is bad enough that Verlander removes himself from a game, you know it has the potential to wreak havoc with his season. That's devastating news for him, even if this hasn't been one of his vintage American League Cy Young Award-worthy performances.
Verlander will be evaluated Tuesday. If he's out longer than a few weeks, it will be a horrible development for the Tigers, who had been the most likely team in the AL to coast into the playoffs. But don't sell this team short, even without Verlander.
Baseball is never about one player, and besides, Verlander had arguably fallen to fourth, maybe even fifth, when you lined up Detroit starters by their effectiveness. The Tigers can still reach the postseason for the fourth year in a row, with or without Verlander, who has a what's-wrong-with-this-picture ERA (4.76) through 25 starts.
Don't be fooled by the timing.
Sure, the Royals are rolling. They have won 16 of their last 19. They've been 8 1/2 games better than the Tigers since July 22, and by beating Oakland on Monday, Kansas City moved a half-game ahead of Detroit in the AL Central standings.
The Tigers meanwhile placed Anibal Sanchez on the DL with a strained pectoral muscle on Sunday, then lost a 19-inning extravaganza in Toronto, leaving the pitching staff in tatters.
How big of a mess is it? Detroit added two arms from Triple-A Toledo on Monday and reportedly is reaching to Double-A Erie to add more depth after the Verlander injury.
That's bad. But the Tigers still have Max Scherzer and Rick Porcello, who are a combined 26-10, and are just now getting used to the sight of David Price underneath the olde English D.
You can do a lot worse than Scherzer, Price, Porcello and Sanchez down the stretch or in a playoff series.
Brad Ausmus, Detroit's rookie manager, would feel better if his team started scoring runs the way it can. Miguel Cabrera hasn't been banging the ball around, and suddenly J.D. Martinez is looking like the guy who couldn't cement a long-term future in Houston.
Oh, and yes, the Tigers are missing Austin Jackson. The center fielder who was traded to Seattle in the three-way Price deal that sent Drew Smyly to Tampa Bay had been Ausmus' hottest hitter in July. He energized the order once he had regained the leadoff spot.
There's a lot of work that has to be done. But in an odd way, Verlander's absence could work for Detroit.
It could take some heat off in October, when the Tigers have been favored to win every series they played while in the Cabrera-Verlander formation. That hasn't been fair, as the difference between teams is tiny in five- and even seven-game series. But with Verlander starting Game 1, Detroit always inspired confidence, at least until the late innings when its shaky fielding and hittable closers kept hope alive across the diamond.
It doesn't really matter what we think, of course. The issue is what the players are feeling.
When a team hasn't won a World Series seemingly in forever -- see Cubs, 2003, '07 and '08 -- or has never actually won one -- see Rangers, 2011 -- it feels an extra sense of urgency in October, and maybe a little doubt. When you're the Tigers, who have been on the verge of winning one for Ilitch since Verlander's AL Rookie of the Year Award-winning season in 2006, you go to Spring Training knowing that you win the World Series or fall short of your goal.
The Royals are for real, as Yordano Ventura demonstrated by beating Sonny Gray. They are determined to make their own magic this season after a 28-year postseason drought. But there's no way the Tigers are going to go away, no matter what news they get on Verlander.
This is a crisis. It's not the end of a season, let alone an era.
September's going to be a great month of baseball in Detroit. Don't write off October, either.
Phil Rogers is a columnist for MLB.com. This story was not subject to the approval of Major League Baseball or its clubs.