Verlander to undergo MRI on sore right shoulder
Right-hander allowed five runs, four earned, in one frame vs. Bucs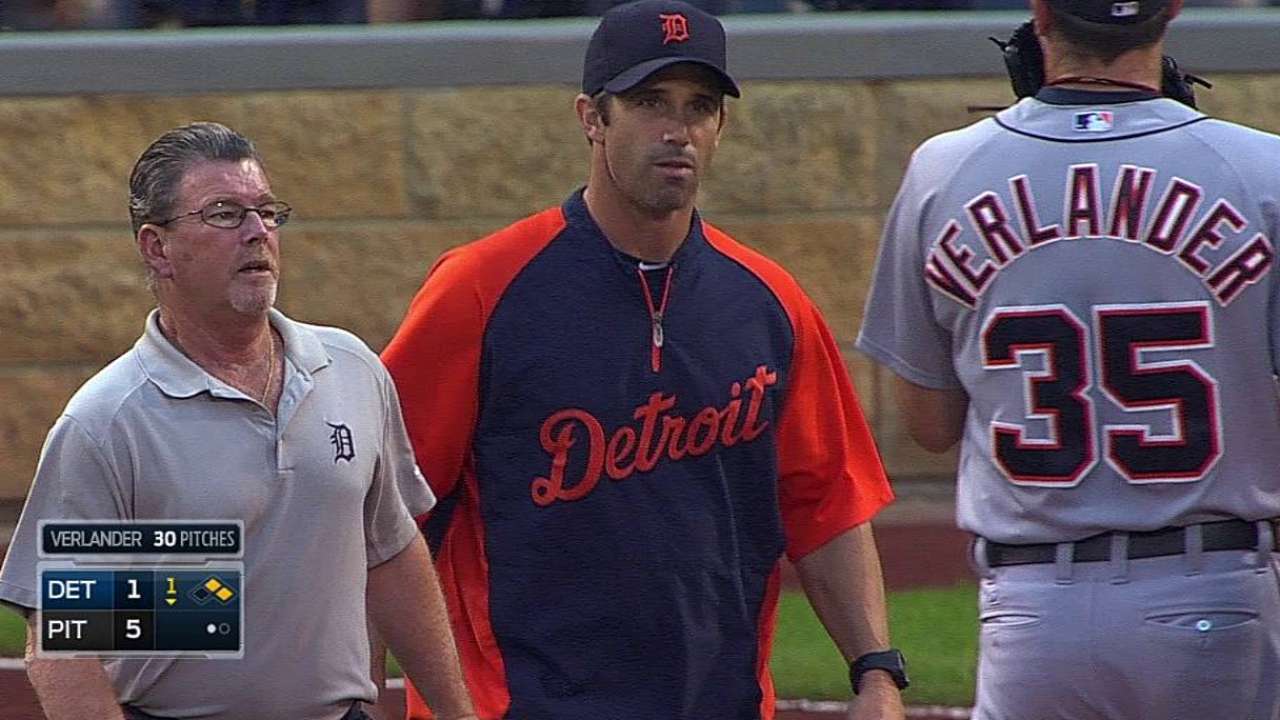 PITTSBURGH -- This used to be Justin Verlander's time to shine, lifting the Tigers when they need him the most. Instead, the Tigers now have to wonder if Monday was Verlander's last stand.
"Obviously, I'm concerned," Verlander said. "There's a level of concern. You go to get an MRI, it's never a good sign."
The Tigers handed the ball to Verlander on Monday night in desperate need of innings after Sunday's 19-inning marathon in Toronto. One inning later, manager Brad Ausmus had to take it away from him for his own good, having seen an issue in Verlander's delivery that was masking a sore shoulder.
Verlander left with what the Tigers called right shoulder soreness. He'll return to Detroit on Tuesday for an MRI and other tests to see if it's a sign of a larger issue.
For the remarkably durable Verlander, who has never spent a day on the disabled list in his Major League career, it's the first major injury concern. He has made at least 30 starts every season since 2006, and at least 33 starts each season since 2008.
"I'd be lying if I said I wasn't a little nervous," Verlander said, "but I've never been through this before. I'm going to be a little nervous. Keep my hopes high, my fingers crossed. Hopefully it's nothing."
Verlander gave up five runs, four earned, on four hits in his only inning, his cause hindered by two errors and another outfield misplay behind him. His fastball sat in the low-90s, which isn't unusual for him in the first inning, but was clearly hittable.
"Justin being the horse that he is, he knew we were in dire straits and he wanted to pitch," Ausmus said. "The shoulder bothered him a little bit in the bullpen."
At one point, with the Tigers' bullpen quickly warming, head athletic trainer Kevin Rand visited the mound, seeing some reason for concern, but Verlander said he was fine.
"I don't think he thought his delivery was any different," Ausmus said, "but it just looked to me that it was different. I consulted [pitching coach] Jeff [Jones] and Jeff kind of saw the same thing. I was actually immediately worried from the start of the game."
Said Verlander: "Warming up, it didn't feel great. Once I was out there on the mound in a game situation, it didn't feel too bad. It just wasn't there at all. That's the reason I wanted to go back out there. I told Brad I really didn't think I would've been risking anything more going out there. As a pitcher, you risk something every time you take the mound injury-wise, but I knew that the team needed me tonight. That was the biggest reason I wanted to go back out there."
Verlander finished out the inning, then was due to bat third in the second inning. However, both Max Scherzer and Rick Porcello seemed to be preparing to pinch-hit for Verlander. Both were caught on the television broadcast with bats and batting helmets in the dugout while Verlander emerged in the on-deck circle, having had further discussion with Ausmus.
Verlander ended up stepping to the plate and laying down a sacrifice bunt. He then marched down the steps, through the dugout and into the clubhouse without pause. Meanwhile, Justin Miller continued to warm in Detroit's bullpen.
"Even after his at-bat, he wanted to stay in the game to pitch," Ausmus said. "But like I said, my gut told me something was bothering him, Jeff Jones kind of saw the same thing.
"If I send Justin back out there and he gets hurt, seriously hurt, I don't know if I can live with myself really. I'd be kicking myself from now until the end of the season. He's way too good of a talent and way too important a part of this team that I could allow myself to risk that."
Once the inning ended, Miller entered from the bullpen. Verlander never emerged back from the dugout.
"I was pretty upset when he took me out of the game," Verlander said. "We talked about it, but after having cooled down a little bit. It was probably the right move, but it's just the competitive nature in me doesn't want to say that I should ever come out of a ballgame. We talked about it again after the game, and having cooled off a little bit, it was probably the right move."
Verlander has struggled through much of the season en route to his roughest year statistically since 2008. His fastball velocity has been inconsistent, as has his command of his secondary pitches. Monday, however, was the low point for him.
Verlander called his stuff "the worst of my career."
That said, Verlander admitted, "It's been lingering for a little while."
Asked to define "a while," Verlander declined.
"It's the first time I've come out of a game and you guys have been notified of it," he said.
It's the second time in four days Ausmus had to pull a member of his star-studded rotation from a game with an injury. Anibal Sanchez left Friday's game in Toronto with a pectoral muscle strain.
The combination leaves the Tigers scrambling short-term for replacements. Robbie Ray begins his stint in the Tigers' rotation filling in for Sanchez on Tuesday, while Buck Farmer -- who spent most of the year in Class A West Michigan and was just promoted to Double-A Erie two starts ago -- will make a spot start Wednesday.
Max Scherzer, Rick Porcello and David Price will follow Farmer. Verlander's next start, if he can make it, would be Sunday.
Jason Beck is a reporter for MLB.com. Read Beck's Blog and follow him on Twitter @beckjason. This story was not subject to the approval of Major League Baseball or its clubs.