Tigers make flurry of roster moves after lengthy game
Three relievers called up from Triple-A Toledo; Ray's return to rotation pushed up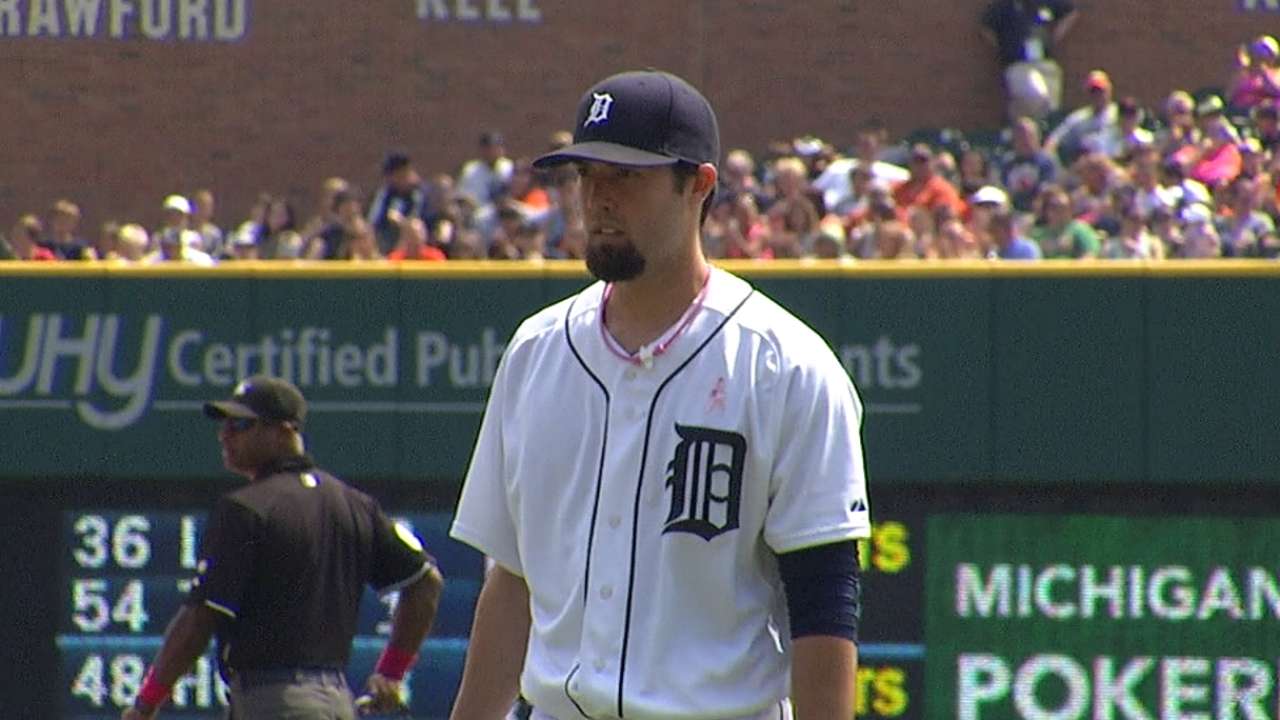 PITTSBURGH -- The Tigers' roster shuffle from their 19-inning loss at Toronto came Monday afternoon, and it was fairly massive. Detroit called up three relievers from Triple-A Toledo, sent two others down, moved up Robbie Ray's return to the rotation and released longtime lefty prospect Casey Crosby.
Left-hander Ian Krol and right-handers Justin Miller and Kevin Whelan rejoined the Tigers, recalled from Triple-A Toledo in time for Monday night's series opener against the Pirates. All three will be available to help a Tigers bullpen that went through every available reliever Sunday.
Krol spent the first two months of the season as the primary left-hander in Detroit's bullpen before landing on the disabled list in June with a tired arm. He then struggled upon his return and was sent down on July 31 to get more regular work. Krol tossed 3 2/3 scoreless innings for the Mud Hens in August, allowing five hits, walking none and striking out four.
Miller spent a couple of stints in Detroit from mid-April to mid-May, regrouped in Toledo and posted very good numbers in late-inning work, including a 1.45 ERA and 23 hits over 37 1/3 innings.
Whelan, meanwhile, is a Minor League veteran who rejoined the organization this year after being traded to the Yankees in 2006 as a prospect in the Gary Sheffield deal. A Tigers Draft pick in 2005, Whelan has 20 saves for the Hens, having allowed eight runs on 26 hits over 39 innings, with 48 strikeouts.
The 30-year-old Whelan's first appearance will be his Tigers debut. He pitched in two games for the Yankees in 2011.
To make room for the three on the roster, Detroit optioned left-handers Blaine Hardy and Pat McCoy to Toledo while officially placing Joakim Soria on the 15-day disabled list. Though the Tigers announced Sunday morning they were placing Soria and Anibal Sanchez on the DL, they held off on formalizing the moves because they didn't feel they could get an extra pitcher to Toronto in time for Sunday's series finale against the Jays, not expecting they were headed for 19 innings.
Hardy and McCoy pitched three scoreless innings each. Their success coincidentally led to their demotion, as Detroit needed fresh arms for Monday. However, since the Tigers haven't officially placed Sanchez on the DL yet, they could circumvent the usual 10-day requirement for a Minor League stay and recall one of them in the coming days as soon as they're ready to pitch.
To do that, though, Detroit would have to make another roster move to make room for Ray, who will take Sanchez's spot in the rotation. He was scheduled to start Wednesday against the Pirates at Comerica Park, but he had his start moved up a day when Rick Porcello pitched two-plus innings of relief Sunday.
There's no word yet on when Porcello will be available to start. The Tigers have not announced a replacement starter for Wednesday. If Porcello can't start Wednesday, Detroit will likely have to call up yet another starter from Toledo, which could be another reason for waiting to place Sanchez on the DL.
To make room for Whelan on the 40-man roster, meanwhile, the Tigers gave left-hander Casey Crosby his unconditional release. The 25-year-old left-hander was a highly-touted prospect from the same 2007 Draft that produced Porcello. However, injuries plagued Crosby from the start of his pro career, beginning with Tommy John surgery after the 2007 season.
Crosby, still just 25 years old, made three starts for the Tigers in 2012. He has spent the last three seasons at Toledo, dealing with injuries last year and this summer. Crosby gave up 11 earned runs on 15 hits over 17 innings in 11 relief appearances for the Mud Hens this season.
Jason Beck is a reporter for MLB.com. Read Beck's Blog and follow him on Twitter @beckjason. This story was not subject to the approval of Major League Baseball or its clubs.