Davis saves game with outstanding sliding snag
Left fielder plays defensive hero in first game in Toronto since joining Tigers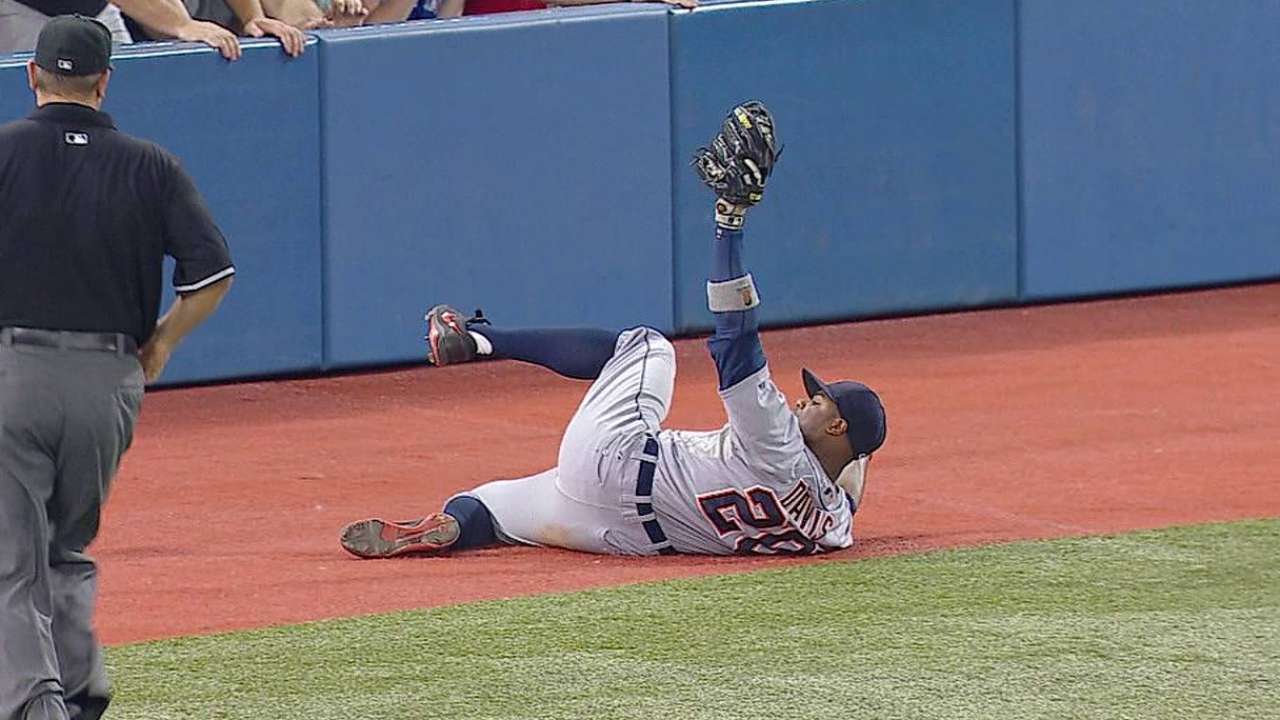 TORONTO -- Among the places Rajai Davis called home during his three seasons with the Blue Jays was one of the many condos that surround the Rogers Centre. It made his commutes to work more like a short, easy stroll.
But in his return to the ballpark for the first time since leaving for the Tigers, Davis required some extra effort at the end, as the left fielder made a terrific sliding grab for the last out of the game.
"I heard somebody said that was a defensive walk-off right there," Davis said.
It was David Price who said that, Davis later said. It was not Joe Nathan, who earned his 24th save with Davis' catch, but he had his share of words for it, too.
"Off the bat, I thought there was no chance," Nathan said. "I thought nobody had a chance of getting to it. I've seen that ball way too many times. We as pitchers have a pretty good idea of the ones that have a chance to be caught and the ones that usually fall in. That was one I felt was going to drop in, but foul."
Nathan would have an 0-2 count on Josh Thole, but he's been there with other hitters before. His struggles to finish off Colby Rasmus from a 1-2 count helped get him to this point -- bases loaded, tying run at third, winning run at second, and Thole a pitch away from a potential walk-off hit.
Rasmus had taken back-to-back fastballs off the plate, then shrugged off a full-count slider that Nathan hoped would draw a swing-and-miss, but didn't throw the way he wanted. Juan Francisco, who came on as a pinch-hitter, entered in a slump, but his ability to hit for power left Nathan weighing his options when he fell behind.
It wasn't an intentional walk, Nathan said, but he was willing to put Francisco on rather than challenge him over the plate.
"Don't want to load the bases in one-run game," Nathan said, "but you don't want to give in to a guy who can end the game with one swing of the bat."
Thus, he took his chances with Thole, who took a first-pitch fastball for a strike before fouling off the curveball.
"Off the bat, I was sure it was going be 0-2 and I was going to have to throw another pitch," Nathan said. "I turned and looked and Rajai was on his horse."
From Davis' angle, it was catchable from the start.
"It actually seemed like it started off fair and then it kind of tailed off," Davis said. "But as soon as it was hit, I knew I had a shot at it. I just put my head down and ran as fast as I could to a spot where I thought it was going to be at. I looked up, took my slide and slid a little longer than I planned. It worked out for us."
Davis slid under the ball and got his glove underneath for the catch. He did not get a turf burn for his trouble.
"I kind of slid pretty smooth," Davis said. "I guess I slid more like an airplane coming in."
Jason Beck is a reporter for MLB.com. Read Beck's Blog and follow him on Twitter @beckjason. This story was not subject to the approval of Major League Baseball or its clubs.