Anibal exits game with right pectoral strain
Starter pulled in fifth inning in Toronto after allowing four runs on 10 hits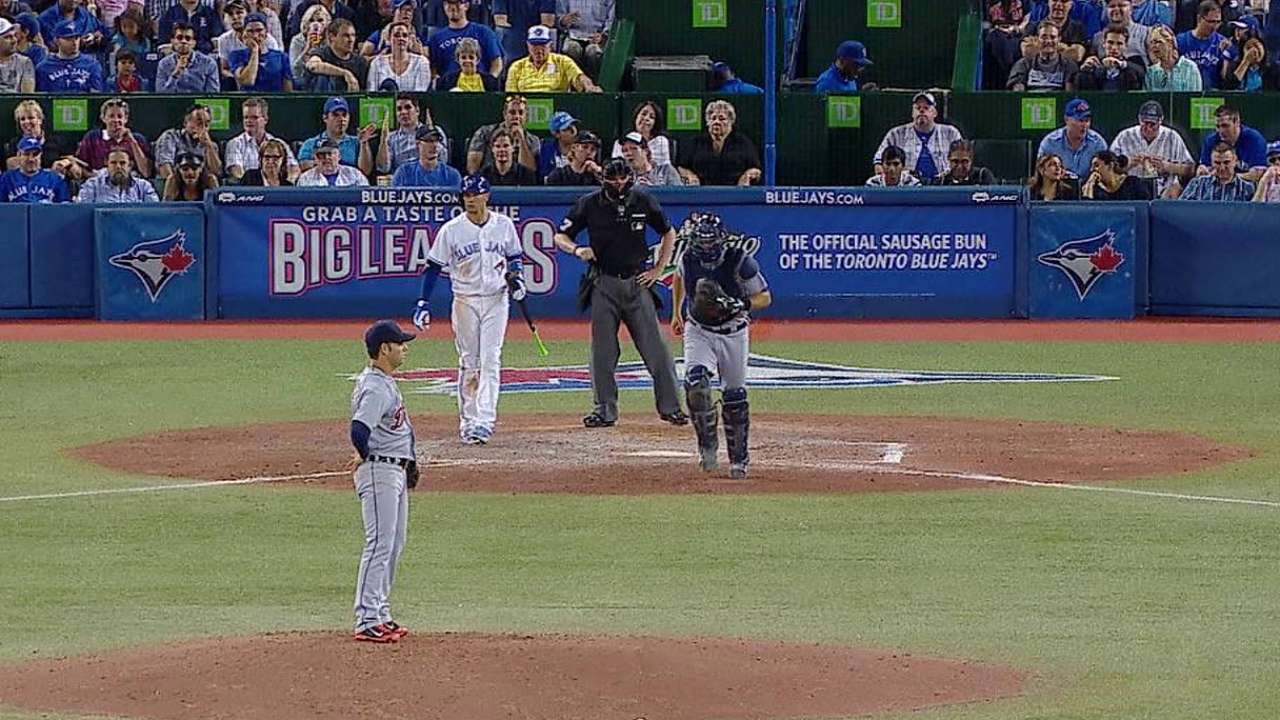 TORONTO -- Up until the moment Anibal Sanchez grimaced on a fifth-inning pitch Friday night at Rogers Centre, the Tigers spent most of their road trip struggling in spite of their starting rotation. Once Sanchez shook his head on a warmup pitch and exited Friday's series opener against the Blue Jays, the rotation became manager Brad Ausmus' latest concern.
An initial exam diagnosed Sanchez with a right pectoral muscle strain. He'll return to Detroit on Saturday for an MRI exam.
Sanchez, who missed three weeks earlier this season with a lacerated finger on his right hand, said he hopes he can somehow avoid another stint on the disabled list. The unusual injury, however, leaves nobody knowing what kind of timetable he'll face for a return.
"It's an odd area to have an injury in baseball," manager Brad Ausmus said. "It's not something that's common. I don't know if that's a good thing or a bad thing. When you have a hamstring injury or a groin injury, there's kind of some track record for recovery time based on how severe the injury is."
The injury happened on a pickoff throw to first with Munenori Kawasaki on base and Ryan Goins stepping to the plate. Sanchez said it was his normal move, though Ausmus said he might have extended his arm across his body.
Right away, Sanchez started trying to stretch his arm and move his shoulder around, and teammates called Ausmus and head athletic trainer Kevin Rand to the mound. Sanchez tried to stretch it loose, but his reaction to his warmup showed no hope it was going to cooperate.
"There's no way I could throw another pitch," Sanchez said. "I felt a lot of pain right there in that moment. I just walked off."
Sanchez has a history of right shoulder issues, including surgery that cost him most of the 2008 season for the Marlins and a shoulder strain that cost him a month last summer. This, however, is different.
"I never got that before," Sanchez said. "I don't know what the [recovery] process is, how long it might take."
Sanchez gave up four runs on 10 hits over 4 2/3 innings, lasting 93 pitches in the follow-up to his seven-inning, 12-strikeout shutout gem against the Rockies last Sunday. He didn't get an abundance of help from his supporting cast, but he also didn't seem to have the same deceptive fastball either. That said, he felt fine up until the pickoff attempt.
The Tigers need either Sanchez or a replacement starter next Wednesday, when they return home to host the Pirates on the back half of a home-and-home set. Lefty Robbie Ray filled in for Sanchez earlier this season, but he has battled off-and-on command issues since returning to Triple-A Toledo at the end of May. Right-hander Drew VerHagen pitched respectably as a spot starter in a July 19 doubleheader against Cleveland, but he has been sidelined ever since with lower back tightness.
Jason Beck is a reporter for MLB.com. Read Beck's Blog and follow him on Twitter @beckjason. This story was not subject to the approval of Major League Baseball or its clubs.