Charities, fans to benefit from Scherzer fantasy league
Several players to compete in Motown Showdown football league to help Detroit causes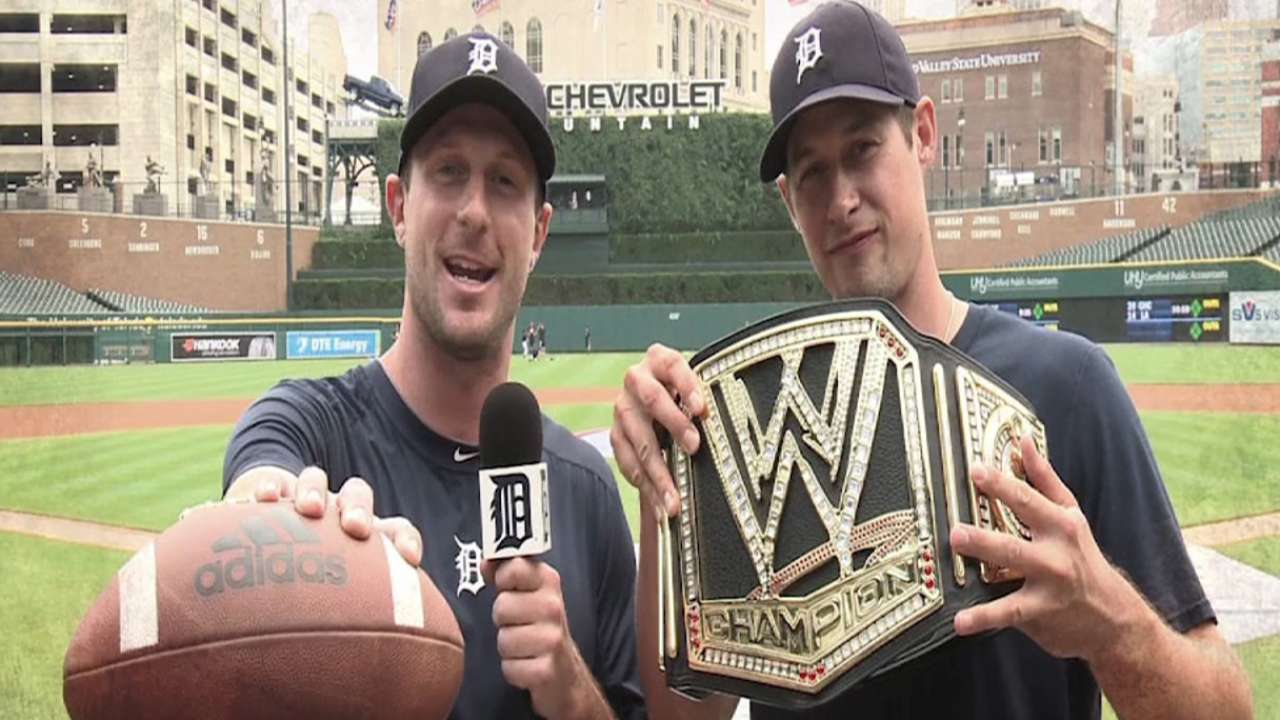 DETROIT -- Max Scherzer is extremely competitive and fascinated with statistics. That extends off the mound, even off the diamond, and into other sports, where he has long been the Tigers' resident commissioner on any fantasy sports league he can find teammates to play in.
"I don't think [fans] realize how much trash talking goes on in this clubhouse," Scherzer said. "Once the draft happens here -- I mean, don't get me wrong, we're here to play baseball, we realize that -- but in our downtime, we're just kind of messing around in the clubhouse. There's some heated, heated arguments flying around. It's so much fun."
For Scherzer's latest venture, he's looking for fans to take him on, and he's looking to help charitable causes while doing it. In a partnership with other Major Leaguers, including fellow Cy Young winner Clayton Kershaw, Scherzer is setting up a fantasy football league for local fans to compete with him this fall and get a glimpse of what their trash talk is like.
With an entry contribution of $3,000, Max Scherzer's Motown Showdown will raise funds to benefit the Detroit Tigers Foundation, Detroit's Police Athletic League and the Detroit Zoo. A portion of the proceeds will also go to Big League Impact, which supports essential needs causes such as food, water and shelter in different cities and countries.
But if Scherzer's involved, it's going to be more than a friendly competition. He has partnered with WWE to have a title belt made, similar to the one it presented him for his AL Cy Young Award last fall, for the overall winner. Scherzer has put together a package of prizes for "conference" winners.
"That's the beautiful thing about this," Scherzer said, "Obviously money is going to a great cause, but we also have prizes for winning -- winning your league with your player, and then obviously winning the whole Detroit chapter. Yeah, we're having fun and doing things for a good cause, but hey, there's a trip on the line."
Scherzer has also garnered commitments to participate from teammates Miguel Cabrera, Ian Kinsler, Joba Chamberlain, Rick Porcello, Torii Hunter, Alex Avila, Don Kelly, Joe Nathan and Bryan Holaday. Every conference in the showdown will have a Tigers player in it.
Scherzer also has set up a live draft for Friday, Aug. 15, at the Tiger Club at Comerica Park for donors to draft with Tigers players and competitors, tour the ballpark, take in batting practice later with VIP access and then watch that night's Tigers game against the Mariners.
The idea was inspired by a league that Cardinals pitcher Adam Wainwright put on last fall in St. Louis to help charitable causes there. This year, Wainwright approached other players around baseball to try it out.
"It was a very productive fantasy event," Scherzer said, "and it also gives the fans a chance to have a charity event beyond one day. A lot of charity events are only one day, a couple hours. This allows the fans to have a charity event over six months. It's a really unique experience for everybody, and so Adam called me up this offseason and said, 'You want to start one in Detroit?'"
The entry fee procures a team in a "conference" against one of the participating Tigers players selected at random through an assignment. An additional $2,000 contribution will earn a participant the chance to select the Tigers player he or she wants to compete against.
Jason Beck is a reporter for MLB.com. Read Beck's Blog and follow him on Twitter @beckjason. This story was not subject to the approval of Major League Baseball or its clubs.