Cy you later: Price part of recent trading trend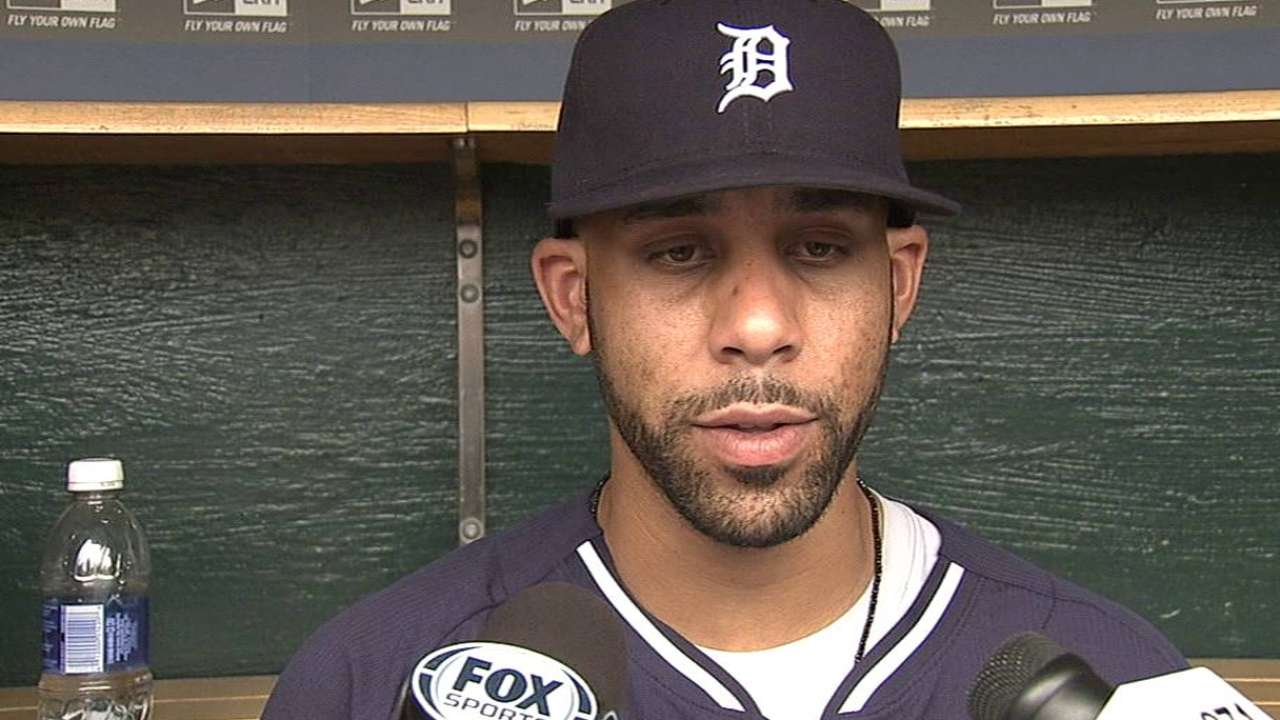 When David Price was dealt by the Rays in the minutes before last Thursday's non-waiver Trade Deadline, he became the latest pitcher to go Cy and then bye not too much later.
Price won the American League Cy Young Award in 2012, and by the middle of 2014 had moved his hardware to a new address in the Tigers' clubhouse, looking to be a part of Detroit's quest for October.
But as he prepares to make his Detroit debut Tuesday night, he's not alone in going from the game's greatest honor to changing jerseys in the span of a couple of years. Price represents the sixth Cy Young Award winner out of the last 12 who have been dealt within two years of claiming the coveted plaque.
Here's a rundown:
Jake Peavy: 2007 National League Cy Young with Padres, traded 2009 -- and 2013, and '14.
Peavy has become the poster child for this phenomenon, first being traded from the Padres organization that had drafted him to the White Sox, then to the Red Sox last year and finally to the Giants this year. He actually nixed the trade to Chicago earlier in '09 before accepting it at the Trade Deadline, but it was his second trade and his second set of Sox that got him a World Series ring.
CC Sabathia: 2007 AL Cy Young with Indians, traded 2008.
Of course, Sabathia has taken his talents to the Big Apple since, although he's out for the season with knee surgery. He was dealt a few weeks before the Trade Deadline in 2008, going to Milwaukee -- and then to the playoffs with the Brewers after a dominant second half. (The player to be named in that deal? Michael Brantley, 2014 All-Star with the Indians.) Sabathia left for New York that winter, won a World Series ring in 2009 and strung together three All-Star seasons before a precipitous slide that began last year.
Cliff Lee: 2008 AL Cy Young with Indians, traded 2009 -- twice -- and 2010.
Lee went on a run of trades, first to the Phillies and into the World Series, then to the Mariners that winter for a matter of months and finally to the Rangers, where he went to the World Series again before returning to the Phillies as a free agent. (Whew, got all that?) Lee, too, is facing injury problems -- an elbow strain that likely brought his season to an end.
Zack Greinke: 2009 AL Cy Young with Royals, traded December 2010 and again in July 2012.
Greinke was a No. 1 draft pick by the Royals a decade earlier and had fulfilled his promise as the organization's ace, but K.C. sent him to Milwaukee a couple of weeks after the Winter Meetings in a deal that brought the Royals two current starting position players -- shortstop Alcides Escobar and outfielder Lorenzo Cain. Greinke wound up helping them to the NL Central title in 2011, but by July 2012 was dealt to the Angels, pitching OK with them but missing the playoffs. He went up the road to the Dodgers that winter via free agency.
R.A. Dickey: 2012 NL Cy Young with Mets, traded in 2012.
Dickey had a long and winding road in and out of the Majors, but he finally got things straightened out with his dancing knuckler leading to Cy Young fame in 2012 with the Mets. But he was gone by December that year, traded to the Blue Jays, who were in the midst of a major makeover. Like the Jays, the first year wasn't exactly how things were supposed to turn out, but the Jays and Dickey are in the playoff hunt this year.
David Price: 2012 AL Cy Young with Rays, traded in 2014.
There certainly were enough rumors about the Rays' ace leading up to last week's trade, and other shoe finally dropped with the last-minute deal to the Tigers. He comes into Detroit as MLB's leader in strikeouts (189) and innings pitched (170 2/3), ready to help the Tigers pursue a third American League Championship Series appearance in four years -- and, they hope, more than that.
When he stands on the mound in his Tigers debut at Yankee Stadium on Tuesday night, he won't be alone in one respect: He'll be just another in a line of elite pitchers to go from Cy to bye in a short time.
John Schlegel is a national reporter for MLB.com. You can follow him on Twitter at @JohnSchlegelMLB. This story was not subject to the approval of Major League Baseball or its clubs.