Tigers want to get Avila going vs. southpaws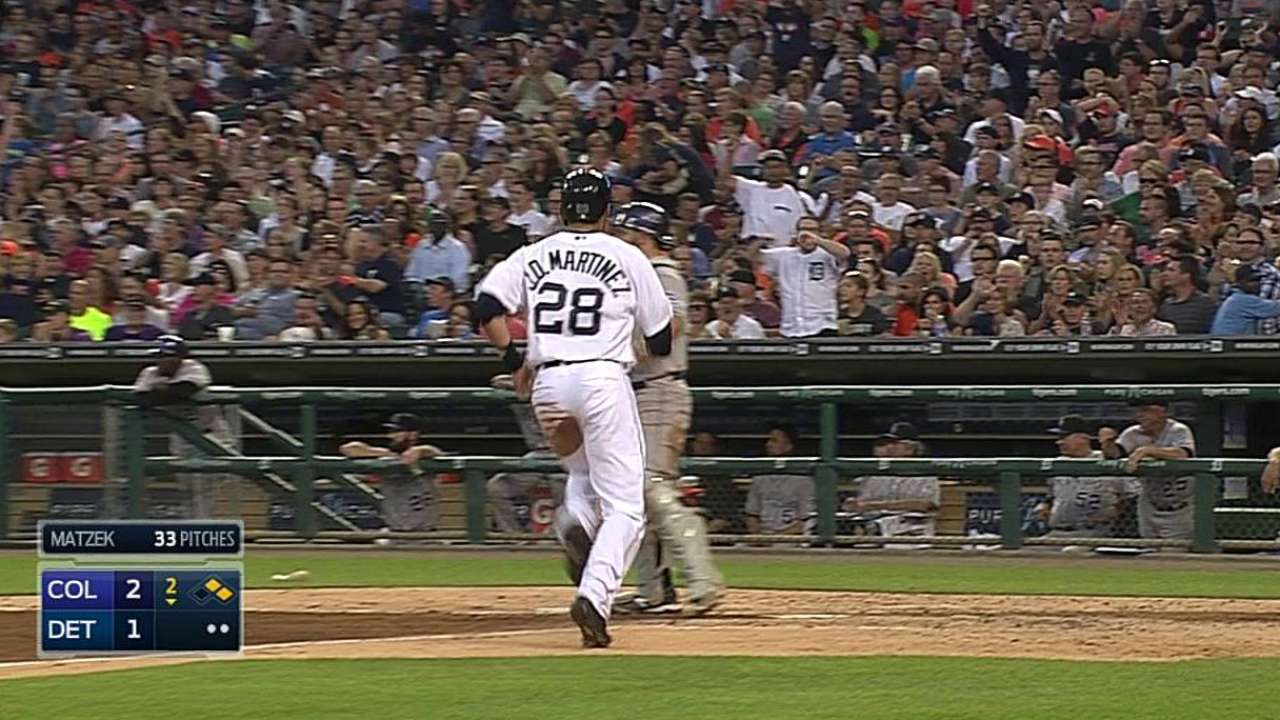 DETROIT -- Tigers manager Brad Ausmus does not want to reduce Alex Avila to a platoon catcher. More games like Saturday would go a long way to making sure he doesn't have to.
While the Rockies started a left-handed pitcher for the 19th consecutive game on Sunday, the Tigers started the lefty-swinging Avila against a southpaw for the second day in a row. His Saturday start against rookie southpaw Tyler Matzek -- when he went 3-for-4 with two RBIs -- fit into Ausmus' larger goal of getting Avila going against lefties.
The way Avila calls a game and handles the pitching staff, Ausmus wants to be able to start him regularly. His struggles against lefties this season has made it difficult to do that. In most series, a spot matchup with a lefty makes it easy to give Avila a day off. Three consecutive lefties, however, is a challenge.
"I didn't want Alex to not play three games," Ausmus said. "I was toying with the idea of [backup catcher Bryan] Holaday playing the first and third game of the series, and it crossed my mind I could play him all three, but I just decided I didn't want to keep Alex out that long. And then he made me look good by getting three hits."
It was one game, but it was a pair of RBI hits off a lefty. The first went through the shift, a ground ball that carried under the glove of Wilin Rosario, playing first base Saturday to get out from behind home plate.
The second hit was more the style the Tigers were seeking, an opposite-field line drive that carried to the fence in the left-center-field gap. It's the kind of hit Avila got with regularity early in his career.
Avila added a late-inning double off ageless Rockies right-hander LaTroy Hawkins.
"He's been working hard with [hitting coach] Wally [Joyner], so it was nice to see some results after the hard work," Ausmus said.
The work, Ausmus said, is a combination of mechanics and approach.
"We've been working our tails off to try to get me back to the form I used to be," Avila said. "One of the luxuries so far this year is that I've been healthy, but haven't been able to kind of translate that health into production. But we've been working hard."
Those struggles had worsened in recent weeks. His three hits and two RBIs nearly doubled his production since the All-Star break, which was at 7-for-39 (.179) entering Sunday with four doubles, five RBIs, three walks and 16 strikeouts.
This was right around the time last season that Avila began his late-season surge, batting .290 (29-for-100) over the final two months with 10 extra-base hits, 15 RBIs and an .828 OPS
"I've been able to finish strong the last few years," Avila said, "so I'm hoping I can do that again."
Jason Beck is a reporter for MLB.com. Read Beck's Blog and follow him on Twitter @beckjason. This story was not subject to the approval of Major League Baseball or its clubs.