Scherzer battles past pregame neck spasms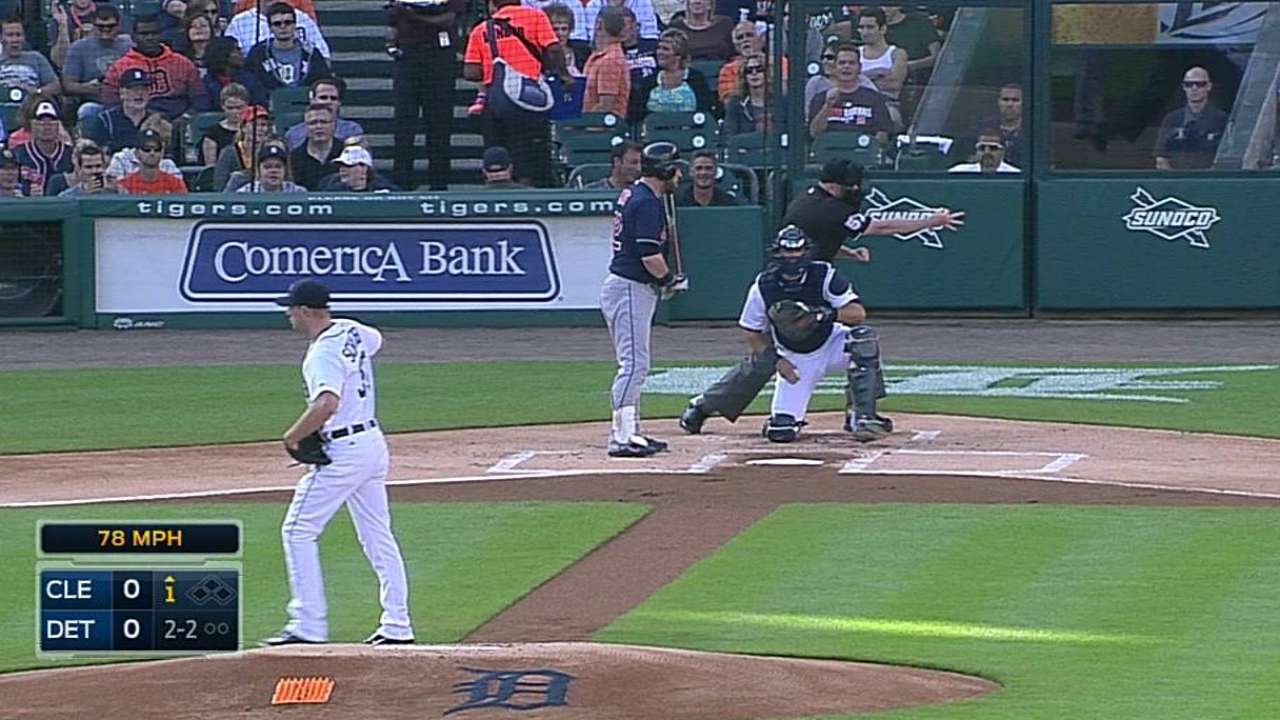 DETROIT -- Max Scherzer threw a season-high 118 pitches in Saturday night's 5-2 loss to the Indians. For a minute, it was questionable whether he'd throw one.
That's how serious of a concern the Tigers had about neck spasms that flared up as he was warming in the bullpen.
"We almost scratched him," manager Brad Ausmus said after the game. "He was able to get it stretched out, get it loosened up to the point where he can pitch."
It wasn't an ideal situation. Under the circumstances, however, it was workable.
"I could go," Scherzer said. "At the end of the day, I know my body, I know I was capable of going, and I wanted to go. At the end of the day, I don't make excuses about any ailments. I go out there and I give you everything I've got."
Scherzer said he has dealt with it in the past, but to a lesser extent. This was more serious, and it flared up as soon as he went out to the bullpen for his pregame warmups, less than a half-hour before the scheduled first pitch.
"As soon as I started throwing, I could feel it," he said. "I tried to make the adjustments that were necessary to allow me to pitch tonight and I was able to do that. For me, it's really a non-issue."
It was clearly an issue for the Tigers, who sent Rick Porcello racing to the bullpen as an emergency backup. Porcello hasn't pitched since last Saturday, and he isn't scheduled to start until Tuesday in Arizona.
"Rick Porcello would've pitched," Ausmus said. "He did not warm up but we sent him to the bullpen just before the game started in case there had to be a quick maneuver."
Scherzer not only managed, he endured. It wasn't his deepest outing, just 5 2/3 innings before Chris Dickerson's second home run of the night led Ausmus to go to his bullpen, but it was his highest pitch count.
"My arm still felt good," Scherzer said, "and when I was throwing the ball, I could still feel the ball come off my fingertips really good. "
That doesn't mean he pitched completely normal.
"He was off-kilter a little bit, a little out of whack at times," catcher Alex Avila said. "He battled through it and put in a good start for us. He was able to figure out a way to get it done."
Asked if any particular pitches were affected, Avila said, "Probably the changeup a little bit. I mean, when he delivers the ball, his head really snaps down. A few times, every once in a while, you could tell he was favoring it a little bit, but for the most part he made pretty good pitches."
Both runs came on home runs off offspeed pitches to Dickerson, who was 0-for-9 with seven strikeouts for his career against Scherzer before that. Dickerson turned on a hanging curveball to open the scoring leading off the third inning.
"That's the first time I've given up a home run on a curveball, so there's that," Scherzer said. "But then the more frustrating one was the second one."
That was a changeup on a 2-2 pitch, with Scherzer a strike away from getting out of the sixth inning unscathed.
"I just couldn't get that putaway fastball over the zone," Scherzer said, "so I had to try to double up on a changeup."
It continued an odd stat for Scherzer against the bottom of the order. No. 9 hitters are now batting .354 (17-for-48) with three home runs against Scherzer this season. By contrast, cleanup hitters are just .122 (7-for-57) off him with 20 strikeouts, though six of the seven hits have gone for extra bases.
Jason Beck is a reporter for MLB.com. Read Beck's Blog and follow him on Twitter @beckjason. Matt Slovin is an associate reporter for MLB.com. This story was not subject to the approval of Major League Baseball or its clubs.