Alburquerque unable to escape during Friday's jam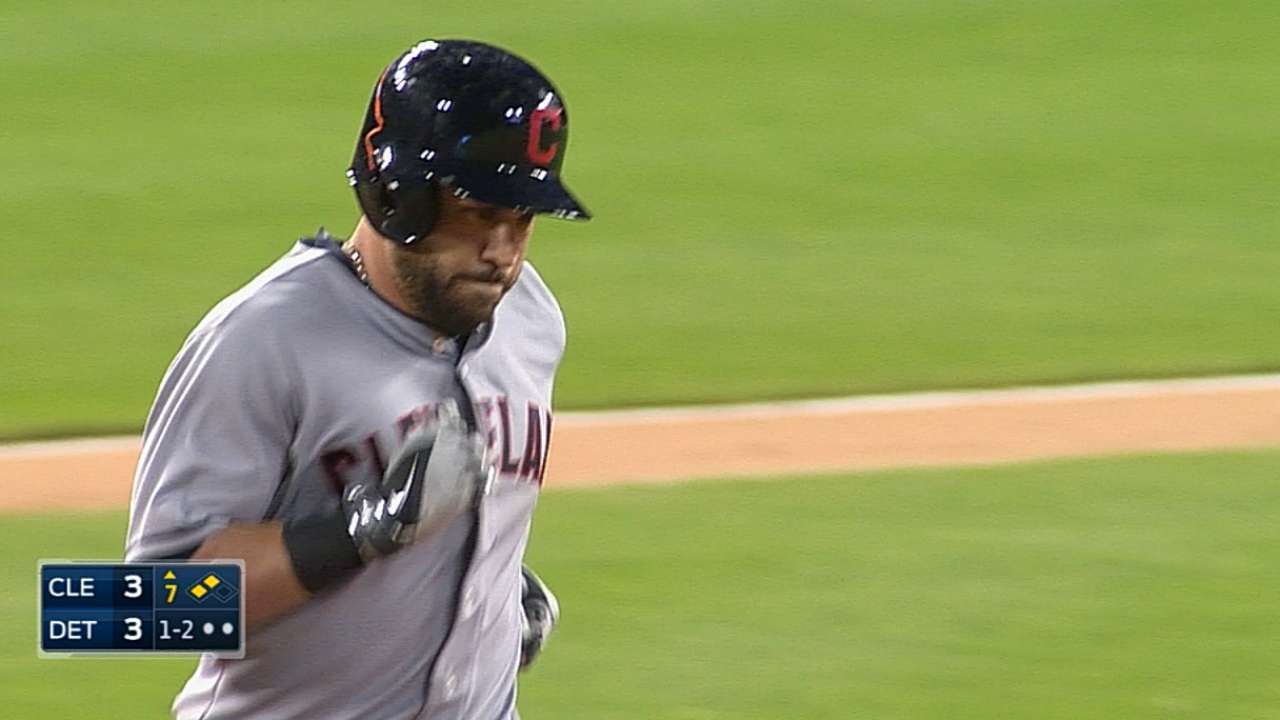 DETROIT -- Al Alburquerque came within a pitch of pulling off the escape in Friday night's 9-3 loss to the Indians. He succumbed to the home run on the pitch that had kept the ball in the park for him so often to begin his career.
"It's the big leagues. If you make a mistake, you're going to pay," Alburquerque said Saturday, a day after Jason Kipnis' home run denied him from stranding runners at second and third in a tie game with nobody out.
It's a high-wire act of sorts for Alburquerque, entering in big jams in close games with less than two outs. His escapes are spectacular, while his hits are big.
It was the first time this season Alburquerque entered a game with two runners in scoring position and less than two outs. He had entered two such jams with two outs and escaped them, though he had the walkoff balk in Cleveland on May 21.
He stranded runners at second and third after entering with one out in a tie game last Sept. 17 against the Mariners and earned the win when the Tigers pulled ahead in the seventh inning. Two weeks before that, he inherited a bases-loaded, no-out jam in Boston in a two-run game and left with a nine-run deficit thanks to two home runs.
On Friday, Alburquerque said, he paid for leaving his slider up in the strike zone after back-to-back strikeouts denied the Indians a sacrifice fly opportunity. Though manager Brad Ausmus said after the game he suspected Kipnis was sitting on the slider, Alburquerque said it wouldn't have mattered if he could've buried it.
"I wanted to throw it down," he said. "I knew my slider was moving like a cutter."
It was up, though catcher Alex Avila said it wasn't up by much.
"I wouldn't say it was a terrible pitch," Avila said, "but obviously trying to look for the strikeout there, it probably caught a little bit more plate rather than going down and in. But you're talking about centimeters. That's all it takes."
He ended up giving up homers on back-to-back pitches, pushing his total to six -- four on sliders, two on fastballs. He gave up five home runs all of last season, and none in two regular seasons before that.
Jason Beck is a reporter for MLB.com. Read Beck's Blog and follow him on Twitter @beckjason. Matt Slovin is an associate reporter for MLB.com. This story was not subject to the approval of Major League Baseball or its clubs.