Jackson sits against left-handed starter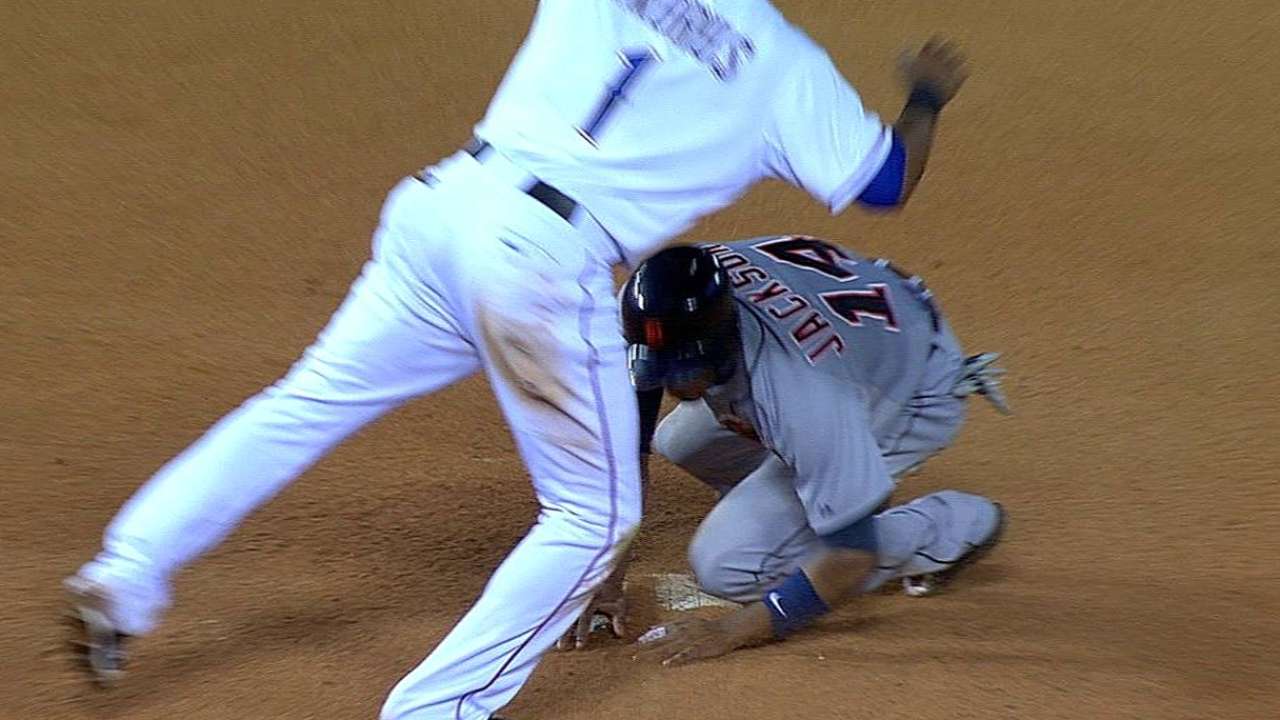 ARLINGTON -- Austin Jackson has hit left-handed pitchers much better this season than he has in years past, but he's just 1-for-7 with three strikeouts for his career off Rangers southpaw Joe Saunders. Thus, he ended up being the odd man out in the Tigers outfield Wednesday, the first night for manager Brad Ausmus to mix in four outfielders for three spots.
Rajai Davis started in Jackson's usual spot in center field, with red-hot hitting J.D. Martinez moving over to left field to accommodate the return of Torii Hunter in right after more than a week off with hamstring soreness.
It was not an easy decision, Ausmus said, to make.
"I really liked the way Austin swung the bat [Tuesday] night," Ausmus said Wednesday afternoon. "He almost turned me, because he really looked good and we need to get him going. But ultimately, I decided to give Austin a day, and he will be back in tomorrow.
"But he did look really good with the bat last night."
Jackson went 2-for-4 Tuesday night with a pair of opposite-field line drives -- one into the right-field corner for a leadoff double in the fifth inning, the other for a one-out single that kept a seventh-inning rally going. Both came on first pitches from Rangers starter Colby Lewis, improving him to 12-for-27 off the veteran right-hander.
Jackson was caught trying to steal third base after the double. It was a rare steal attempt of third for him, but Ausmus liked the aggressiveness.
"The way he was swinging, his aggressiveness on the bases, I really liked the way he played the game," Ausmus said.
The matchups won out, but Ausmus cautioned that it won't often be the deciding factor unless there's an abundance of history and an obvious difference. Tuesday was a rarity in that regard.
Nor, Ausmus said, will there be a pure rotation of four guys around three spots.
"If the numbers are overwhelming, I might lean towards the matchup," Ausmus said, "but it's going to be how guys are swinging the bat. That's why I almost got turned with Jackson, because he looked so good.
"I don't think the numbers will work out like this that often. J.D. doesn't have that many numbers against a lot of guys that we'll be facing. So really, I'm just going with J.D. because he's swinging the bat well. If I never have to take him out of the lineup again, that means he's swung the bat well all year."
Jason Beck is a reporter for MLB.com. Read Beck's Blog and follow him on Twitter @beckjason. This story was not subject to the approval of Major League Baseball or its clubs.