Krol placed on DL; Tigers call up McCoy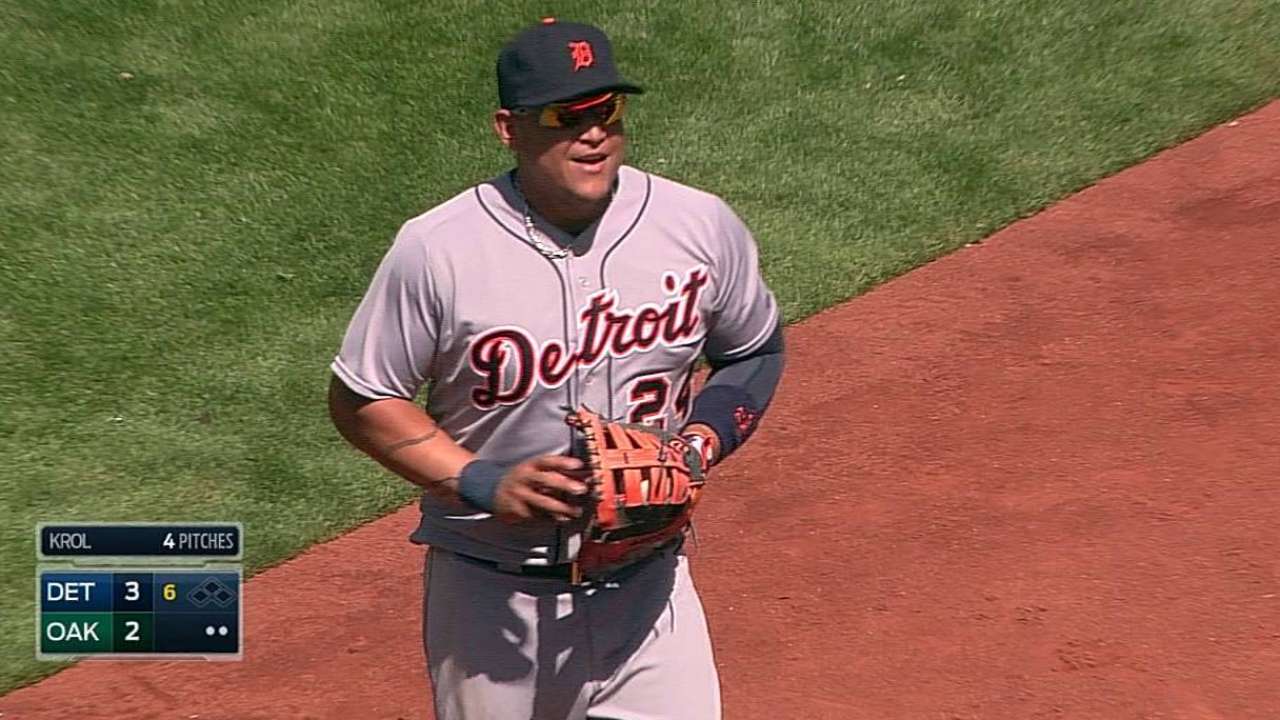 CLEVELAND -- The Tigers took Ian Krol at his word that he wasn't injured and can succeed out of the bullpen. After Krol's struggles Friday night, manager Brad Ausmus wasn't going to take a chance.
It's not pain that Krol is battling, Ausmus said, but fatigue. After a heavy workload for 2 1/2 months, it's enough of a worry that the Tigers placed Krol on the 15-day disabled list on Saturday with what the team called left shoulder inflammation.
To fill his spot, the Tigers purchased the contract of lefty reliever Patrick McCoy from Triple-A Toledo.
Krol, who admitted to left shoulder soreness last weekend but said he felt fine a few days later, said Saturday he's going through a "dead arm" phase. His velocity was up Friday night compared to previous outings, but he said the life on his pitches was inconsistent.
"He had the biceps tendinitis [earlier]," Ausmus said. "He doesn't look right on the mound. He doesn't feel necessarily pain when he throws, but he doesn't feel right. Whether it's dead arm or however you want to describe it, he's a young kid, and I think, if nothing else, not throwing for a while probably will help him.
"We don't think there needs to be an MRI or anything like that."
Krol had been telling Tigers coaches and medical staff that he's healthy. Ausmus' words leading up to the move suggested some trepidation.
Krol's velocity has dropped from 94 mph in May to 92.25 in June, according to brooksbaseball.net. He averaged just over 91 mph with his fastball in his previous couple outings before topping 92 mph on Friday.
"He's got that old-school mentality that he wants the ball no matter what. He's never scared," Ausmus said. "The unfortunate part is that he's the type of guy that won't tell me, or won't tell [pitching coach] Jeff Jones, if something's not feeling great. He'll always want the ball. But that's the type of guy you want. You want the guy who'll take the ball under any circumstances, but you also want him to tell you when he's not feeling great."
McCoy joined the Tigers' organization as a Minor League free agent last winter after seven years in the Nationals system. The 25-year-old went 3-0 with a 2.94 ERA between Double-A Erie and Triple-A Toledo, striking out 26 batters over 33 2/3 innings against eight walks. Left-handed batters were hitting .220 (9-for-41) against him, compared with .259 (22-for-85) from righties.
To make room for McCoy on the 40-man roster, the Tigers transferred Luke Putkonen from the 15-day to 60-day disabled list. It's a procedural move that has no impact on his return, since he's already been on the DL for two months.
Jason Beck is a reporter for MLB.com. Read Beck's Blog and follow him on Twitter @beckjason. This story was not subject to the approval of Major League Baseball or its clubs.