Ausmus to keep Suarez at the bottom of the order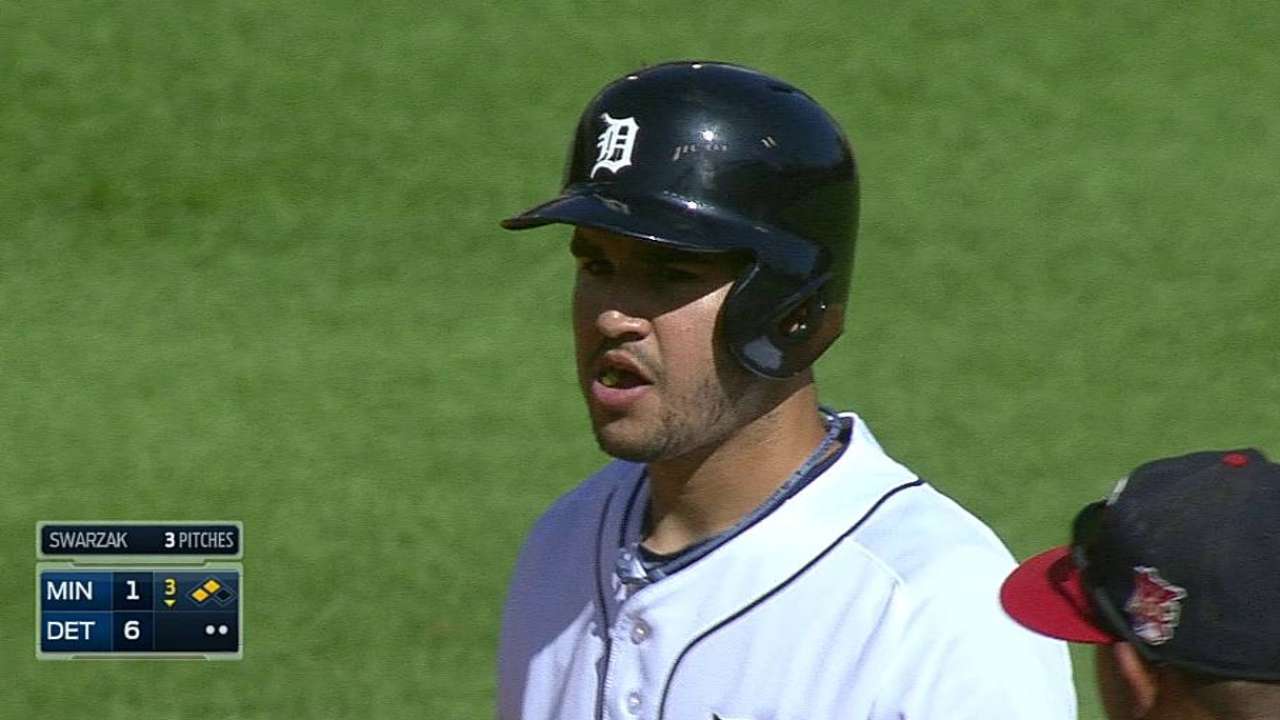 DETROIT -- Eugenio Suarez has become a spark for the Tigers' offense over the past week. He will not be a savior, as Sunday's win showed.
He also will not be a core run producer, not as a rookie with limited at-bats above Double-A ball. Twins manager Ron Gardenhire's decision in the sixth inning Sunday showed one reason why. Brad Ausmus' postgame comments reinforced it.
"I don't want to throw him in the heart of the lineup," Ausmus said, "because there's a lot more focus in the heart of the lineup."
In other words, Suarez will be staying at the bottom of the batting order.
Suarez added another hit to his career-opening tear Sunday with a line-drive single in the second inning, two batters after Nick Castellanos' sacrifice fly pushed Detroit's lead to 2-0. Ian Kinsler's single moved him to third base before Torii Hunter's groundout left him there.
After Twins starter Ricky Nolasco struck out Suarez on three pitches to retire the Tigers in order in the fourth inning, Detroit built a rally in front of Suarez in the sixth. Gardenhire, in turn, took his chances to set up Suarez with a chance to break the game open.
Castellanos' double off the left-field fence not only tied the game, it moved J.D. Martinez to third as the Tigers' potential go-ahead run. With first base open, Nolasco walked Alex Avila, who grounded out and lined into the shift his previous two times up against Nolasco, to load the bases with one out.
It was an early situation to try to set up a double play or a force out at every base. It was a timely situation to put some pressure on a hot-hitting rookie to get a big hit. In that sense, it resembled what Tampa Bay Rays manager Joe Maddon did against the Tigers in July 2010 with Brennan Boesch protecting Miguel Cabrera in the order.
Suarez swung at the first pitch from Jared Burton and popped out to second base. Once Ian Kinsler flew out to right, the tactic worked, and the game remained tied heading to the seventh.
"By having young hitters towards the bottom of the order, you hope they can take advantage of it," Ausmus said.
Jason Beck is a reporter for MLB.com. Matt Slovin is an associate reporter for MLB.com. This story was not subject to the approval of Major League Baseball or its clubs.