Ausmus, Hunter share memories of Gwynn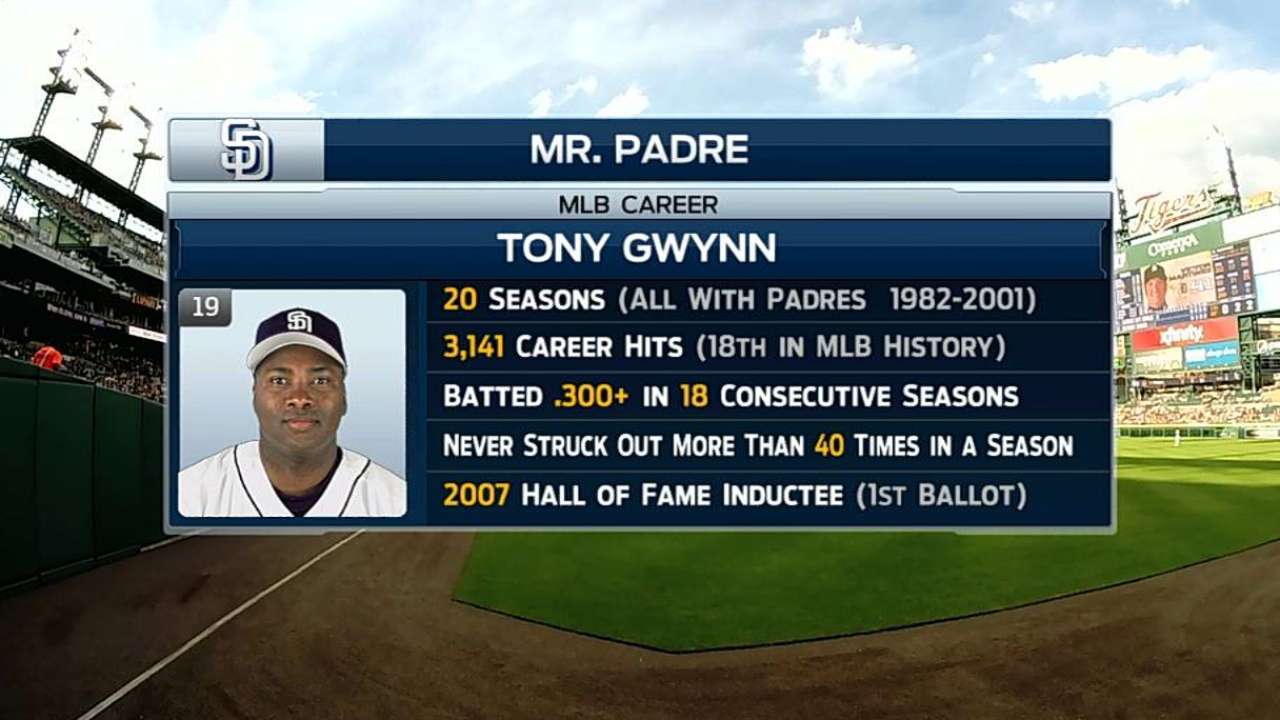 DETROIT -- Two important parts of the Tigers' organization, manager Brad Ausmus and veteran outfielder Torii Hunter, both remember the way Tony Gwynn took them under his wing early in their careers.
Gwynn, who passed away Monday after a lengthy battle with cancer, played with Ausmus in San Diego, where Gwynn spent his entire 20-year illustrious career. He got to know Hunter when the latter was a young, promising standout.
"He didn't have to talk to that young guy named Torii," Hunter reflected Monday. "He shared some information as far as playing the game, hitting. That's something I'll cherish forever. I definitely think that he's going to be missed -- I know he will."
Prior to the game, Tigers groundskeeper Heather Nabozny inscribed "TG 5.5" in the infield dirt between third base and shortstop -- an homage to Gwynn's favorite hole to find a base hit.
Ausmus remembered how, as teammates with Gwynn from 1993-96, the pair would talk hitting together and hit the links together. Ausmus admired Gwynn's uncanny ball-striking abilities -- on the diamond and the golf course.
"We started out even," Ausmus said, recalling the rounds of golf they played together, "and then Tony kept getting better and I wasn't, so I let Tony play on his own."
But even more than Gwynn's talents on the golf course, his prodigious approach to hitting is what drew Ausmus to Gwynn early in his career.
"It seemed like the guy never made an out, when you played with him," Ausmus said. "Everything he touched seemed to find a hole. His teammates were happy for him and jealous of him.
"He was the best I've ever seen at putting the fat part of the bat on the ball."
Gwynn was also on the forefront of video technology, which has completely inundated the game since. Ausmus recalls Gwynn walking around the clubhouse with his cassettes that allowed him to analyze the pitchers he was scheduled to face before anyone else showed a willingness to use that technology to their advantage.
Hunter said Gwynn's hand-eye coordination was a gift that can't be taught, no matter how much video you watch. That didn't stop him from trying to pass on his talents, though.
"He's just a good person," Ausmus said. "As great a player as he was, he was just a good, regular man. He would talk to anyone like you were his next-door neighbor."
Jason Beck is a reporter for MLB.com. Matt Slovin is an associate reporter for MLB.com. This story was not subject to the approval of Major League Baseball or its clubs.