Ausmus, Tigers need to get closer Nathan going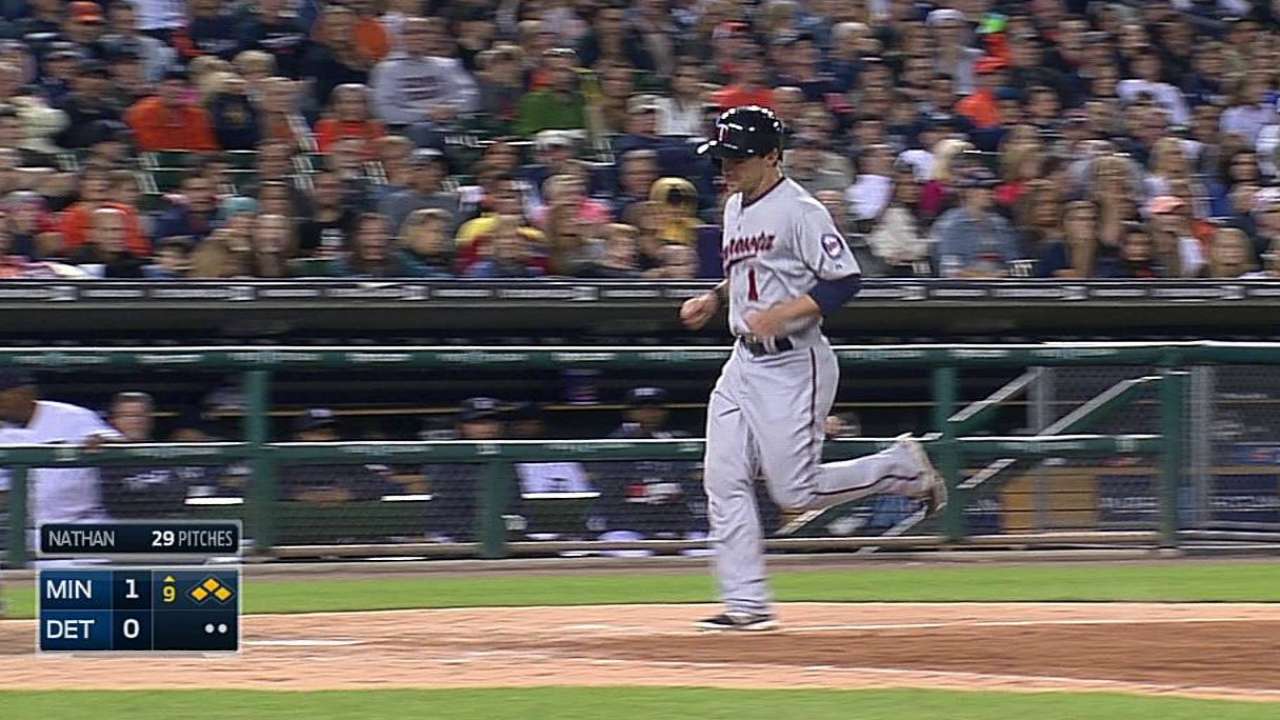 DETROIT -- Joe Nathan became a closer in a Twins uniform. What he did with the role made him a hero in Minnesota, and built the track record that Tigers manager Brad Ausmus is leaning on as he counts on a turnaround for his closer.
It made for a striking intersection of past and present, then, as Ausmus walked to the mound to pull Nathan with two outs in the ninth inning, having watched Nathan walk in an insurance run for the Twins in their 2-0 win Friday night.
It wasn't a save situation, but it was a game the Tigers needed to keep close. It was also a night when Ausmus needed to get Nathan some work, having not pitched him since last Saturday. At the same time, he reiterated, he needs to get Nathan going.
He ended up having to take Nathan out. Six days after giving up four hits to the Red Sox before finishing out a win for the Tigers, he gave up an insurance run -- albeit unearned -- without allowing a hit.
He threw 29 pitches, 16 for strikes, yet walked two batters and hit another, before Phil Coke entered to end the inning.
"It's no different now than it was 24 hours ago," Ausmus said when asked about his concern over Nathan. "I've said before, we need Joe Nathan to pitch well. This wasn't a save situation, obviously, but we need him to pitch well. We need him to close out games when he's called upon to do that."
Nathan was not available for comment after the game.
The run he allowed actually reached base on an error, Eugenio Suarez's first in the Majors, putting Josh Willingham on base after a ground ball. Kendrys Morales drove Nathan's next pitch to the depths of center field, but Austin Jackson ran it down for a long out.
Nathan threw a wild pitch that advanced pinch-runner Sam Fuld into scoring position, but used a 93-mph fastball to retire Oswaldo Arcia on a ground ball to second. Fuld moved to third base, but Nathan only needed an out to keep it a 1-0 game.
The out never came, even though the big hit didn't either. Nathan put ex-teammate Trevor Plouffe in a 1-2 count before missing on his next three pitches for a walk. After using a slider for a first-pitch foul ball from Eduardo Nunez, Nathan lost a fastball and hit Nunez to load the bases.
Up came Eduardo Escobar, whose third-inning home run off starter Drew Smyly accounted for the game's lone run at that point. Nathan recovered from a 2-0 count to get two strikes on Escobar, including a 93-mph fastball for his only swing-and-miss of the inning.
Nathan tried for another, but Escobar fouled off his next five pitches to stay alive. Nathan then tried to spot back-to-back fastballs, but missed.
"The 2-2 was definitely a ball," catcher Bryan Holaday said. "The 3-2 was, too, but it was fairly close. It was a good pitch, just off barely."
It was a microcosm of the struggles Nathan has been facing recently. He has recorded seven strikeouts over 11 innings over the past month, but only one in four June outings. At the same time, he has recorded just 12 swings and misses in 220 pitches in that stretch, and not more than two in an outing.
Jason Beck is a reporter for MLB.com. Read Beck's Blog and follow him on Twitter @beckjason. This story was not subject to the approval of Major League Baseball or its clubs.