V-Mart not willing to concede with two strikes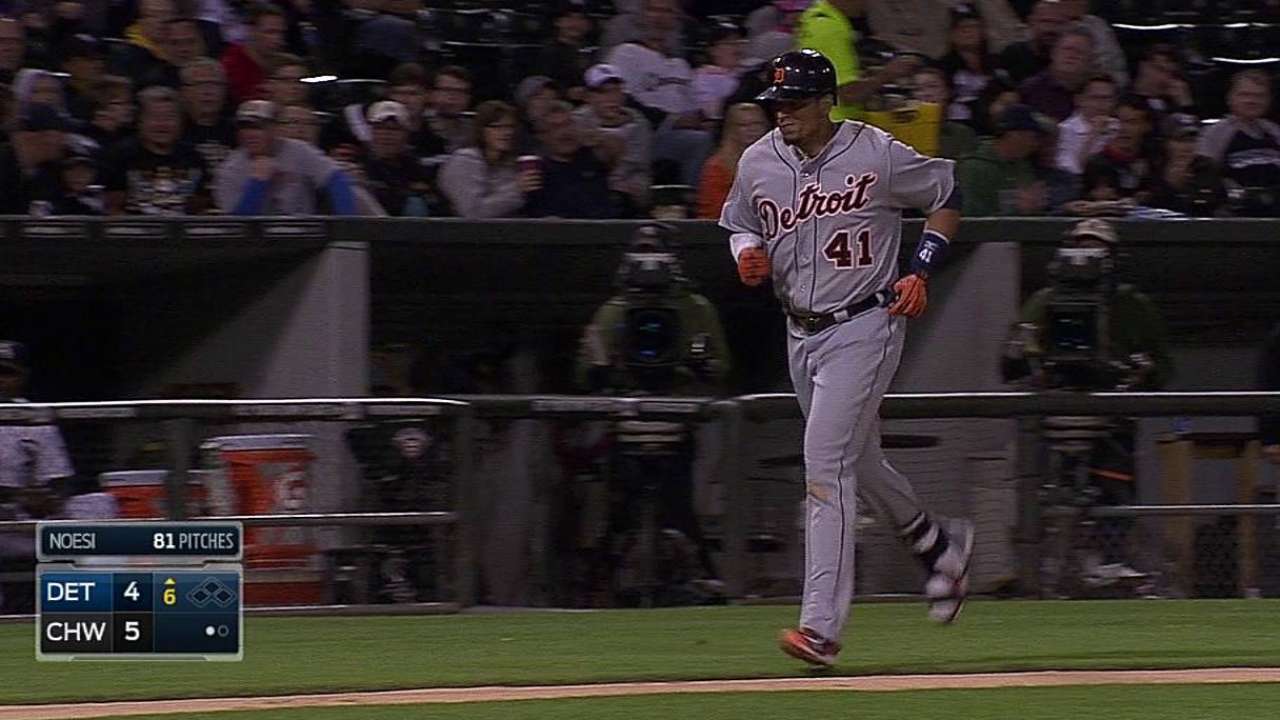 CHICAGO -- At age 35, it's highly unlikely Victor Martinez can keep up his first-half power surge. With 16 home runs through 62 games, Martinez is on pace to hit 41 homers. His career high is 25, set in 2007 with the Indians.
"I mean, he's not going to hit 40 home runs as far as what he's on pace for," said bench coach Gene Lamont. "But he's just hitting the ball so solid, he's going to hit quite a few more home runs. Before, it seemed like he hit line drives in the alleys. Now, he's getting the ball both left and right."
One thing you can count on, however, is that Martinez won't often strike out.
Martinez has a career strikeout rate of 10.6 percent, and has struck out less than 10 percent of the time each of the last four seasons. This season, he's struck out a remarkably low 6.2 percent of the time, well below the MLB average of 17.8 percent.
"Well, to me, he's the best two-strike hitter in our league," Lamont said. "He's probably the best two-strike hitter I've seen. He's always been very, very good. This year it just seems to be even better."
While strikeouts are up across the game, Martinez is part of a dying breed of hitters who can hit for decent power without whiffing often. As Lamont said, some hitters today seem to accept strikeouts as just another out -- after all, it would likely result in the same outcome as a routine roller to short.
That sort of mentality simply doesn't register with the 12-year vet.
"I always say whenever you put the ball in play, anything can happen," Martinez said. "They can make an error, they can make something that helps your team win. Errors are part of the game. Strikeouts are part of the game, but whoever thinks like that -- that's their thinking, but not for me. Definitely not for me."
Martinez has more walks (23) than strikeouts (16). He's finished with more walks than strikeouts in a full season only once in his career, in 2009, with 75 walks to 74 K's.
Martinez's ability to put the ball in play with two strikes on a consistent basis is as much about his mentality as anything he does mechanically.
"He just doesn't accept it. He struck out last night, I think, but he doesn't want to accept it," Lamont said. "So if you have that mindset and have the ability he has, you're surely going to strike out less."
Joe Popely is an associate reporter for MLB.com. Teddy Cahill is a reporter for MLB.com. Follow him on Twitter at @tedcahill. This story was not subject to the approval of Major League Baseball or its clubs.