Castellanos seems to have regained hitting stroke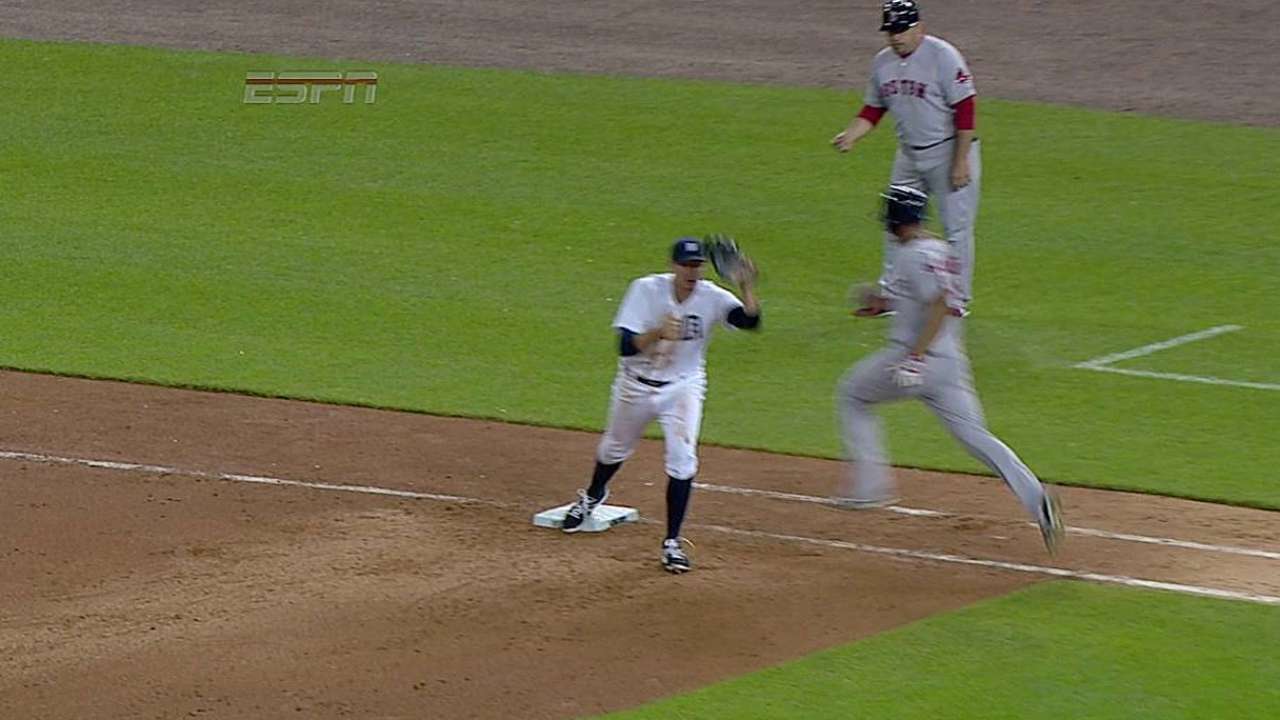 CHICAGO -- Rookie third baseman Nick Castellanos could easily have lost enough faith in himself and be playing for Triple-A Toledo right now. The Tigers, already missing their starting shortstop because of injury, were weak offensively on the left side of the infield through the first two months because of Castellano's ineffectiveness at the plate and a platoon at shortstop.
Castellanos hit just .217 in the month of April, but started to find some success when the calendar turned to May. With a hot first week of the month, he worked his average up to .248 on May 10, but watched it plummet to .233 on May 31. Castellano's unwavering belief in himself, however, is starting to pay off. He seems to have rediscovered his stroke in June, during which he's hitting .467 in eight games.
"I mean, to be honest, I never really lost confidence," Castellanos said. "In the big leagues, everybody's going to go through growing pains. It's tough up here, so it's just a learning curve. It's something I'm going to have to adjust to and just continue to learn every day. The one thing I've realized is the moment you think you have it figured out up here is the day you get knocked back down. So, you've always got to be learning."
Castellano's strong self-confidence was also helped by the Tigers allowing him to play every day and work through the struggles.
"It's an experience that will make him a better player for sure. We've talked about how the league was going to adjust to him and he would have to adjust back, and I think you're seeing him adjust back," Tigers manager Brad Ausmus said. "He's adjusted mechanically with his hands and spreading his feet out.
"The one thing I will say about Nick, which is a tough attribute to teach, is Nick believes he can hit, and he believes he can hit anybody. I think that's the one thing that he's held fast to and it's helped him get through that rough patch."
Castellanos' hitting struggles early in the season could have also been tied to playing a less familiar position. After playing 183 games at third from 2010 through part of 2012 across the lowest three levels of the Minor League system, Castellanos played the majority of his games at Double-A Erie in 2012 in right field, and in 2013 played all 130 games at Toledo in left field.
Castellanos said that he's feeling more comfortable at the position, and is thankful he has first-base coach Omar Vizquel, an 11-time Gold Glover, and defensive coordinator Matt Martin at his disposal. Like his manager, though, he knows he still has plenty to learn.
"Yeah, he's done a good job, especially for a guy who hasn't really played there. But he's still learning the position," Ausmus said. "Make no mistake, he's still unsure at times where he should be positioned. I think sometimes the speed of the game ratchets up on him, but overall he's done a solid job."
Joe Popely is an associate reporter for MLB.com. This story was not subject to the approval of Major League Baseball or its clubs.