Ausmus confident Nathan will get back on track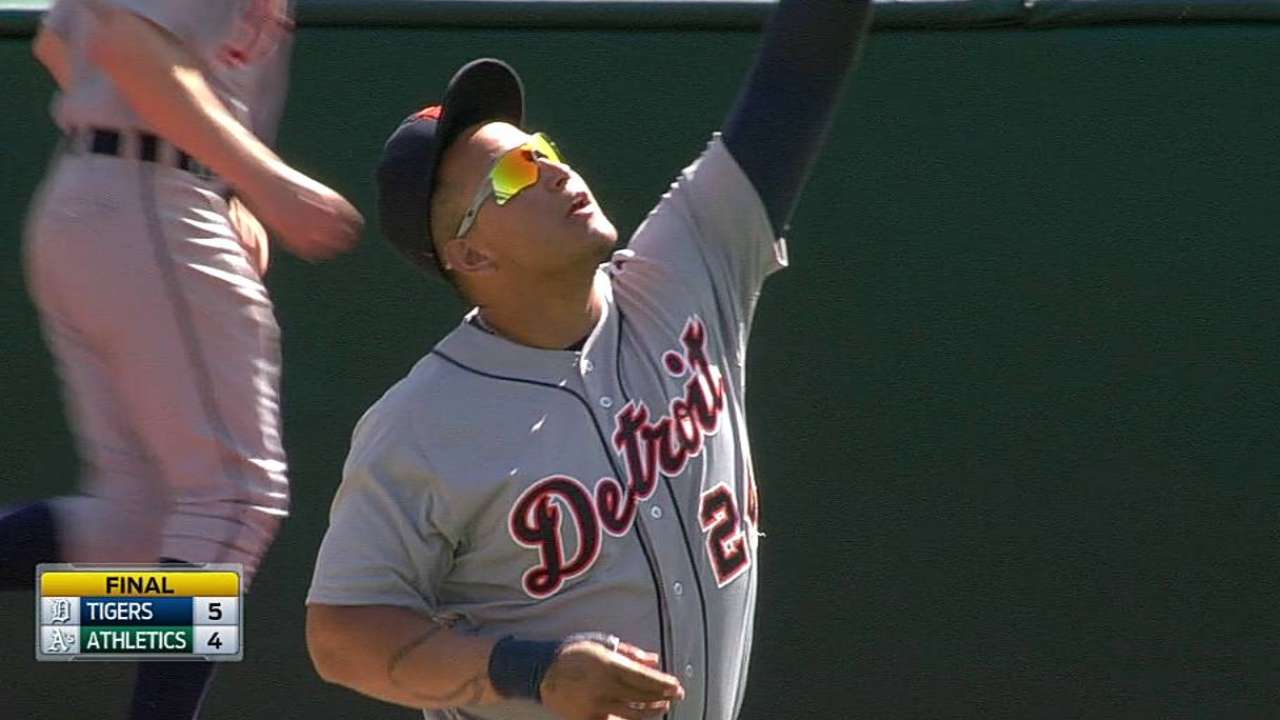 DETROIT -- The latest bout of struggles from Tigers closer Joe Nathan turned what began as a four-run lead in the ninth inning Saturday night into a game-on-the-line situation. One bad pitch, one big swing from Red Sox shortstop Stephen Drew, could've put Boston in front of a game it hadn't yet led.
"We're going to need Joe Nathan," manager Brad Ausmus said. "Wanted to get him out there and throw some pitches, and kind of work through this."
None of the hits Nathan allowed Saturday were crushed -- in fact, all four hits were singles -- but they marked a season high for him. He hadn't given up four hits in an outing since Sept. 13, 2012. He gave up multiple runs for the fourth time in his last five outings. Two of his three outs were hit well, including a sacrifice fly that sent Torii Hunter back toward the track in right field, and a Drew fly ball that Austin Jackson had to run down.
Though fastball velocity has been a recurring theme, command seems to be hurting Nathan more. He fell behind five of the seven hitters he faced Saturday, including a trio of 2-0 counts.
For the season, Nathan's strike percentage is down 2 percent from last season, from 65.1 to 63.1. It's the type of strikes that present a more dramatic difference. Just 13 percent of his strikes so far have been swings and misses, the lowest percentage of his career. Conversely, nearly a third of his strikes have been called, the first time he has been over 30 percent in his career.
Opponents are making contact with 80 percent of their swings at Nathan's pitches for the first time since 2000, when Nathan was a starter in San Francisco.
For all the numbers and all the correlations with age, however, the Tigers have to get the 39-year-old right. They signed Nathan to a two-year contract in the offseason to close, and they plan to give him every opportunity to do so. Even if Nathan didn't have a long-term contract, the Tigers have neither the bullpen depth nor the logical successor at the moment to make a move.
"Like I said, we need Joe Nathan to be our closer," Ausmus said. "He'll work through this. I'm not concerned about him. He's a professional. He and [pitching coach Jeff Jones] are looking at video, and talking to find any little mechanical flaw that could be the root cause of this. He will get it ironed out."
Jason Beck is a reporter for MLB.com. Read Beck's Blog and follow him on Twitter @beckjason. This story was not subject to the approval of Major League Baseball or its clubs.