Tigers stack infield ranks with Pankake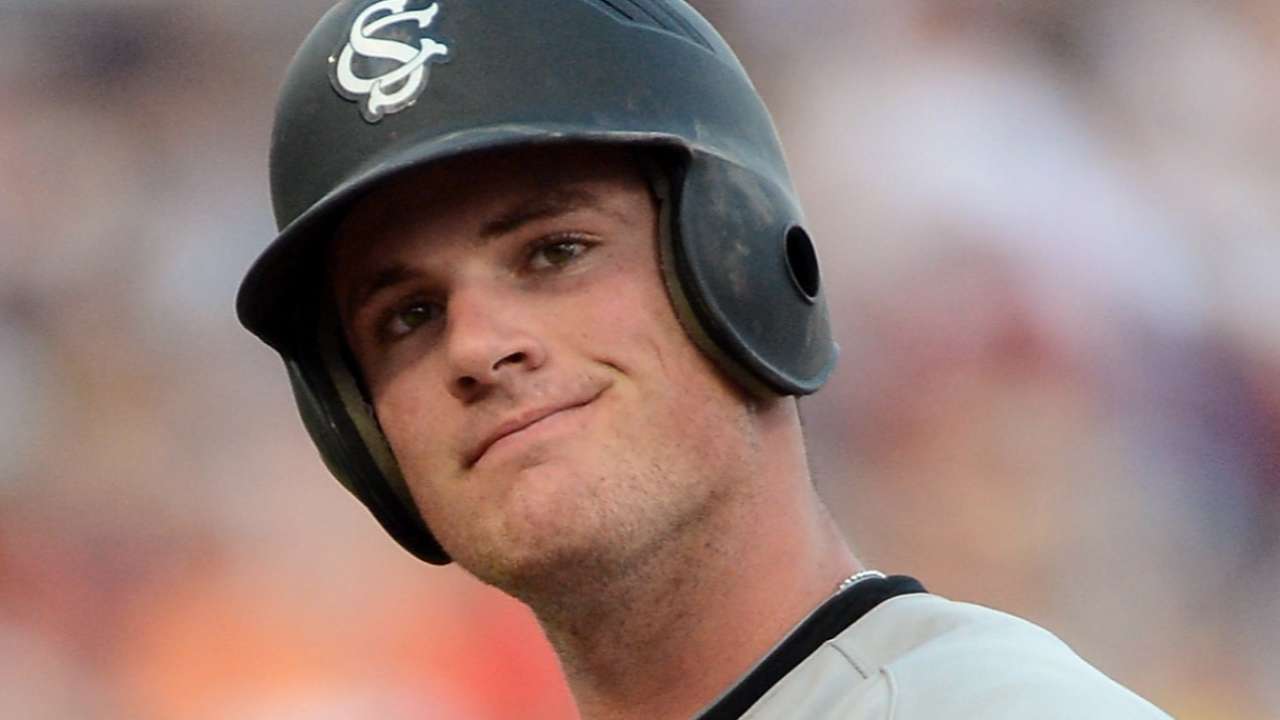 Tigers third-round Draft pick Grayson Greiner's roommate at South Carolina is about to be his teammate in the pros as well.
"Well, they just couldn't keep us apart," Joey Pankake tweeted after the Tigers drafted him in the seventh round of the First-Year Player Draft Friday.
Unlike Greiner, however, Pankake is a player without a set position. The Tigers listed him as a third baseman -- his role with the Gamecocks this season after spending his first two years at shortstop -- upon selecting him with a seventh-round pick on Friday, but scouting reports considered the outfield as his potential destination.
"He's been kind of a star in the SEC since his freshman year," Tigers vice president of amateur scouting David Chadd said. "He played shortstop his first two years. This year, he moved to third. He can play second. There's even a possibility he can catch."
It's the bat that's the bigger draw than the position with Pankake, who ranked 124th on MLB.com's Top 200 Draft prospects list. He batted .303 (67-for-221) this season with 11 doubles, five home runs and 31 RBIs. The home run total dropped from 11 in his sophomore season, but his plate discipline improved, with 30 walks to 21 strikeouts. MLB.com ranked him at 50 for hitting and power on the 20-80 scouting scale.
"From an offensive perspective, I don't see him being plus-plus power," Chadd said. "But I see him more as a gap-to-gap type hitter and a really good baseball player."
Pankake actually made the SEC All-Defensive team at the hot corner, though he also made 10 errors. His strong arm affords him some patience to stick in the infield, though it could also play as a defensive strength in a corner outfield spot.
"He's a very versatile player, a very, very good defensive player," Chadd said.
Pankake could have some room to grow in the Tigers' organization at third. The team is set in Detroit with young Nick Castellanos, but doesn't boast a ton of two-way talent in the ranks below.
The Draft concludes on Saturday, with exclusive coverage of Rounds 11-40 beginning on MLB.com at 1 p.m. ET.
Jason Beck is a reporter for MLB.com. Read Beck's Blog and follow him on Twitter @beckjason. This story was not subject to the approval of Major League Baseball or its clubs.