Tigers land Alabama righty Turnbull at No. 63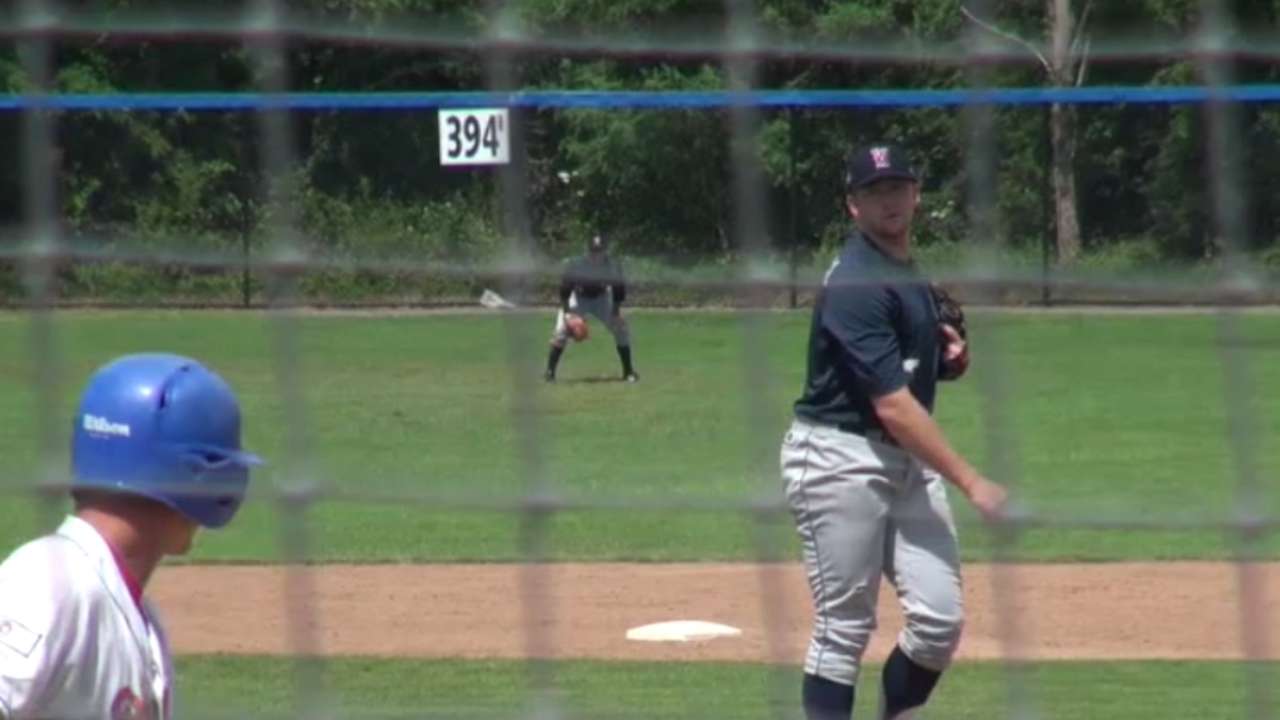 DETROIT -- Not only did Spencer Turnbull come to the University of Alabama as an undrafted player out of high school, he joined the Crimson Tide on an academic scholarship, not an athletic one. Three years and several miles per hour later, he has a chance to become the latest Southeastern Conference player to hit the fast track to Detroit.
Time will tell if Turnbull can take a similar path to former second-round pick Drew Smyly, but he has a fastball that could take him places in a hurry.
"I truly believe this guy's ceiling can be as high as anybody in this Draft as far as what direction he can go," Alabama coach Mitch Gaspard said. "I think all the pitches can be there."
After the Tigers went against their trends and drafted high school outfielder Derek Hill with their top pick in the 2014 Draft on Thursday, they got back to their preference for big arms. Between a bulky 6-foot-3 frame and a fastball that topped out at 98 mph while sitting at 92-94, Turnbull was one of the bigger arms available when the Tigers next pick came around at No. 63 overall.
"He's a strong bodied right-handed pitcher, power arm, throws strikes , pitches off his fastball and is a tough guy to hit," Tigers vice president of amateur scouting David Chadd said Friday. "Really like the makeup of a player. He's a tough kid."
MLB.com rated Turnbull 71st on its list of Top 200 prospects, projecting him as a second-round pick.
Turnbull was a Friday night ace for Alabama this spring, matching up against top talents like LSU's Aaron Nola and holding his own. He went 5-7 with a 2.22 ERA in his junior season. His strikeout rate wasn't overwhelming, with 61 K's over 93 1/3 innings, but he held opponents to a .192 average.
Those are bizarre numbers for a pitcher with a power fastball. Gaspard says it's a product of secondary pitches that were developing.
"A lot of those big arms are big-strikeout guys. Spencer's not a big-strikeout guys," Gaspard said. "He just misses barrels. They just never seem to find the barrel on him. He would blow up aluminum bats."
His improved pitching, power and mechanics continued an ascent that took him from undrafted out of high school in Mississippi to a Day 1 pick three years later. He's stronger, but he's also much more of a refined pitcher, having not thrown much in high school.
That's an ongoing process, and it's one factor the Tigers are banking on.
"It's rare that you say this guy's still got a lot of growth in front of him," Gaspard said. "We've seen so much improvement in three years. … This kid's got an extremely high ceiling, maybe as high as I've seen in a long time."
The slider was Turnbull's main secondary pitch in college, but was a pitch he threw more than he commanded. His third pitch, a changeup, wasn't used as often, but could be the key to determine whether he has a future as a starter, or if he better fits a bullpen role.
"Right now, we view Spencer Turnbull as a starter," Chadd said.
Even so, he could get a shot to show his stuff in relief starting out. Given the innings workload Turnbull took on this spring, Chadd said he might join the Tigers' system pitching out of the bullpen.
Even if he's a starter, Gaspard said, the fastball could still hit the upper-90s.
"Midway through the season, there were a couple outings he was still hitting [97-98] in the seventh inning," Gaspard said. "I've never had a guy throw that hard deep into games. I think he's one of those rare guys who can hold velocity."
Turnbull becomes the latest in a line of Southeastern Conference pitchers to become Tigers' Draft selections. Detroit's last second-round pitcher out of the SEC, former Vanderbilt standout Kevin Ziomek, is currently pitching at Low Class A West Michigan. Fellow Vandy product Drew VerHagen went in the fourth round in 2012 and ascended quickly, cracking the rotation at Triple-A Toledo this spring. Former Arkansas lefty Smyly went in '10, cracked the Tigers' rotation out of Spring Training in '12, played a vital bullpen role last year and currently serves as Detroit's fifth starter. Detroit drafted three hard-throwing SEC pitchers -- Cody Satterwhite, Scott Green and Brett Jacobson -- from the second through fourth rounds in 2008.
The Tigers are well versed with Alabama's program as well. Alex Avila, the Tigers' starting catcher the past four years, was a fifth-round pick from the school in 2007. Detroit drafted former Alabama shortstop Cale Iorg in the sixth round in '07, but he never made it to the big leagues.
Jason Beck is a reporter for MLB.com. Read Beck's Blog and follow him on Twitter @beckjason. This story was not subject to the approval of Major League Baseball or its clubs.