Top pick Hill brings potential dynamic talent to Tigers
Detroit takes high school outfielder with 23rd selection in First-Year Player Draft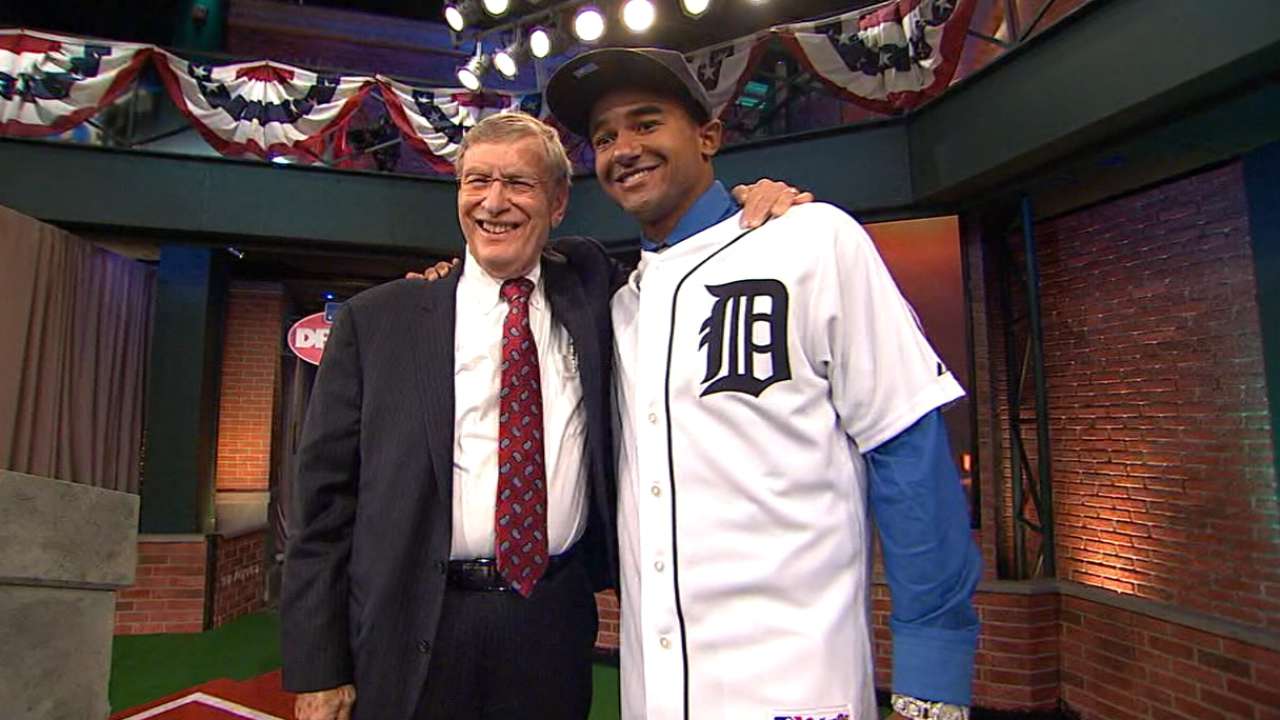 DETROIT -- Amid the midseason business of a Major League team finally returning home from a long stretch of road games, the Tigers quietly brought in Derek Hill for a workout earlier this week at Comerica Park, where the Elk Grove (Calif.) High School outfielder met his favorite player, Torii Hunter. Detroit was getting a look at its options for its first pick in an unpredictable 2014 First-Year Player Draft.
The way the first round unfolded on Thursday, the two might be hearing a lot about each other.
"It's absolutely surreal," Hill told reporters from MLB Network's Studio 42. "I've always looked up to [Hunter] ever since I was little. I've always modeled my game after him -- on and off the field. It's a great feeling to be a part of his organization."
For the first time in nearly a decade, the Tigers used their top pick in the Draft on a high school outfielder. They're hoping Hill, the 23rd overall selection, provides them with the kind of multitooled outfielder they haven't drafted and developed for their big club since Curtis Granderson.
"Derek is an excellent hitter, a great defensive outfielder and has electric speed," Tigers vice president of amateur scouting David Chadd said in a statement. "We're pleased to have the opportunity to add him to our organization."
Hill is a speedy 6-foot-2, 190-pound center fielder who bats and throws right-handed. He's the first position player taken by the Tigers in the first round since Nick Castellanos in 2010, and the first outfielder since Detroit took Cameron Maybin 10th overall in 2005.
Castellanos is the one high school position player the Tigers have drafted under team president/general manager Dave Dombrowski's leadership who has made a major impact in Detroit, though Triple-A Toledo outfielder Daniel Fields could be next. The fact that they haven't drafted many prep hitters this early is a reason for that. A look at the current Tigers farm system shows they could use another.
The pick goes against the Tigers' trend of selecting hard-throwing pitchers. When the Tigers do select an outfielder, though, they tend to go with an athletic one. Hill fits the mold.
"I think there are similarities with Derek's style and when Torii came out of high school," Chadd said on a Friday morning conference call. "I think there are similarities to Austin Jackson. He's got a lot of energy. He's a lot of running ability. I don't like comparisons, I don't think they're fair at a young age, but I certainly think the style of play compares."
It might take some time to figure out if he can meet those lofty goals, but Hill gives the Tigers an infusion of athleticism and a potential multitooled future center fielder.
The Tigers had been linked all over lists in mock Drafts, including several college pitchers, a couple of high school hurlers and a top college slugger or two. As the Draft unfolded toward the Tigers' pick, however, several of those names went off the board.
Hill, meanwhile, lingered. He came into the Draft ranked as the 20th-best prospect by MLB.com, and one of the fastest players available in the field. Prospect analyst Jim Callis had Hill going as high as 13th overall in his final mock Draft, while Jonathan Mayo pegged Hill as falling to the Tigers' pick.
"I thought it was a big surprise," Chadd said, "and I couldn't be happier. Derek is a player we've scouted since last summer. It was definitely a win-win situation."
Hill grew up around the pro game as the son of former Minor League outfielder Orsino Hill, now a scout in the Dodgers' organization. He's also a cousin of former All-Star outfielder Darryl Strawberry.
Hill nearly went to the Dodgers, who had the pick immediately before Detroit. Once the Dodgers selected high school pitcher Grant Holmes, who was also rumored to be in the Tigers' sights, Hill's future was set.
"It was very mixed emotions," Hill said from Studio 42. "I'm very excited right now. I can't even keep a smile off my face right now. It was a little bit nerve racking for a quick second, but I'm happy that everything worked out the way it did."
Hill batted an even .500 (47-for-94) in his senior season for Elk Grove High School, including 11 doubles, seven triples and 30 RBIs. His .586 on-base percentage translated into an opportunity to rack up 29 stolen bases.
Chadd said the Tigers gave Hill's speed their highest grade on the 20-80 scouting scale.
"He's just a very exciting player to watch," Chadd said. "I've seen a couple videos of Derek on YouTube making catches that were unbelievable."
He made a major impression in showcase events, especially with his speed and athleticism, translating into stellar defense. The potential to roam center field one day at Comerica Park could put those skills on display.
"Opportunity to get some Gold Gloves, hopefully," Hill said. "I can't wait to get out there and just be with the guys and pretty much show what I have to bring to the table."
It'll take some time and development to get there. Hill's workout this week gave the Tigers an early glimpse, including some batting practice. One report from the workout said that he showed an all-fields approach with some power near the end.
"He's a gap-to-gap hitter right now," Chadd said. "I think power will come. We did see power at Comerica Park."
Hunter didn't see the workout, but he saw the personality.
"I had a chance to spend some time with him," Hunter told MLB.com. "He has great character. That's something other than numbers that's important when drafting a young man. He's definitely a good one."
Hunter, too, was a first-round pick out of high school, drafted by Minnesota with the 20th overall selection in 1993.
Hill's father was the 24th overall pick in the 1982 Draft, taken by the Reds out of the University of Nebraska. While his playing days ended at the Triple-A level, his baseball career continued into scouting, which meant a lot of time around ballparks for both himself and Derek.
"That was a major part in my early child development, being around the game," Derek Hill said, "because my dad was in player development. I got both sides, seeing how the business side works and the player side works."
That background also translated onto the field.
"It's been a while since I've seen instincts like Derek has on the field," Chadd said.
Hill has a college commitment to the University of Oregon. The Tigers' first-round pick is slotted for a $1,953,100 bonus, but Detroit could dip into the bonus pool assigned for its second- through 10th-round picks if need be.
"I'm going to have to talk it over with my parents and advisor and weigh the pros and cons of college and the pro game," Hill said. "We're definitely feeling very strong about the pro side right now."
The Draft continued on Friday with Rounds 3-10.
Jason Beck is a reporter for MLB.com. Read Beck's Blog and follow him on Twitter @beckjason. This story was not subject to the approval of Major League Baseball or its clubs.