Suarez making case to join Tigers at shortstop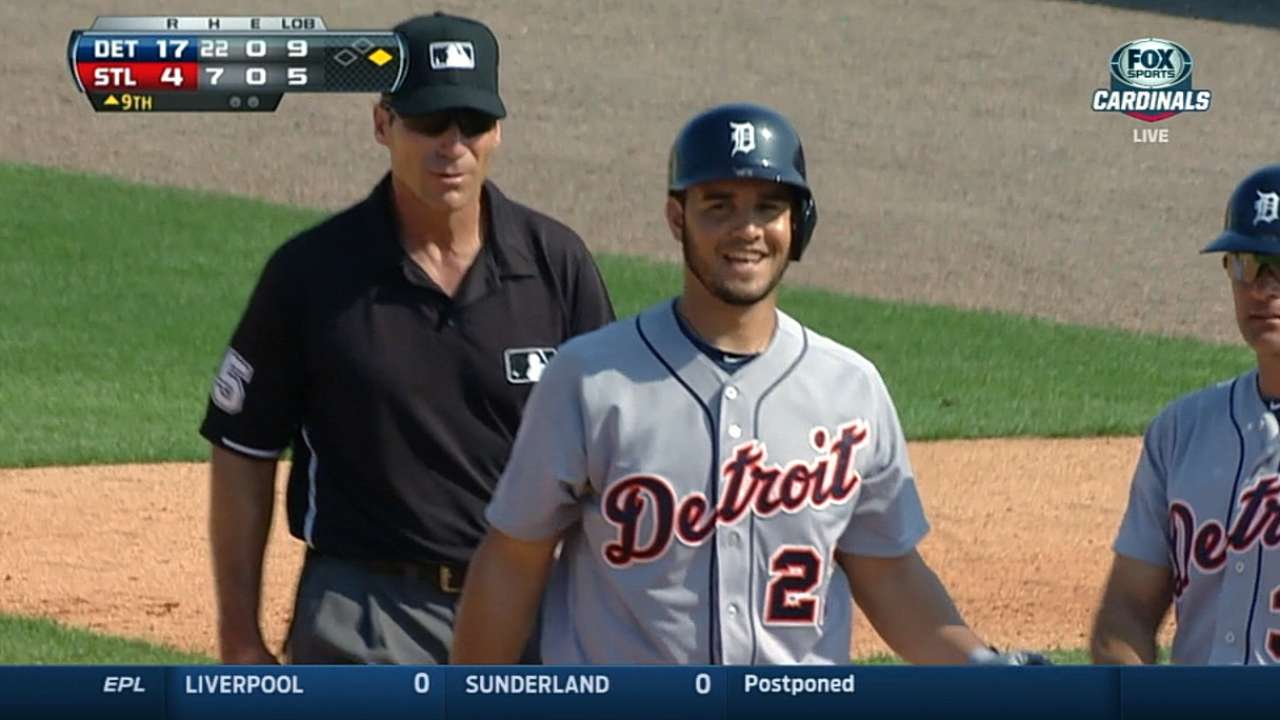 TOLEDO -- Eugenio Suarez grew up in Venezuela idolizing Omar Vizquel. He never imagined having a chance to play for Vizquel someday.
The way he has been playing continues to make his case for a summer shot with the Tigers.
"Every day, I'm playing hungry to play in the big leagues," Suarez, the Tigers' No. 6 prospect, said last week from Triple-A Toledo. "I want to play in the big leagues. Every player wants to play in the big leagues. That's my mindset, to play hard every day, play every game, make every routine play."
It's the last part that could well be the key for him.
Suarez made a big impression a week ago. With team president/general manager Dave Dombrowski and special assistant Jim Leyland in town last Tuesday night, the 22-year-old Suarez went 3-for-4 with a home run -- hit out of Fifth Third Field and onto Monroe Street beyond left field -- and a double, falling a triple shy of hitting for the cycle. He also made a leaping throw from deep in the hole at shortstop that resembled one of Derek Jeter's highlight plays from his prime.
Just as important, however, he helped turn a pair of double plays and had a clean game defensively at short.
"Not losing the concentration," Mud Hens manager Larry Parrish said.
His hot start since his mid-May promotion from Double-A Erie has cooled a bit, but hasn't fallen off. He entered Tuesday batting .333 (13-for-39) with four doubles, two home runs, six RBIs, six walks and nine strikeouts. He has made two errors in that stretch after making seven errors in 42 games at Erie.
That was the scouting report on Suarez in the past, a shortstop who could make a highlight reel one inning and struggle on a more mundane play later if he has a concentration lapse. It's something Suarez is aware of, which is why he has been doing extra infield work daily and taking the advice of the great Vizquel, his favorite player growing up and currently the Tigers' first-base coach.
"He had me working hard every day on my defense," Suarez said. "He told me keep playing hard, just complete the routine plays, take the outs. That's what he told me. You have good defense, good hands, so keep working hard every day."
His offense has been a pleasant surprise. Suarez held his own at the plate on his way up the organization but hasn't put up big numbers, his OPS usually hovering in the mid to upper .700s. Between Toledo and Erie this season, his OPS sits at .889.
Part of the credit, he says, goes to more upper-body strength.
"That's helped me so much, because I'm hitting hard," he said. "I'm hitting more extra bases, so I think my conditioning right now is very good. I'm working hard every day in the gym."
His defense has always been his strength, potentially a huge strength with an uptick in consistency. If Suarez is evaluated for an audition in Detroit this summer, he'll need to earn the trust that he can make more basic plays with regularity.
The Tigers, who lost starting shortstop Jose Iglesias in Spring Training with stress fractures in his shins, entered Tuesday with a .492 OPS this season from their shortstops, last in the Majors, but have prioritized defense at the position. They've had a recent spate of errors and misplays after stellar play from Andrew Romine and Danny Worth for about a month.
Tigers officials will have a decision to make in the coming weeks on how to handle the position for the home stretch. With the non-waiver Trade Deadline on July 31, they have just under two months to evaluate their internal options. The recent promotion of Suarez to Toledo suggests he'd be an option.
"One step from big leagues," Suarez said. "More responsibility. Keep working hard. It's same baseball. Same game."
Jason Beck is a reporter for MLB.com. Read Beck's Blog and follow him on Twitter @beckjason. This story was not subject to the approval of Major League Baseball or its clubs.