Romine's extra work rewarded with solid weekend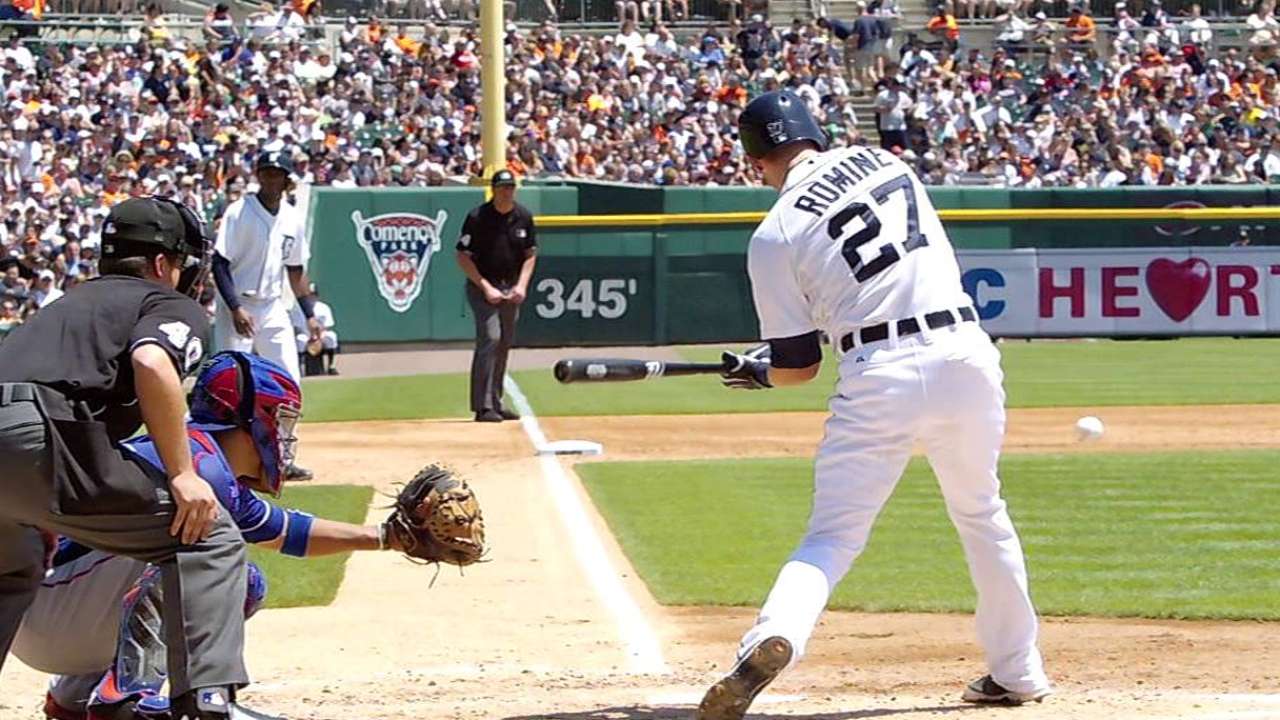 DETROIT -- Andrew Romine had just finished up his first two-hit game in three weeks, boasting three hits in a two-game stretch, when he hit the cage Saturday. Even after some of his best swings in a month, he had extra work to do.
"It's funny, because he was actually working with [hitting coach] Wally [Joyner] after the game yesterday," manager Brad Ausmus said Sunday morning. "Despite the fact that he had some good at-bats, there was something that he felt wasn't quite right, so he just took about 10 minutes to try to fine-tune something."
It wasn't that anything was wrong, Romine said. He just wanted to reinforce what he had going right.
"I was just trying to get it solidified," Romine said. "I felt good yesterday. I just wanted to go over, I guess, kind of recap it so I had something to go home with and think about."
He wanted to think about it Saturday night, outside the ballpark. He does not want to think about it when he's at the plate. Thinking at the plate has been part of the problem at times this year.
He has taken in plenty of advice the past few weeks. Now he wants to see the ball and hit it, and not waste time thinking about what he needs to do.
"The worst thing is my brain will get in the way," Romine said. "I wish I could shut it off."
It carried over into Sunday's game. Romine had his second straight two-hit performance, driving in a run with a second-inning line drive up the middle and sending a ground ball through the right side in the sixth.
Though Romine hit his first Major League home run Friday night, his weekend performances were more productive for his style of game. He had two solidly-struck ground-ball singles Saturday -- one that began a two-out rally ahead of Rajai Davis' double to send him home, the other a one-out single through the middle after an 0-2 count. The latter nearly led to a run in the fifth before Davis' fly ball to left died near the fence.
His RBI single Sunday was one of his better at-bats of the season, fighting out of a 1-2 count by fouling off back-to-back sliders before sending a full-count fastball up the middle.
"It seems like he's using the middle of the field a little bit more," Ausmus said after Sunday's game. "He's looked good. He's stayed mostly between second base and shortstop. I don't know if the home run was the turning point, but we're hoping to keep him going because he's very good defensively."
Romine has been working with Joyner for the past couple weeks to try to figure out what tweaks would work to get his swing in tune and get him started swinging sooner. They feel like they found some adjustments that work.
It's just a few games, but the swings have been better, hit or no hit.
Jason Beck is a reporter for MLB.com. Read Beck's Blog and follow him on Twitter @beckjason. This story was not subject to the approval of Major League Baseball or its clubs.