Tigers pitchers helping keep baserunners at bay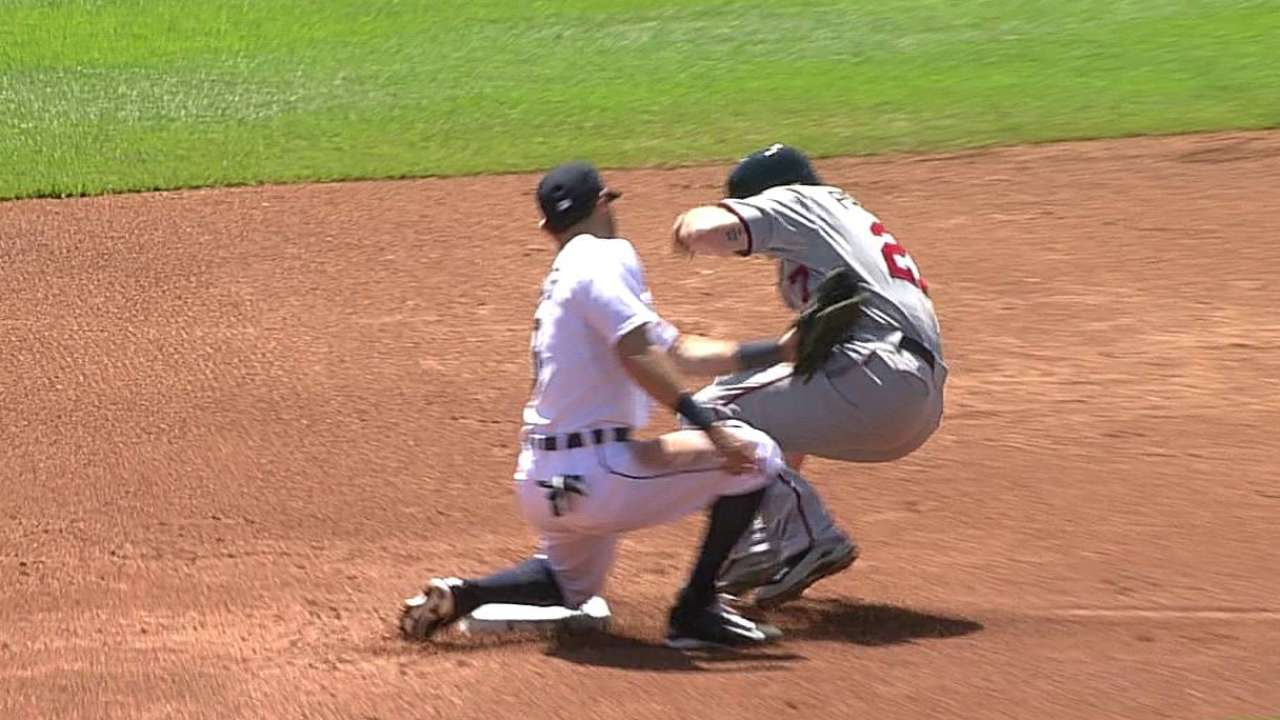 CLEVELAND -- Brad Ausmus began his first Spring Training as Tigers manager preaching an emphasis on baserunning. His push for his team to run the bases better gained a lot of attention. His push for pitchers to hold baserunners better did not.
So far, the latter is producing better results as well -- not league leading, but easily enough to make a difference. The Tigers entered Tuesday's game against the Indians having thrown out 34.1 percent of would-be basestealers, seventh best in the Majors and fourth best in the American League.
By comparison, Detroit produced an 18.5 percent caught-stealing rate last year, worst in the AL and second-worst in the Majors. The Tigers haven't topped 30 percent over a full season since 2010, Alex Avila's first full season in the big leagues.
Avila hasn't made any adjustments from last season. The major change came from Tigers pitchers.
"It's been a major focus for us," Rick Porcello said, "because last year, as a pitching staff, we didn't do a very good job holding runners on. Max [Scherzer] and Doug [Fister] were very good at it, but the rest of us did not do a good job. And a lot of times, the runners steal off the pitcher and not off the catcher.
"That was one of the first things I remember Brad talking with us about as a group."
The emphasis, Porcello said, wasn't so much about holding runners or picking them off. The focus shifted to becoming less predictable for baserunners to detect a pattern and time their jump. Pitchers began to hold the ball longer before delivering a pitch, then shorter some other times, and changing the timing on slide steps and pickoffs.
"Me, personally, it's been a big focus," Porcello said, "because it's so important for me to keep the guy at first and keep the double play in order. We've devoted more time to getting better at it this year."
By doing that, the pitchers have given Avila more of a fighting chance.
"When you throw out baserunners, it's not just because the catcher makes a good throw," Avila said. "It's because the pitcher holds them on to where they can't get a good jump. When the catcher does make a good throw, he has a chance to get them out. It's a two-way street."
Jason Beck is a reporter for MLB.com. This story was not subject to the approval of Major League Baseball or its clubs.