Miggy using deke to fool top-shelf outfielders
Tigers slugger employing smart baserunning as effective weapon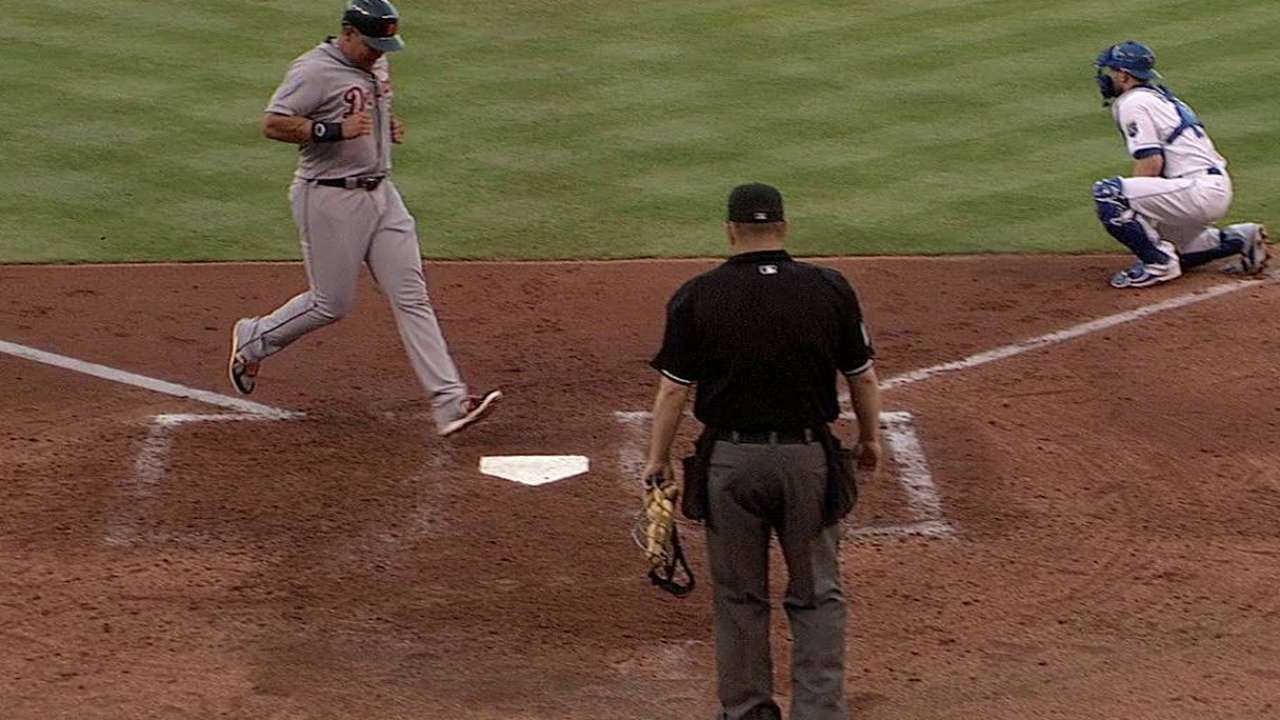 KANSAS CITY -- Tigers manager Brad Ausmus struggles to put into words the move that Miguel Cabrera has now used twice to tag up and take an extra base on two strong-armed outfielders.
"That's an instinctual play by a veteran player," Ausmus said before Sunday's series finale against the Royals. "I think he went with the deke, like, 'I'm going to pretend I'm running, but I'm not running,' but then actually run."
As awkward as it sounds, it has worked twice. And it got into the head of Gold Glove Award winner Alex Gordon on Saturday, two weeks after Cabrera fooled defensive human highlight reel Mike Trout.
On Saturday, Cabrera's tag-up on Nick Castellanos' line drive to left was part-deke, part-read. The way the ball was hit, sending Gordon charging in to catch a sinking liner, did not suggest a chance for even a fast runner to go home.
A fast runner, however, would've likely had Gordon's undivided attention. With Cabrera on third, Gordon said his first look was to Victor Martinez at second base.
"I saw Victor off the bag at second, and I was going to try to double him up and get out of the inning right there," Gordon said. "I wanted to come up throwing, and at first, I didn't see anybody on second base so that's why I didn't throw."
Gordon held the ball, but just the look at the fake was enough for Cabrera to decide to turn his move towards home into a mad dash to the plate.
"My decision, it was because he faked the throw to second base and gave me a chance to react and try to score," Cabrera said.
It didn't look like a great chance, but the difficulty Gordon faced to get his body pointed back towards home plate was the difference.
"After that, it was just too late to get Cabrera," Gordon said. "I made a running throw, but it was off-balance. Just a good play by them."
It came two weeks after Cabrera tagged up from second base and advanced to third on Trout on a fly ball to medium-range center field. In that case, Cabrera's first few steps were more tentative, trying to sell a fake, before he took off. That put Cabrera in position to score on Austin Jackson's sacrifice fly four pitches later.
In both cases, Cabrera's baserunning led to the run. In both cases, they demonstrate the belief that Ausmus has preached since Spring Training, that players don't need good speed to be good baserunners.
Jason Beck is a reporter for MLB.com. Read Beck's Blog and follow him on Twitter @beckjason. This story was not subject to the approval of Major League Baseball or its clubs.