Blister forces Anibal to 15-day DL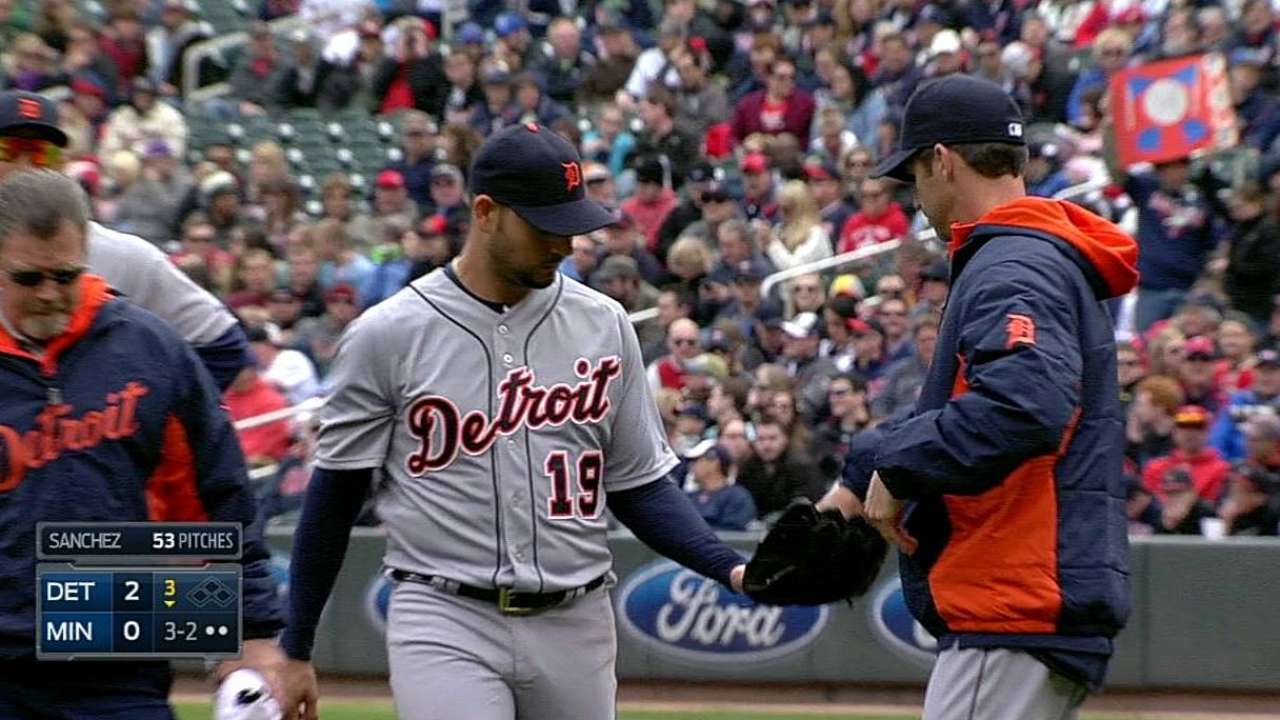 MINNEAPOLIS -- Tigers starting pitcher Anibal Sanchez left Saturday's 5-3 loss to the Twins in the third inning with a blister on his right middle finger. The team later announced Sanchez will be placed on the 15-day disabled list Sunday.
Sanchez cruised through the Minnesota lineup the first time through the order, issuing only a two-out walk to Josmil Pinto in the second inning. But while facing Twins second baseman Brian Dozier with two outs in the third, Sanchez called catcher Bryan Holaday to the mound.
They were soon joined by Tigers manager Brad Ausmus and trainer Kevin Rand. Ausmus soon motioned to the dugout and ordered reliever Jose Ortega to start warming up.
Ausmus said a flap of skin had torn off Sanchez's middle finger, and he knew as soon as he saw it that his day was done.
"It was just a feeling on the last out that I got," Sanchez said. "On the next pitch, I felt something right there and felt my skin moving. When I saw the blood on my finger, I tried to get [Dozier] out and get out of the inning, but no chance."
Sanchez, who entered the game 0-2 with a 3.54 ERA, no-hit the Twins for 8 1/3 innings at Comerica Park last May 24. He had a 2-0 lead on Saturday afternoon and appeared to be on his way to his first win of the year. Instead, he had to settle for a no-decision.
Ortega inherited a 3-2 count on Dozier, who took the next pitch for ball four. The walk was charged to Sanchez, but Dozier was subsequently retired trying to steal second base.
Patrick Donnelly is a contributor to MLB.com. This story was not subject to the approval of Major League Baseball or its clubs.