Ausmus leaning on Avila's presence behind the plate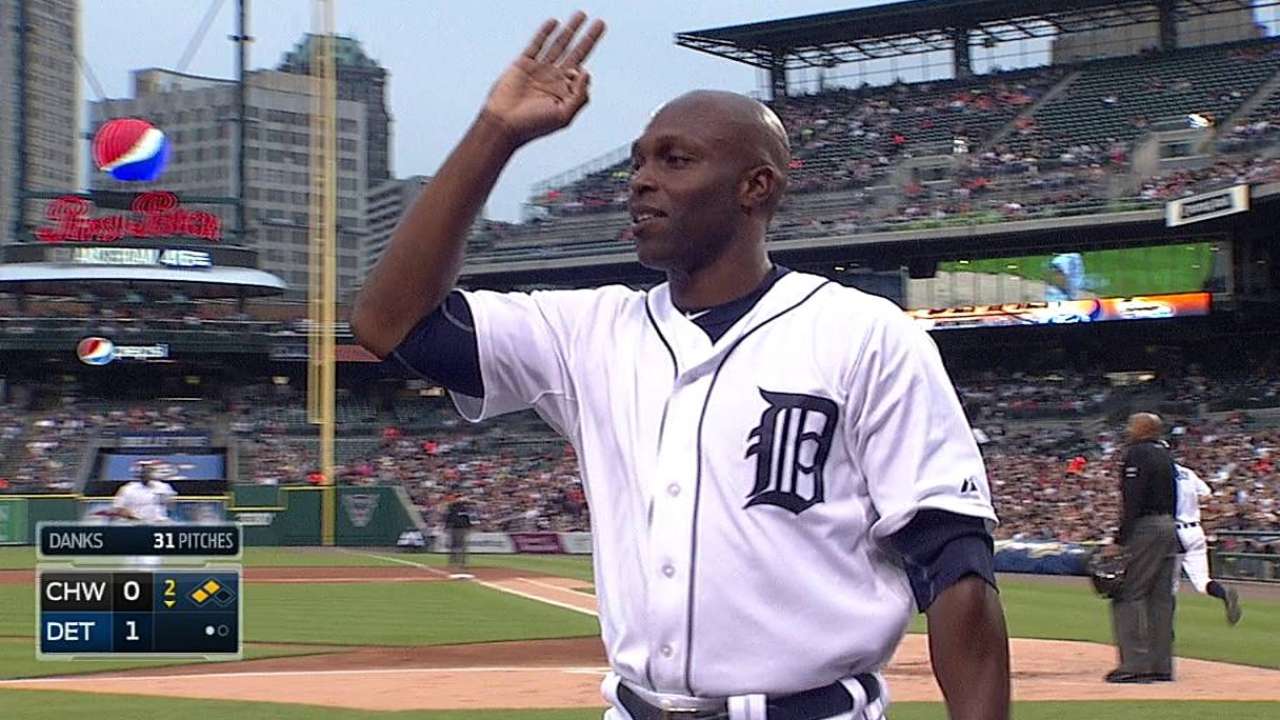 DETROIT -- The offensive numbers for Tigers catcher Alex Avila took another dip Sunday with a three-strikeout game, giving him 21 strikeouts and just six hits and six walks in 43 plate appearances. The attempts to get his bat going continue.
Monday was a small sign of progress from him.
"For the most part, I've been having good at-bats," Avila said. "I've had some bad at-bats as well, but for the most part, I've been seeing the ball pretty decently. Sometimes they're not going to go as planned. You can't get down about it. You can't feel sorry about it. You just have to keep playing."
Though the White Sox had a left-handed starter on the mound for Monday's series opener, Avila was back in the starting lineup. John Danks is a left-handed hurler Avila has hit in the past, going 7-for-20.
Avila went 0-for-3 against Danks, but made contact all three times. He grounded into the hole against the infield shift in the second inning before lining out to almost the same spot for a double play to end the fourth.
After flying out to center against Danks in the sixth, Avila came back up in the ninth against Matt Lindstrom and delivered one of the best-struck hits he has had this season. The drive to right-center field one-hopped the fence for a ground-rule double.
"He looked much better tonight, hit a couple balls hard," manager Brad Ausmus said, "obviously, the double, but [he also] hit that line to the shifted second baseman and hit that ground ball in the hole there to the shifted second baseman. He looked much better tonight."
Avila's game-calling skills are another factor working in his favor. It's not a measureable stat, but it's a skill valued by a manager who caught 18 seasons in the big leagues.
"There's no question that the game-calling is maybe the single most important thing in the game of baseball," Ausmus said. "If sabermetricians could put a statistic on someone who was good at calling pitches, we'd see catchers going into arbitration and making millions on the way they called pitches. You just can't put a number on it.
"I have given a lot [of responsibility] to Alex. I know he does a good job calling pitches and managing the game. Since that is the most important part of baseball, that would certainly give him more leeway with that. Now, there is always that line where the balance tips one way or the other, but right now, for me, his game-calling supersedes what he's done with the bat."
Jason Beck is a reporter for MLB.com. Read Beck's Blog and follow him on Twitter @beckjason. This story was not subject to the approval of Major League Baseball or its clubs.