Jackson slides down as Tigers set lineup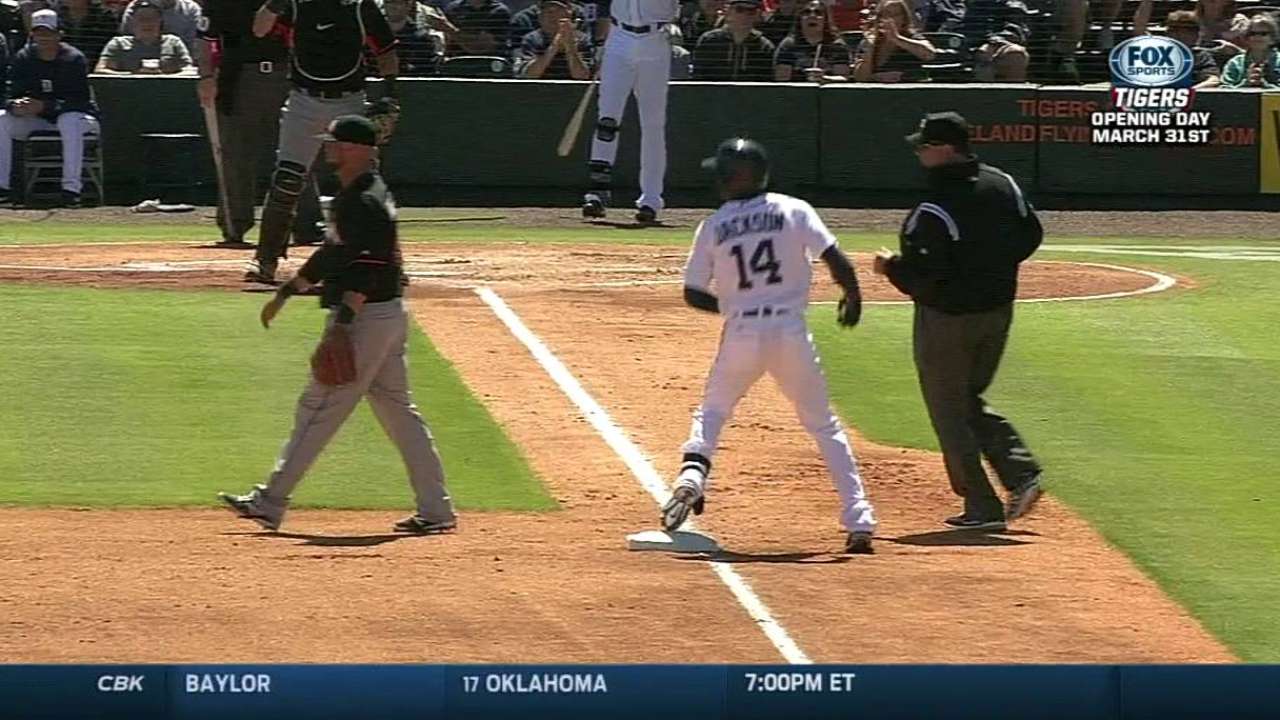 DETROIT -- Austin Jackson is officially no longer a leadoff hitter. And for the first time in five years, the Tigers will have a different batter atop their batting order.
The flip side is that Jackson is now officially a critical run producer where he's hitting if this Tigers lineup is going to put up runs.
After five weeks of Grapefruit League play and just about that much speculation, manager Brad Ausmus finally announced his Opening Day lineup Sunday morning at Comerica Park. Jackson will bat fifth, just behind the duo of Miguel Cabrera and Victor Martinez.
Ian Kinsler will bat leadoff, reprising the role he held for most of his Texas tenure. Torii Hunter will keep his second spot as the bridge between the top of the order and Cabrera. After Jackson, Alex Avila will bat sixth, followed by rookie third baseman Nick Castellanos, new shortstop Alex Gonzalez and speedy left fielder Rajai Davis.
"There are portions of this lineup, I think, are relatively easy," Ausmus said, "and there are spots where you probably have a little more wiggle room. Ultimately after talking with the coaches and mulling it over, this is what I came up with."
The middle of the order, by contrast, has some "grey area," as Ausmus put it. That's where the offseason departures and injuries are more noticeable with Prince Fielder and Jhonny Peralta playing in other cities, and Andy Dirks stuck in Lakeland, Fla., rehabbing from back surgery.
If there was a spot where Ausmus could use a hot bat, that was it. None were hotter in Spring Training than Jackson, who hit .429 (24-for-56) in Grapefruit League play with nine extra-base hits, two home runs and 14 RBIs.
"He's hit there really for the majority of Spring Training, and he's looked exceptional," Ausmus said. "Does that necessarily mean it's going to carry over? No, but right now I feel he's the best option in that spot."
Jackson has had a while to prepare for it. Ausmus talked with him about the possibility of hitting in the middle of the lineup around the start of Spring Training, and Ausmus said two weeks ago that Jackson was unlikely to hit leadoff when the season started.
It didn't change his approach at the plate, Jackson said, but it changed other factors surrounding him.
"I think it's a little bit of a change of mindset, the opportunities that you'll be able to hit with runners on a little bit more, maybe get a chance to be a little bit more aggressive," Jackson said, "not to mention being able to be a little more aggressive on the basepaths."
The matchup also potentially favors Jackson, a right-handed hitter who fares better against right-handed pitchers (.291 career, .296 last year) than lefties (.246, .213). Royals Opening Day starter James Shields, in turn, is a right-hander who gives up a higher batting average to righties (.264 career, .272 last year) than lefties (.249, .233).
Jackson is 8-for-25 with three walks lifetime off Shields, including 8-for-21 the last two seasons.
The assumption for most of spring was that the Tigers shortstop would bat ninth. Ausmus' reasoning for moving Davis down there sounded much the same as his predecessor, Jim Leyland, for hitting Omar Infante there in past seasons. Ausmus, like Leyland, likes the idea of a second leadoff hitter.
"You're hoping, in theory, that it puts him on base in front of guys like Kinsler and Hunter and Miggy," Ausmus said. "It doesn't always work out that way, but that's kind of the theory going in. He certainly has the ability to score on just about any double from first base. And he puts a little bit of fear into the pitcher and catcher as far as his base-stealing ability."
Jason Beck is a reporter for MLB.com. Read Beck's Blog and follow him on Twitter @beckjason. This story was not subject to the approval of Major League Baseball or its clubs.