Scherzer, Dombrowski clear the air in meeting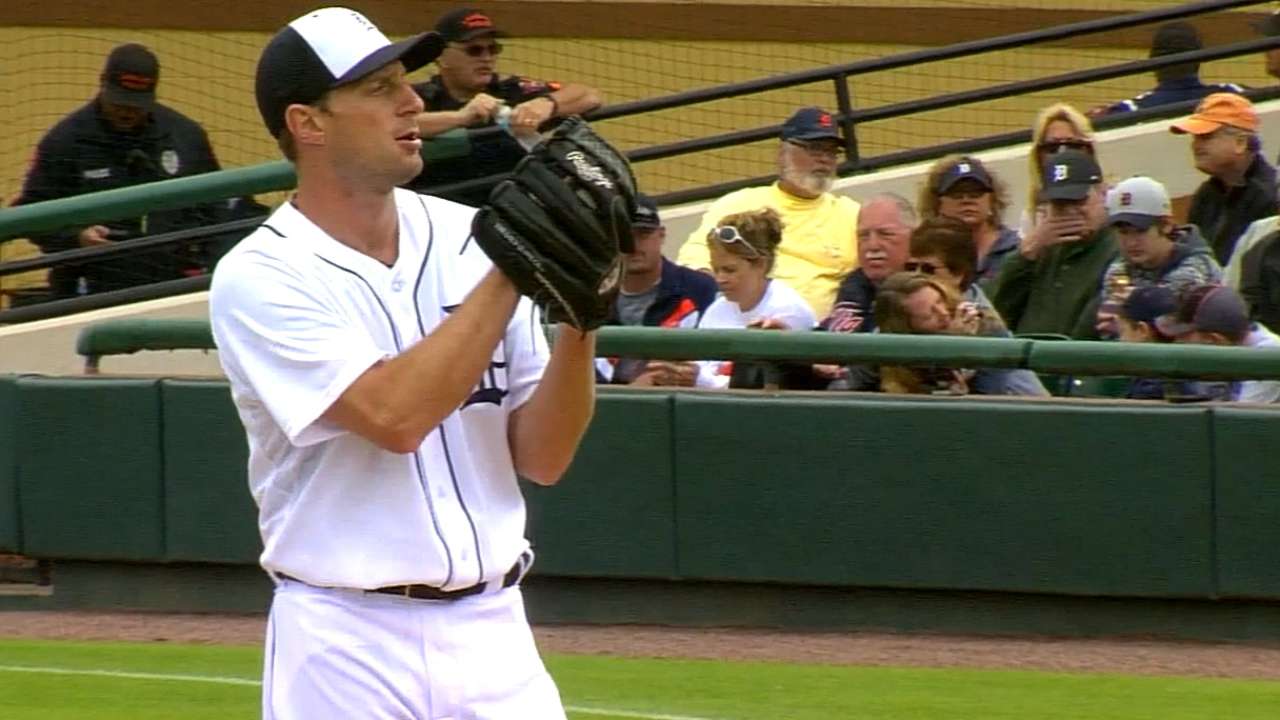 LAKELAND, Fla. -- Max Scherzer walked off the mound at Joker Marchant Stadium with two outs in the seventh inning, laughing with new manager Brad Ausmus about he wanted to face Braves catcher and ex-teammate Gerald Laird. As Scherzer walked toward the Tigers dugout, the crowd stood and cheered -- not just the fans in the first-base stands behind the dugout, but all over.
That's not particularly unusual, even in a Spring Training game. After four days in which Scherzer's contract situation has become public info -- scrutinized, defended and second-guessed -- it's not mundane. Thursday finished Scherzer's prep work for what could be his final season in Detroit, and the fans seemed to voice their appreciation.
"It was great," Scherzer said. "The fans care what we've done here in Spring Training. They come out to the park, they want to see us compete, see us win. Anytime I can go out and throw the ball well, I always realize I've got tons of fans behind me."
Scherzer is not taking public opinion on the reaction since contract talks ended until next offseason, but he is mindful of how it was perceived. To that effect, he said he met with team president/general manager Dave Dombrowski earlier this week to clear up some things about Sunday's announcement and the accompanying reaction.
"We talked about how things were handled," Scherzer said. "He said he regretted kind of how things went down, how things were depicted. He told me he wanted to make sure that he conveyed to fans that he was doing his job and could see how some things were putting me in a negative context. That's wasn't his intent, but that's just how it came across, and he apologized for that."
That extended to the later release of contract terms on the proposal.
"Obviously, he said he didn't release numbers," Scherzer said. "He said he didn't, but he was upset with whoever did within the organization. It's something we addressed and something we could move forward on."
Dombrowski later confirmed that they met.
"Sometimes things don't work out. That's a player's right," Dombrowski said. "But I think the world of Max and his wife Erica May. He's a wonderful person, and I'm very glad he's going to be taking the mound for us this season."
Jason Beck is a reporter for MLB.com. Read Beck's Blog and follow him on Twitter @beckjason. This story was not subject to the approval of Major League Baseball or its clubs.