Spring performances 'encouraging' for Verlander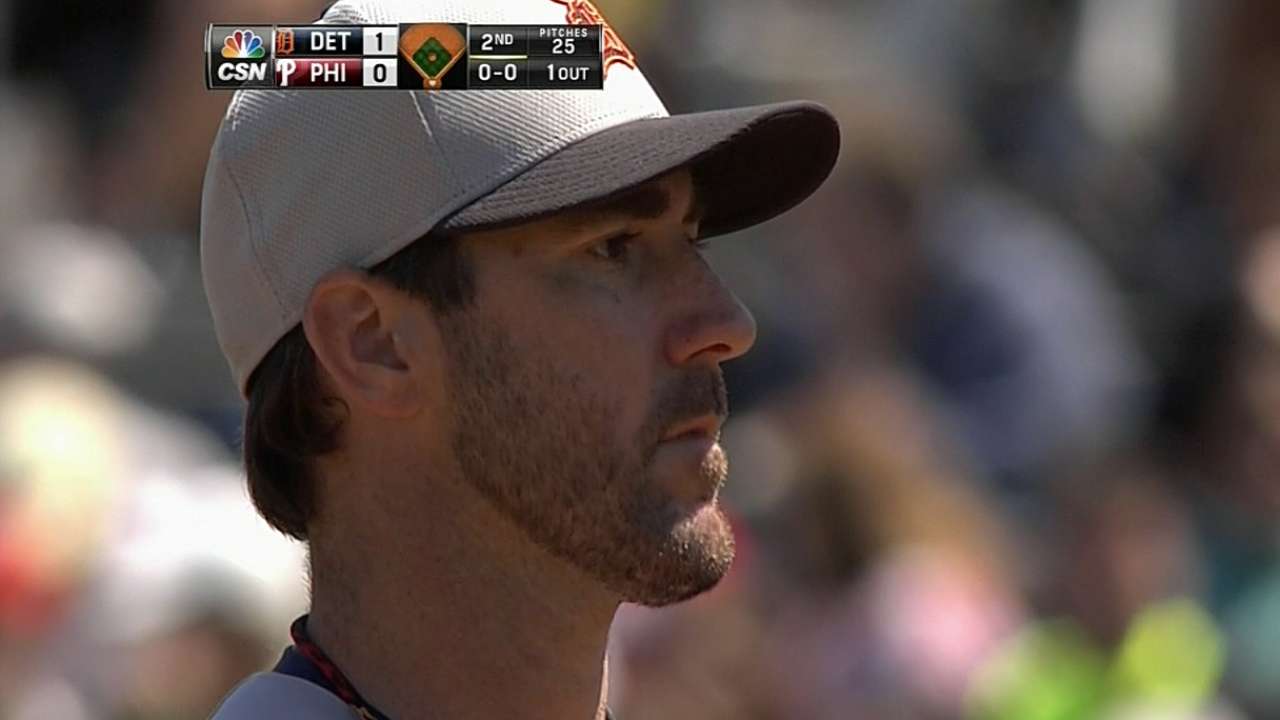 CLEARWATER, Fla. -- Justin Verlander went into Spring Training with the goal of being ready for Opening Day. Then he said he's going into his seventh consecutive Opening Day start with a goal of showing his 2013 struggles were a fluke.
After 20 shutout innings this spring on eight hits, five walks and 17 strikeouts, he seems to be on his way toward the latter.
"That's why I worked so hard," Verlander said. "After [core muscle] surgery I worked my butt off to get back. This spring's been encouraging."
Encouraging, he said. Surprisingly, he did not. Nor, for that matter, did his new manager.
"Did it amaze me? Not really, based on everything I've been told about him," manager Brad Ausmus said. "He's an extremely hard worker. I've been around a number of pitchers who have been like that. They have the stuff to be successful, but they have the work ethic to make themselves one of the greatest in the game.
"[Roger] Clemens was that way. [Roy] Halladay was that game, I heard. [Andy] Pettitte was that way. They leave nothing to chance. He's one of those guys."
Verlander's final tuneup of the spring on Wednesday against the Phillies might have been a little more than encouraging. The only base hit he allowed over 6 1/3 innings against a lineup of mostly Phillies regulars was a first-inning bloop single into shallow left-center from Chase Utley. Verlander retired 16 consecutive hitters from there until he walked Jimmy Rollins to lead off his seventh and final inning.
Seven of those 16 consecutive outs were strikeouts. Five, he estimated, came on pitches other than his fastball, as he tried to use a regular-season mix of pitches. Just two out of the nine balls put in play escaped the infield.
"Fastball control was good. Offspeed stuff was good," he said. "Can't ask for much more than that going into the start [of the season]."
The command and crispness was more than the work to get back to health, but the mechanical adjustments he made once he was cleared to pitch. In the matter of a couple weeks, he adjusted his arm angle to put his shoulders on an even level in his delivery, something he says he had in 2012 but lost in 2013.
The results, at a time when hitters tend to start catching up to pitchers, seemingly reflect it.
"Yeah, I'm definitely encouraged," he said. "Obviously there hasn't been a lot of solid contact, so I know that what I'm working on has been beneficial to me. I think I've got a good angle on my fastball and my offspeed stuff's been really good."
Jason Beck is a reporter for MLB.com. Read Beck's Blog and follow him on Twitter @beckjason. This story was not subject to the approval of Major League Baseball or its clubs.