Tips from teammates help improve Coke's slider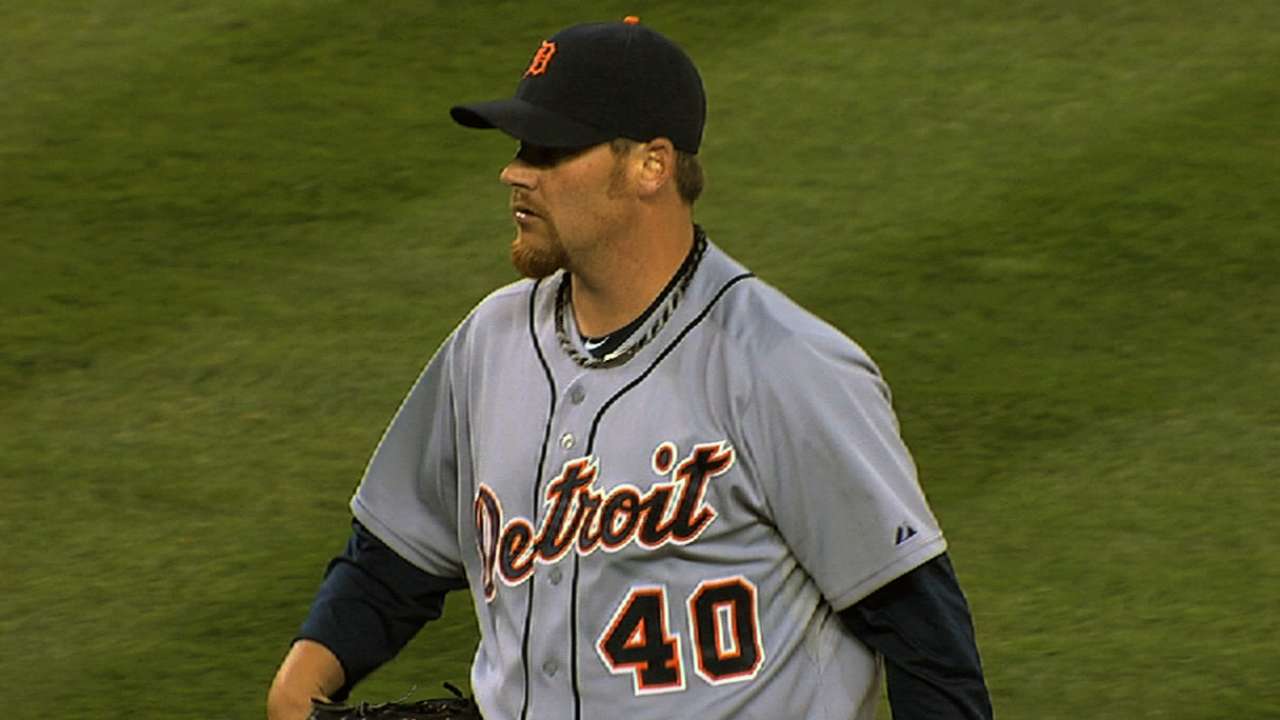 CLEARWATER, Fla. -- The deadline came and went Wednesday for Major League teams to place arbitration-eligible players on waivers in order to release them for a quarter of their salary. Phil Coke, once thought to be at risk of making the team when he struggled early in spring, wasn't even a consideration for a move by the final week.
That might have been a curveball for some. For Coke, his Spring Training performance has come down to a slider, a better one than he threw last year, or even a few weeks ago.
"They told me that they wanted me to work on the breaking ball and I've been working on it, obviously," Coke said. "I hope it's obvious."
It's a different pitch, thrown harder than the old breaking ball, with some late break and better life. Instead of a low-80s curve, he's throwing 85-86 mph with it. Essentially, it's Coke's rendition of Joba Chamberlain's old nasty slider.
"It's sharper and crisper," manager Brad Ausmus said, "more sliderish than slurvish."
The pitch came about during a session in between appearances. Coke asked Ian Krol how he threw his breaking ball. He tried the grip, but didn't feel comfortable with it. Then Chamberlain joined in the conversation and explained how he threw his slider.
"It made sense to me, like I understood why he gripped it that way," Coke said. "And I started throwing it, and he was like, 'Man, I wish I had that,' which was appreciated by me.
"I've been working and working and working and just not quite getting the results I'm after. And then the grip adjustment started getting me more of the results I'm looking for."
It's still new enough that catcher Alex Avila didn't know what Coke was doing when he threw it in warm-ups Wednesday. Getting similar reactions from hitters, though, has been key. Though he walked the first batter he faced Wednesday, lefty slugger Ryan Howard, to put runners at first and second with one out, he regrouped to strike out right-handed hitting Marlon Byrd with the pitch. He threw another one for a first-pitch strike on Tony Gwynn Jr., who eventually flew out to center to end the threat.
"I feel really good about where I'm at with it, considering I've thrown it in two games and faced some big league hitters with it," Coke said. "I was pretty happy with the turnaround."
Coke gave up four runs in a two-inning stretch in early March, then escaped a jam against Toronto with a diving catch from Ezequiel Carrera a few days later. Since then, he has thrown 5 2/3 scoreless innings on three hits with seven strikeouts.
Most of those outings didn't feature the slider. He seemingly has a better chance to keep rolling with it.
"I'm seeing the result," Coke said, "and it's a really good result."
Jason Beck is a reporter for MLB.com. Read Beck's Blog and follow him on Twitter @beckjason. This story was not subject to the approval of Major League Baseball or its clubs.