Romine makes Tigers debut at shortstop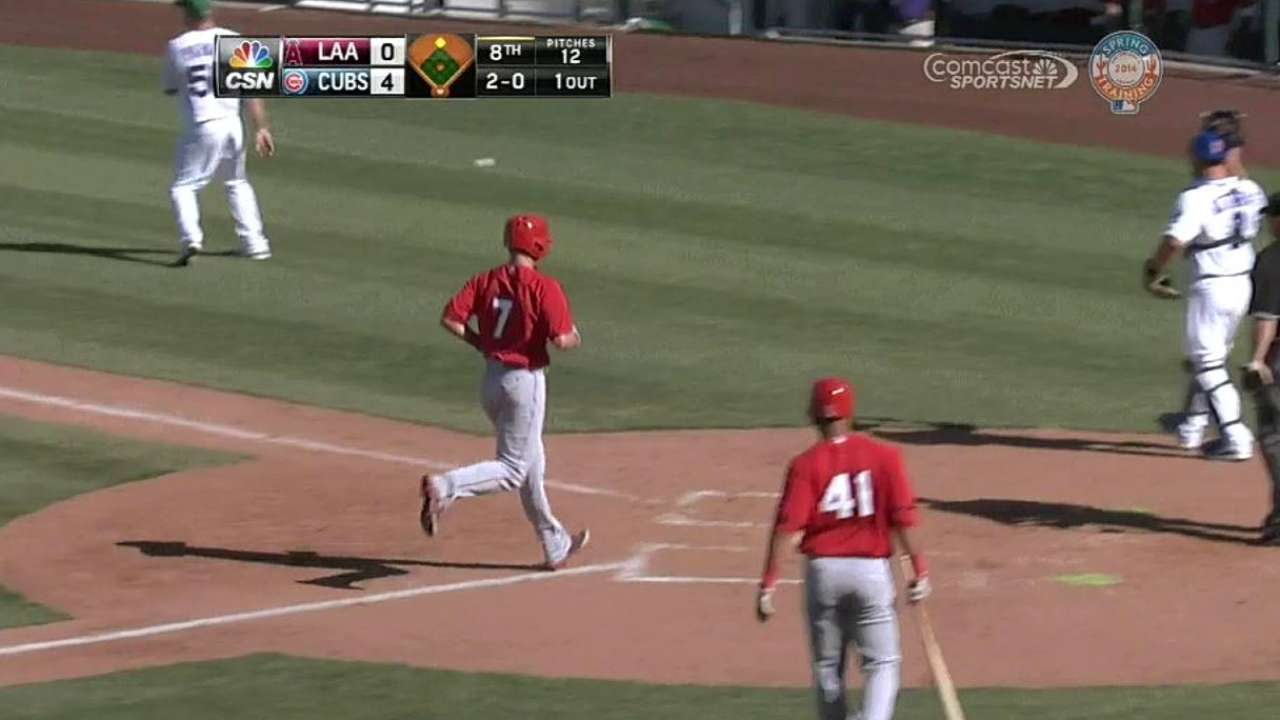 LAKELAND, Fla. -- A week ago, Andrew Romine was fighting for a utility infield job, out of Minor League options and watching to see what his next step was going to be. He never figured to be battling for regular playing time at shortstop on a contending team by the end of camp.
"The circumstances that happened to [Jose] Iglesias, that's terrible," Romine said. "You never wish for that to happen to anybody in baseball. I'm coming here and basically doing whatever I can to help the team get some W's."
Elsewhere in Florida, Stephen Drew was in a similar unaccustomed position, working out at a Scott Boras facility in Miami while he awaits a deal with a team. He couldn't have anticipated still looking for a club at this point, with Opening Day a week away, even with the Draft-pick compensation impacting his market.
Romine can't control whether the Tigers make a last-minute run at Drew, anymore than he could control what happened with Iglesias. Even if Romine tears up the Grapefruit League this coming week, the question about Drew isn't going to be in comparison to him. As long as the shortstop job is open to him, though, he's going to control what he can.
"I don't know exactly how it's going to work out," Romine said, "but I know that I can help the team win, whether it's running or hitting or defense or anything. I'm basically just going to do the same thing I've done my whole career, just play as hard as I can and help the team win."
Romine made his Tigers debut Sunday, starting at shortstop in their loss to the Marlins. He made a putout and a couple of assists at short while going 0-for-4 at the plate. He'll start again on Monday, when the Tigers face the Pirates in Bradenton.
It's essentially a crash course for manager Brad Ausmus to get a look at a shortstop he admits he knew next to nothing about before the trade.
"I've never seen the guy play," said Ausmus. "I've got to see him play, at least a little bit. We've got to see Romine play."
The guy on staff who did know something about him is Omar Vizquel, who worked with Romine at different times last year while he was an infield instructor in the Angels organization. That's not nearly as much as Romine knows about Vizquel.
"The funny thing, when I was growing up in Anaheim, we would go to Angel games," Romine said. "And when Omar would come to town, my dad would take me down to the fence before the game, when they were taking BP and ground balls. And he would tell me, 'Watch him. That is how you do what you want to do.' So for me to be able to have him in the same camp as me and be able to talk to him and basically just pick his brain every little thing that he can give me, that was awesome. I was awestruck."
If the Tigers make no more moves, the switch-hitting Romine, who hit only left-handed last year before going back to both sides, is in line to split time at shortstop with a right-handed hitter, either Danny Worth -- a similar defense-first shortstop -- or Hernan Perez. If the Tigers make a move, obviously, that changes.
For now, Ausmus isn't committing to a playing time mix.
"It could change as we move into the season, and during the course of the season," Ausmus said.
Jason Beck is a reporter for MLB.com. Read Beck's Blog and follow him on Twitter @beckjason. This story was not subject to the approval of Major League Baseball or its clubs.