Tigers want to see Romine in action at short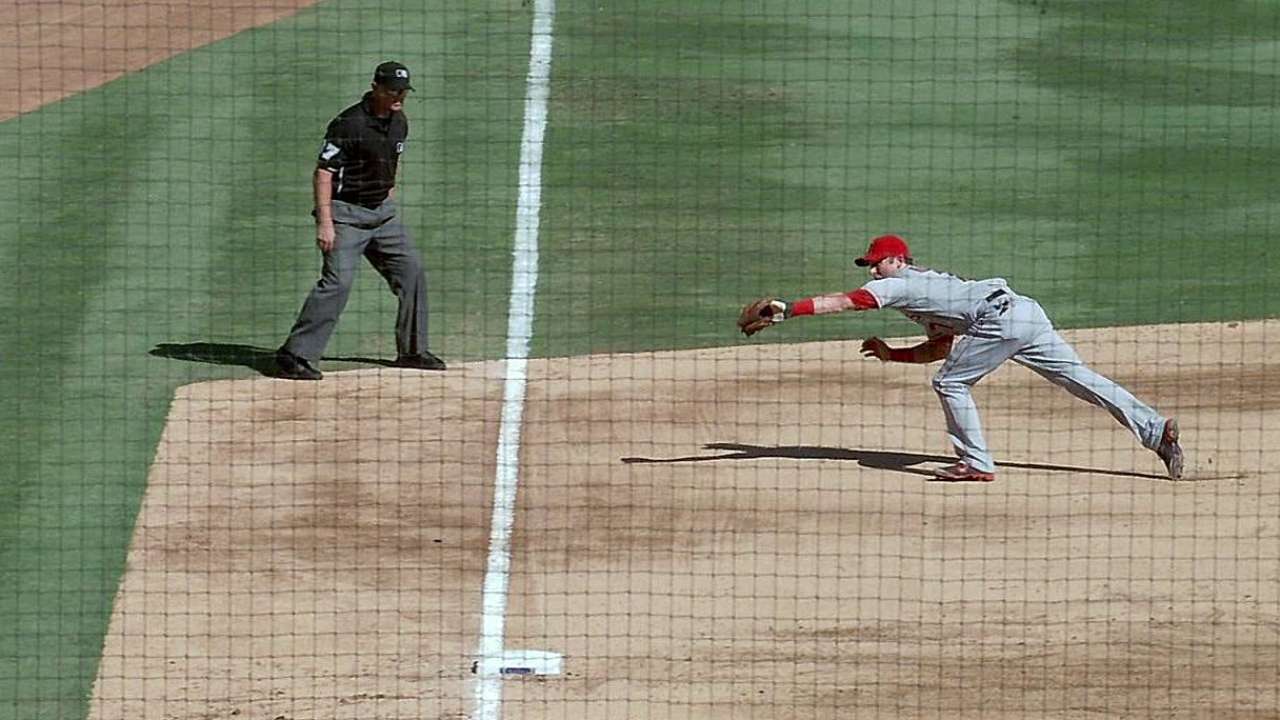 DUNEDIN, Fla. -- Don't start throwing his name into the mix at shortstop, but the Tigers have talked about what it'd be like to have first-base coach Omar Vizquel return to the diamond.
They've been joking about it, at least. Well, mostly joking.
"But he could probably do it part-time, to be honest with you. But then, I'd have to go find a first-base coach," manager Brad Ausmus said with a laugh. "He could probably handle it. I don't know if he could play 150 games, but he could probably be a platoon shortstop if he got himself into shape. He certainly still has the hands."
There's no need for a comeback from Vizquel, though. After the Tigers traded for infielder Andrew Romine on Friday, their shortstop picture is starting to take shape. They want to see the 28-year-old Romine, acquired from the Angels in exchange for left-hander Jose Alvarez, work primarily at shortstop the rest of the spring even though he's also capable of playing second and third base.
Romine is slated to bat ninth and play shortstop on Sunday against the Marlins at Joker Marchant Stadium. When the regular season rolls around, he'll share time with either Danny Worth or Hernan Perez, who both played in Saturday's 9-4 loss to the Blue Jays at Florida Auto Exchange Stadium. Eugenio Suarez has impressed the Tigers with his defense this spring, but given his lack of experience, he's viewed as a longshot to earn that spot.
But now, the Tigers have to figure out how to get Romine comfortable with Ian Kinsler, his new double-play partner, while also seeing as much as possible from Perez and Worth.
"It's not like Romine's been sitting at home. He's been playing. It's not really a concern where you have to get innings or at-bats. We'd like to have him out there with Kinsler as well as we'd like to get Perez and Worth out there with Kinsler. It's a little bit of an issue," Ausmus said. "Decisions are near, so in the next few days, maybe instead of four, we've got to deal with three or two [shortstops.]"
And no, those two or three don't include Vizquel.
"We're still joking about it," Ausmus said. "He was stretching today with the players and we told him, 'Relax, we got Romine.'"
Adam Berry is a reporter for MLB.com. Follow him on Twitter at @adamdberry. This story was not subject to the approval of Major League Baseball or its clubs.