Robertson not giving up big league dream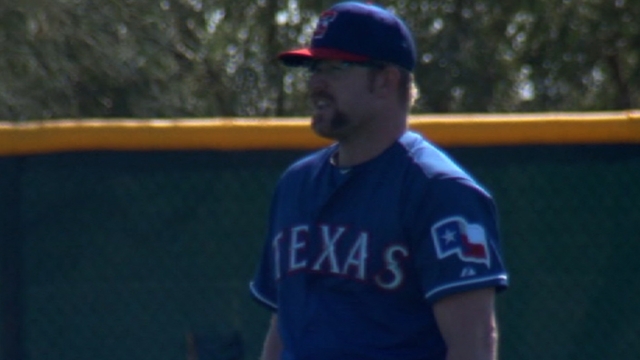 LAKELAND, Fla. -- While Rick Porcello got in his work pitching in a Minor League intrasquad game on the back fields at Tigertown, Nate Robertson was quietly standing near the opposite field. Perhaps it was fitting.
While Porcello works on finding the next step in his career toward becoming a front-line starter, Robertson is back where his career took off eight years ago on the 2006 American League championship team, now trying to see if he has enough left to get back to the big leagues one more time.
"Some guys think I'm a coach," Robertson joked, noting that ex-teammate Mike Maroth is the pitching coach for the Class A team in Lakeland.
Four years and seven teams after the Tigers traded him to the Marlins at the end of Spring Training in 2010, Robertson returned to his old organization two weeks ago on a Minor League deal. It's not really a comeback attempt, because he pitched last year in the Rangers' farm system. It's more like a homecoming for his potential last stop.
"I reached out to Detroit," Robertson said. "I know there are a lot of factors involved. With that being said, I wanted at least these guys here to get their eyes on it, just to look at it. And I'm fortunate and thankful for them just to take a look. And I'm having fun."
Robertson is a sidearming reliever now, having lowered his arm angle after coming back from another elbow surgery in 2011. The change put some movement back on his pitches, as well as some extra velocity.
Robertson had some respectable numbers in the Pacific Coast League last year, going 4-4 with a 3.04 ERA and allowing 45 hits over 50 1/3 innings for Triple-A Round Rock. He walked 23, struck out 40 and didn't allow a home run. Robertson held left-handed hitters to a .213 average (17-for-80), with eight walks and 23 strikeouts.
The Rangers had enough bullpen depth, including Neal Cotts and Robbie Ross from the left side, that Robertson never got the call. He's not in big league camp, but he's hoping to work his way back.
"You have to ask yourself if you think it plays with a big league lineup and a big league hitter's approach, and I think so," Robertson said. "But the biggest thing is I'm back here where it feels like it's home, and I'm glad to be back. I'm just having fun with it. I'm in a good place with it, and we'll see where it goes."
Jason Beck is a reporter for MLB.com. Read Beck's Blog and follow him on Twitter @beckjason. This story was not subject to the approval of Major League Baseball or its clubs.