Opening statement? Verlander makes his case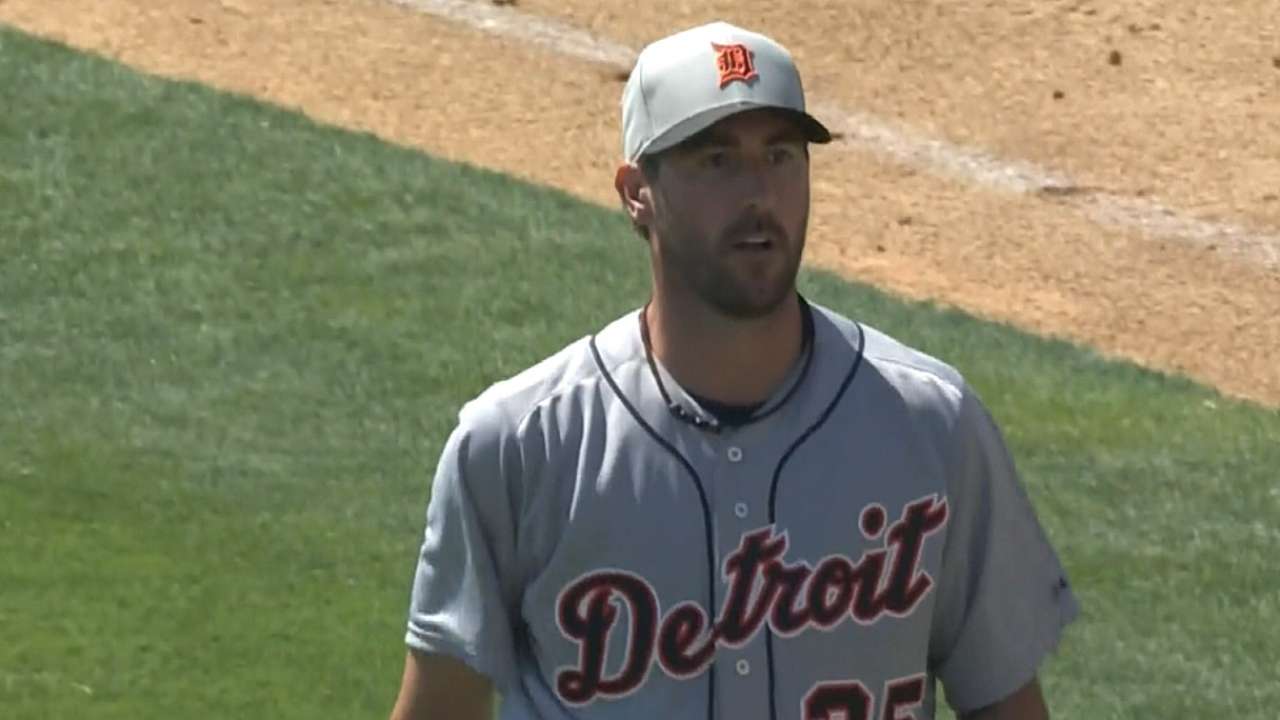 VIERA, Fla. -- Justin Verlander took a no-hitter into his fifth and final inning Sunday against the Nationals before pitching coach Jeff Jones jinxed it with two outs.
"Where I'm at today, if I take that into Opening Day, I like -- or whenever my start is -- I like my chances," Verlander said.
Verlander caught himself about the opener.
"Yeah, well," he said with a laugh.
He didn't take it any further than that.
"I'm not going to campaign," Verlander said. "That's Brad's [Ausmus, Tigers manager] decision. Hey, I'm one of five guys. Do I want to start Opening Day? Absolutely. I have for the last six years. Do I want to keep that going? Absolutely. I think if you ask any of our starters if they want to throw Opening Day, the answer's yes."
Ausmus hasn't announced his Opening Day starter, and he wasn't inclined to take Verlander's hint and do so Sunday. The current pitching schedule puts Verlander on track to be on regular rest for March 31, while Max Scherzer could start that day with an extra day's rest.
"I've talked to [Jones] about it some and some of the coaches, but none of the pitchers have pressed the issue at all," Ausmus said. "They're very professional about how they go about their business."
As for a timetable, Ausmus said, "It'll be sooner than later. I have an idea, but I'm certainly not going to tell you before I tell the people involved. Sooner than later, I'll tell you."
If Verlander does take Sunday's pitching form into his first start of the season, he should be fairly nasty. He also might be fairly efficient. He needed just 49 pitches to mow through five innings of work on a day when he was slated to throw 65, and he didn't give up a base hit until his next-to-last hitter.
"Jeff was even joking with me. He tried to jinx the no-hitter on purpose to try to get my pitch count up a little bit," Verlander said. "He said, 'If you keep the no-hitter going, I'll let you go back up.' He was totally lying, but he said it just to jinx it on purpose. I laughed."
Jones and Ausmus didn't want Verlander sitting down and getting back up for a sixth inning, so they told him ahead of time. Verlander struck out Jose Lobaton to end the fifth, then marched directly to the bullpen to throw the rest of his pitches.
"He threw too well," Ausmus said.
Jason Beck is a reporter for MLB.com. Read Beck's Blog and follow him on Twitter @beckjason. This story was not subject to the approval of Major League Baseball or its clubs.